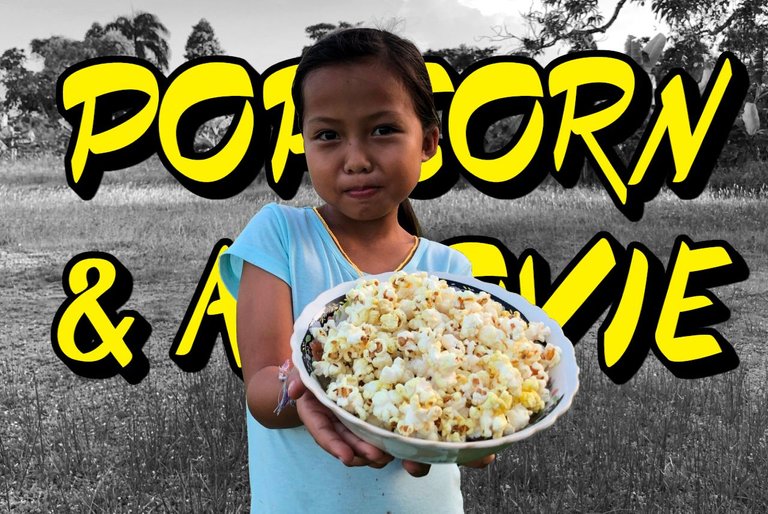 Today started out popcorn-less and boring, but with a 90s movie and some nutritional yeast, we made our popcorn much tastier, and our day much better.
🙅‍♀️ How Is Life Without Popcorn?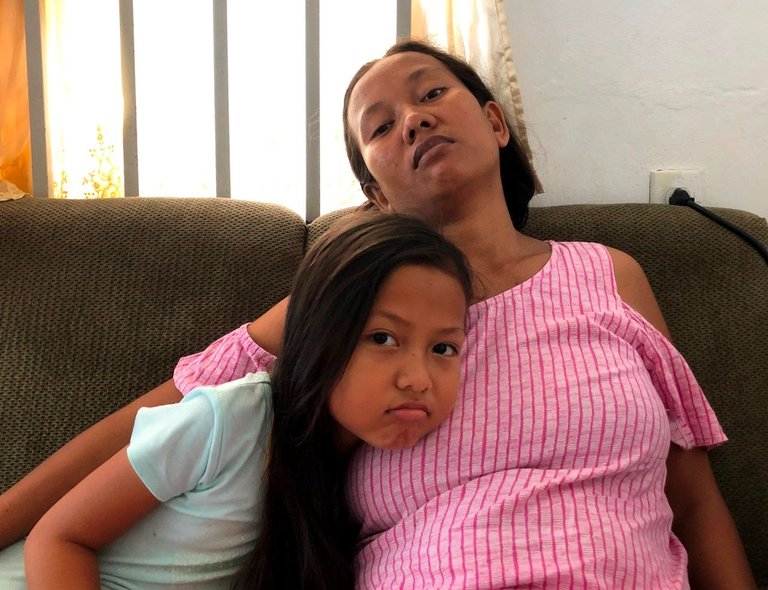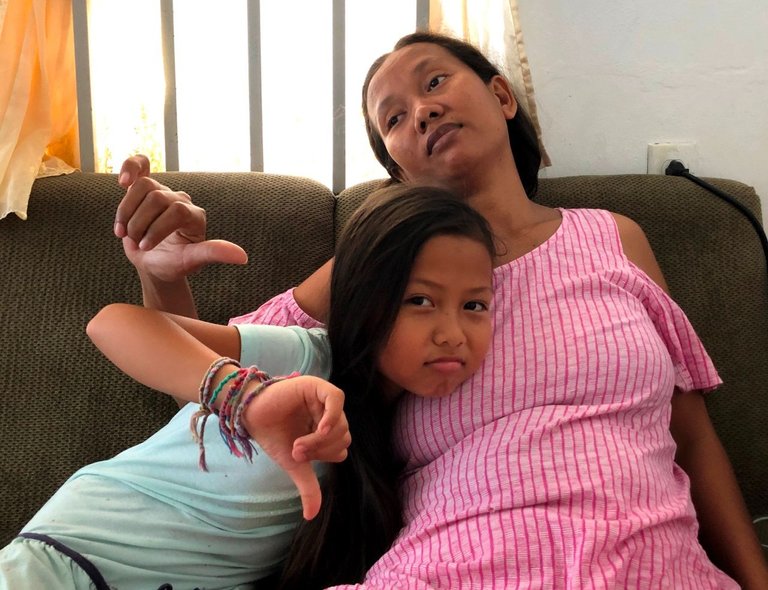 The answer to the above question is "unacceptable," at least that's what I translated from Monkey-B and Pov's body language when posed with this question. With a little motivation from Qurator's: Hive Top Chef! | Popcorn, I decided to lift the family's spirits and also create some Hive content.
👍 Fancy A Movie & Some Popcorn?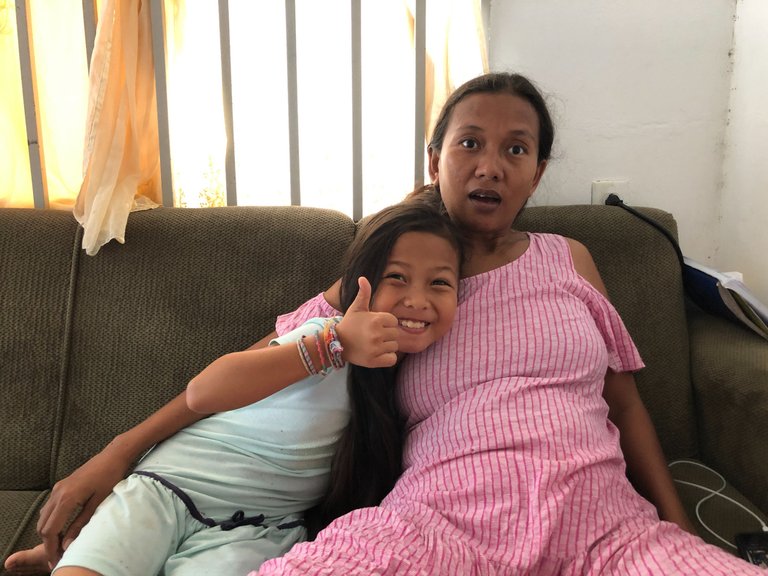 Well, since the propane shortage here in Suriname has (temporarily) ended, popcorn is on the menu once again. There is no point in asking the question because there is no such thing as a "no" to popcorn.
🌶️ Our Stovetop Popcorn Recipe 🍿
     The most important ingredient in this recipe is the nutritional yeast powder, which honestly tastes like a mix between movie-style popcorn salt and cheese. This is the umami ingredient that will keep everybody reaching for more and wondering why the popcorn tastes so darn good.
     Nutritional yeast may not be an easy ingredient to find depending where in the world you live, but it can be ordered online and sometimes even found in vitamin/supplement stores.
INGREDIENTS

- popcorn - 1 cup
- vegetable oil - ½ cup
- fresh chili (optional) - 1
- nutritional yeast - 2 tbsp
- turmeric powder - ¼ tsp
- paprika - ¼ tsp
- black pepper - ¼ tsp
- salt - ½ tsp

STEP 1

     Gather all the ingredients along with a huge pot with a tight-fitting lid.

STEP 2

     Slice the chili in half, remove the seeds, and fry in the oil until chilies are browned and blistered.

     Remove the chilies from the oil and reserve.

STEP 3

     On a medium-high flame, add 2-3 kernels of popcorn to the oil. Cover with a lid and await the sound of three pops.

STEP 4

     Turn off the stove and add the rest of the popcorn kernels. Cover with a lid and wait about 45 seconds for the heat in the oil to disperese evenly into the popcorn.

     Turn the stove back on to a medium flame, and cover with the lid, but be sure to leave a small crack for steam to escape. We don't want soggy popcorn.

STEP 5

     Keep on poppin' until you hear about 3 seconds in between pops, then turn off the stove and remove the lid.

     Now add all the seasonings along with the salt and mix to coat the entire batch. Remember to work quickly while the popcorn is still hot because this will help the spices to stick to the popcorn.

     Enjoy your popcorn with loved ones or sworn enemies.
📷 Time For Food Photography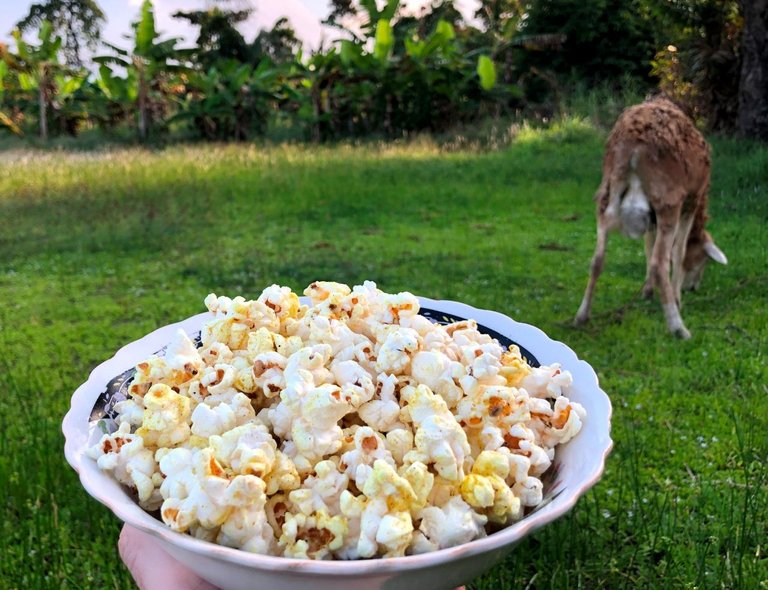 A good thumbnail is required for any quality Hive post, so I headed outside with Monkey-B and a bowl of popcorn to drum up some thumbnail ideas. I decided to start it off with a picture of Harry the lamb's Dad "GigantorBalls" displaying the things that earned him his awesome nickname.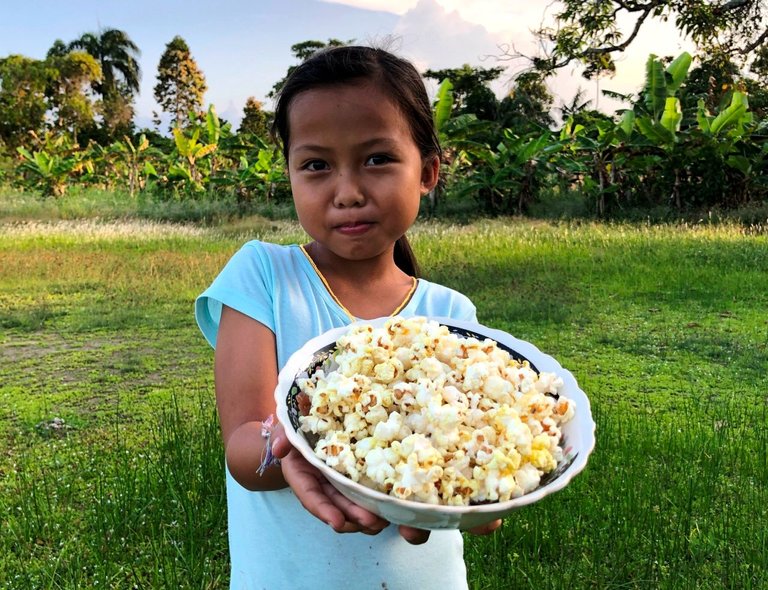 Monkey-B questioned my sense of humor, but of course she is a much better thumbnail star than sheep balls, so she struck a couple rushed popcorn poses for me.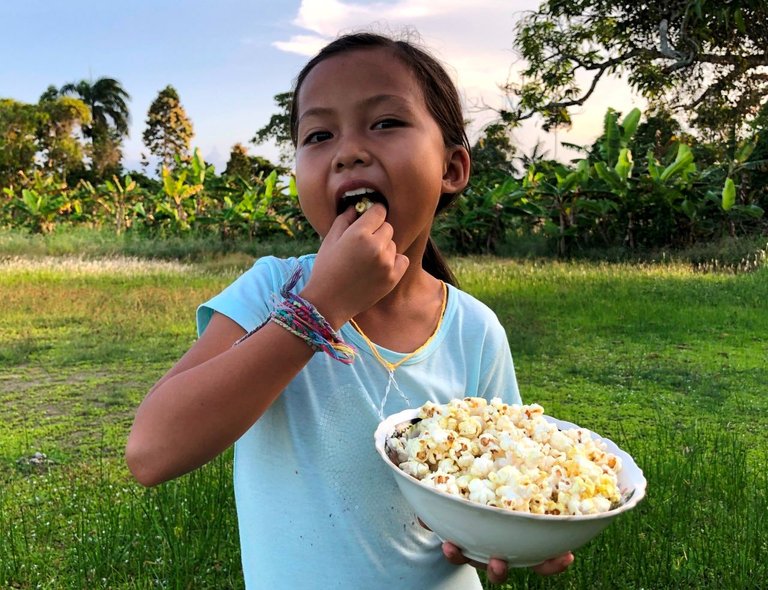 She makes a pretty good popcorn presenter I must say, and I should know because I grew up on a popcorn farm in Indiana only a few hundred yards from Orville Redenbacher's farm. At one time you could say we were competitors, but my family is no longer in the popcorn business.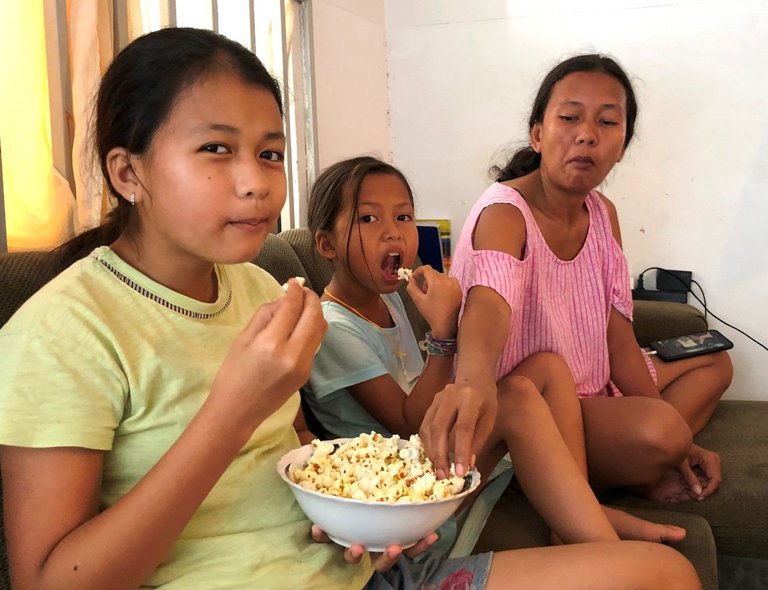 Once the popcorn has been prepared, it's a race against time and family. Although my wife didn't act too excited for the popcorn or the movie, she wasn't gonna sacrifice any potential popcorn eating time for picture posing.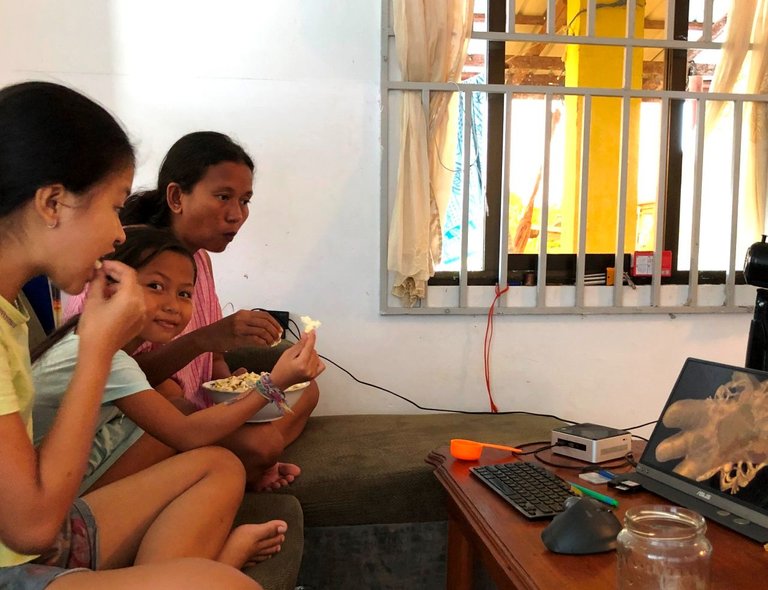 Prior to making the popcorn, I let my daughters watch a few 90s movie trailers and select one to enjoy with the popcorn.
🎥 3 Movie Choices
     I rarely find any new movies of interest, so I often look back to the 80s and 90s for movies my family might like, and that I'd like to rewatch as well. First up was The Big Lebowski, a classic that I think my daughters now speak enough English to appreciate the its dark humor.
     They weren't terribly impressed by The Big Lebowski trailer, so I reached a little deeper and showed them one of my childhood favorites, Groundhog Day with Bill Murray. This movie reminds me of our repetitive life in Suriname, so I though the girls might like it.
     More impressed with Groundhog Day than The Big Lebowski, I still felt the girls weren't interested enough in either film, so I decided to a go a little simpler. Although not one of my favorite films, for some reason Bio-Dome jumped into my mind.
     Apparently Bio-Dome was the right choice because I saw their eyes lighting up while watching the above trailer. It's not a bad enough movie that I can't enjoy it anymore, but it's definitely not as funny as I remember it. The over-the-top acting of Pauly Shore and Stephen Baldwin is very kid-friendly, so we settled on this one to enjoy with our popcorn.

CLICK HERE TO JOIN HIVE AND START EARNING CRYPTO LIKE US