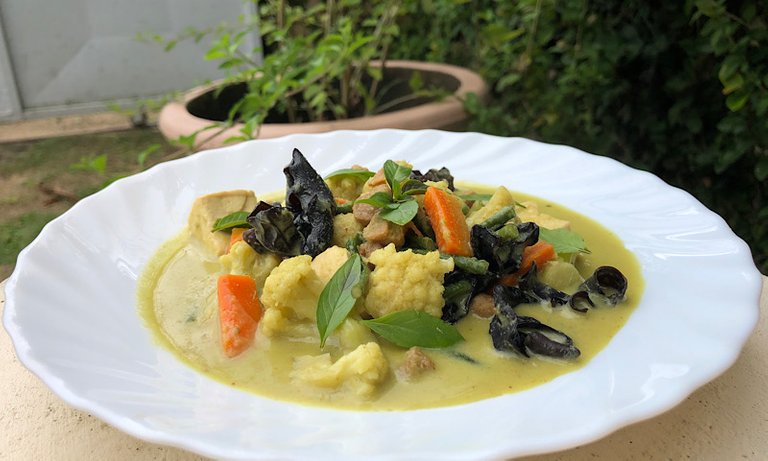 Today I made Thai Green Curry vegan for @Qurator's Hive Top Chef | Curry. I am lucky to find lemongrass from the people here but I used it already for green curry. Lemongrass and lime lime leaves are not sold in the market and stores in here Suriname.
When I want to make my country's food or other ASEAN food it's very difficult to get ingredients. If I want I have to have my country's ingredients, have to call friend and drive all over city, and can not find sometimes.
Normally, this food is made with small eggplants but I not have it so I used vegetables I have here in Suriname.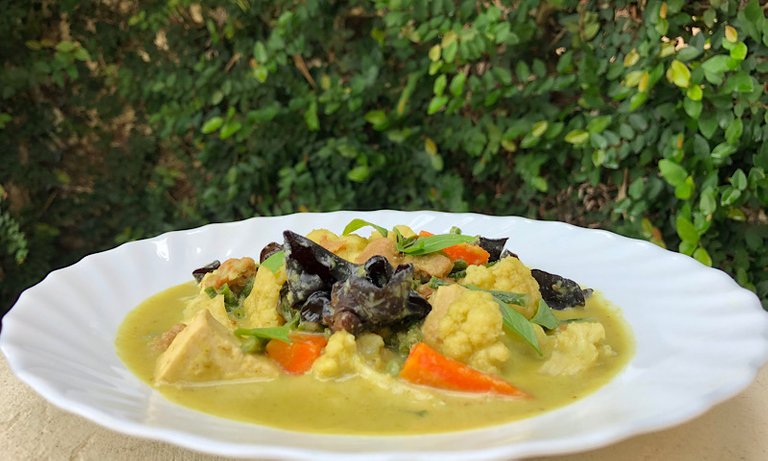 👩‍🍳Thai Green Curry (Ital) Recipe 🔪
វិធីធ្វើការីខៀវបួស

Ingredients
100g tofu
1/2 cup soy chunks
7 pieces wood-ear fungus
150g cauliflower
1/2 of carrot
100g longbeans
2 lemongrass stalks
1 small piece galangal
3 lime leaves
4 cloves garlic
red onion
2 green chilies or taste
1/8 tsp turmeric powder
1/2 tsp coriander powder
1/4 tsp cumin seeds
1 coriander root with leaves
basil leaves
1/2 tsp salt or taste
1 tbsp soy sauce
1-1/2 tbsp or taste
2 cups coconut milk
a little water
Soak wood-ear fungus and soy chunks until soft, after wash it take it from the water.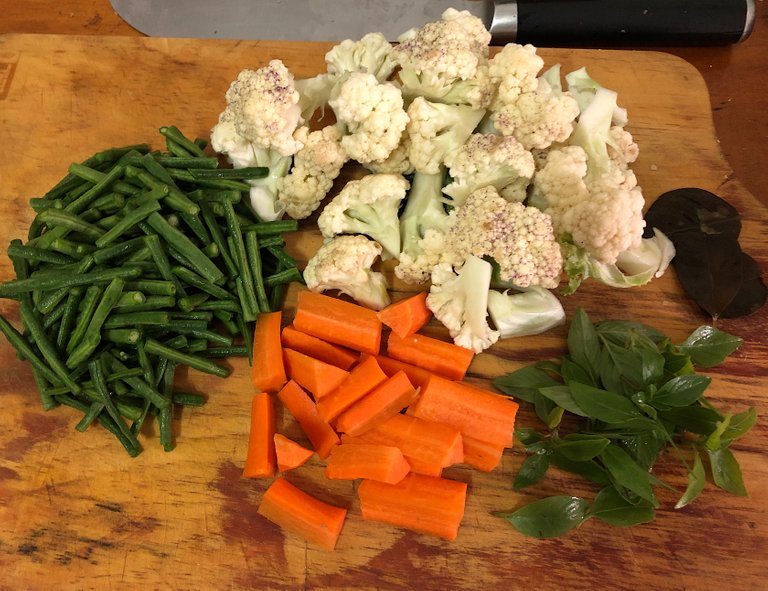 Step 1

Heat oil, fry soy chunks a little, put a little salt and put wood-ear fungus, fry it a few minutes, take outside.

Step 2

Cut lemongrass, galangal, lime leaves, chilies, garlic, red onion, a little basil, coriander, turmeric, coriander powder, and cumin, grind it very well with a little water.

Heat pot, put 1/2 cup coconut milk and put paste and fry it.

Step 3

Then put carrots, cauliflower, soy sauce, salt, sugar, stir it, then put 3 lime leaves, tofu and coconut milk, boil it 3-4 minutes.

Step 4

Then put longbeans and wood-ear fungus, soy chunks, and water, boil it 2 minutes.

Step 5

After that put fresh basil.

It's ready now, enjoy!!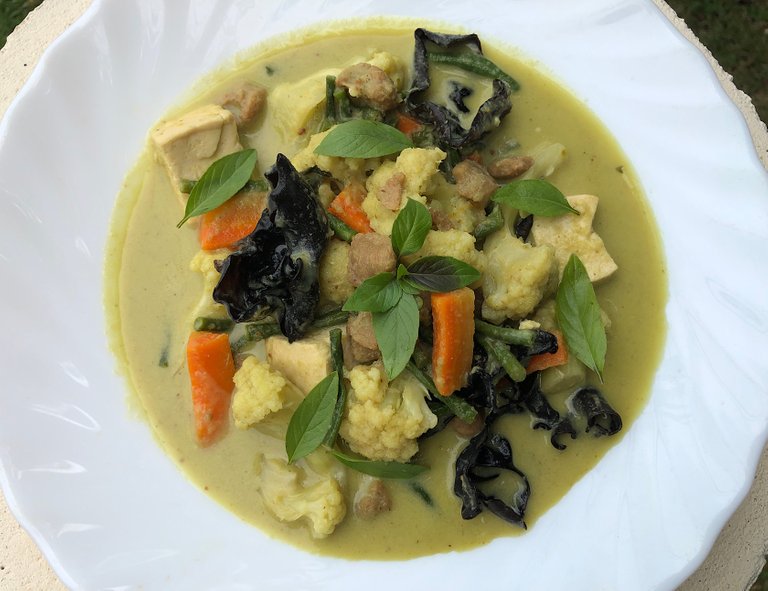 This is my first time to make Thai Green Curry here, but in my country I made it a lot because we have all ingredients for cooking. Hope you are all well everywhere.

🙏 THANKS FOR READING 🙏
If you enjoyed this post, please upvote and reblog.