Image source
In my backyard was this local boxing gym owned by one of my seniors in secondary school, Jerry by name. He tied a bag filled with sand and sawdust to a tree as a punching bag. A lot of guys who wanted to become boxers like Muhammed Ali, the Nigerian Bash Ali we're seen registering in the local gym. They did go further in their careers as boxers. I love watching combat sports but I won't venture to participate in it. For that, I would qualify myself as lazy.
During airing sessions, one of the boxers called Yamato made some very clean moves against another boxer. Yamato had proved the best boxer in the gym. Despite that there was little or no facility in the gym, he made waves around Lagos.
In December 2010, when boxing in Nigeria was just been financed, a competition for amateur boxing was organized in the national stadium Surulere-Lagos. From Jerry's local gym, Yamato and five other boxers were registered. On the day of the fight, we dropped the indoor hall of the national stadium support of boxers from the gym. We weren't disappointed though because, at the end of the event, three out of the five boxers we came to support were promoted into professional boxing, including Yamato who was awarded a cheque of $1,200. It was a huge plus for Jerry and his team. The gym became an eye for all young boys around our domain as there was now an improvement in the facility that was procured after the competition.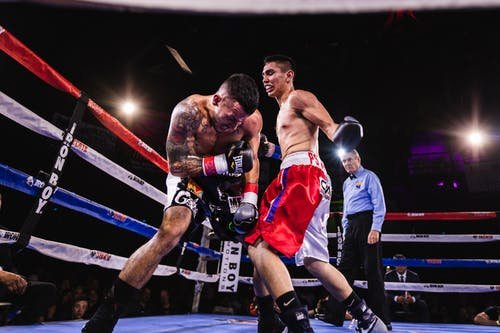 Image source
Michael, one of us in the supporter's team started growing interest in boxing. He bought video clips of many great boxers. One boxer that he concentrated on was Manny Pacquiao who rose to fame in 1995. Michael despite being a very brilliant science student chose a career in boxing and went all out to train as a boxer starting as an amateur in Jerry's gym.
I remember vividly the push-up, the skipping, jogging, and whatnot they have to undergo each training session. Men!! No career is easy. He started building his biceps through continuous training. On his first day in the ring as an amateur boxer, Michael did not show any kind of mercy to the opponent. After the first round, he came back to the ring like a wounded lion and beat up his opponent. That match earned him a new ring name, Lion.
Unknowingly, some scouts from Norway and Russia were present at the event. Michael had to choose who to settle with. After all, documentation had been concluded, my friend relocated to Norway where he started a professional career in boxing. This he did for eight years, winning many medals and still strained as a boxing coach. As we speak, he shuttles between Nigeria and Norway carrying out his duties as a sought-after boxing coach and trainer. His desire came out of the passion he found while Yamato was in the ring that fateful day. Whereas some of us found excitement, he saw beyond that.
It has been eleven years now, he is still a boxer with many titles from a local gym. Like his mentor, Manny Pacquiao, Michael had sponsored many out-of-school children through school and some of them are into boxing and other sports generally. In that period, he builds a career that would have taken at least two decades to build. He is not to the wealthy but the number of lives he has affected in his immediate environment speaks volumes and could easily pass for his achievement.

Image source
Many people aspire to be like someone they would easily refer to as a mentor but do not want to go through the rigor or sacrifices such people have put into their careers. I once looked up to the man who wrote A Groundwork On Nigeria's history- Obaro Ikime, the book is a rich source of Nigerian contemporary history through hard work and resilience. I wish I could pay the price of the sleepless nights he had making research while writing that book.
Today, Manny Pacquiao has become a Senator in the Philippines, adding value to lives of the downtrodden. A desire he held from when he was a boxer. Pac-Man as he is fondly called made a lot of huge impacts. He took it further by coming into politics to ensure the assistance he wants to render spreads to the grassroots.
In selecting your mentor, if your initial intention is for self-aggrandizement, even if that desire survives, it may not be able to reach a level where people will reckon with it.