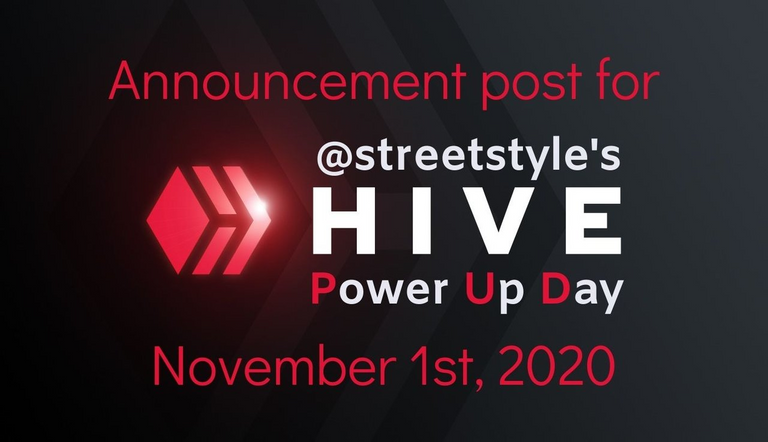 Source Incentives to power up Hive cryptocurrency!
The best cryptocurrency to buy? Well, it has to be HIVE - a combination of the fabulously low price (rude not to) combined with the range of development PLUS free transaction costs - no expensive gas needed - and simple, easily remembered, user-name wallet addresses. Get in!

not financial advice - do your own research :p

INVESTMENTS
Hive Power
Very happy to power up to 56,000HP today. I worked out earlier that with the equivalent of about 300 Hive coming through passive income and another 300 Hive through curation rewards each month, it'll take me about 60 months to reach 100,000HP. Of course, it will be less than that through the beauty of compounding and, it seems, the effect of simply setting a target!
The Ink Well
Probably my biggest investment in terms of time, The Ink Well is coming along nicely. Over the past six months, the team have refined its niche, focusing on short stories as the creative form with the greatest potential for attracting new consumers (as opposed to content creators) for Hive. The community has refined its curation policies and is supported by both @curie and @ocd curation projects.
Big challenges for The Ink Well are:
helping writers get to the standard that will attract an outside audience and have credibility with publishers.
educating community members about the Hive economy.
the limitations of the current community API.
Lots to work on there!
SPInvest (Social Prosperity Investments)
Excellent results and growth here - have a look at the latest holdings and earning report. Today's SPI value is 3.66 Hive (and rising) with SPI available through Hive-Engine at 4.74 Hive, with only 100,000 SPI available. I bought about 80% of my holdings at 1 Hive/Steem or so, and about 20% have been gained through token splitting, dividends and contests.
SPI also pays a weekly dividend dependent on earnings, which this week is 0.16 SPI per 100 SPI held. With my holdings, this is roughly equivalent in value to 52 Hive each week. My plan is to save 50% to continue to build my SPI stake and sell 50% to release SPI into other hands. My prices are usually quite modest, so look out for those at the beginning of each week if you'd like to start stacking SPI.
Thanks to the @spinvest team - @silverstackeruk, @jk6276, @taskmaster4450, @shitsignals, @metzli, and @no-advice.
ReggaeJahm
I was really pleased to see Reggaejahm make the move from Steem-Engine to Hive-Engine in the past couple of months. The JAHM token was originally based on an external use case - tourism - when COVID-19 hit and blew that away. A small core group has nurtured the token and the community and now it has been accepted into the @ocd Communities Incubation Programme which is great news.
I was one of the OG investors in ReggaeJahm and currently hold about 370,000 JAHM. I bought very early and was the first investor to stake 100,000 JAHM, so my exposure was comparatively low - what I might spend on a City break in less stricken times. I still think it is a great idea and worth looking at, and it is a lovely community with a dedicated core group. As the world gets its COVID-19 act together, I feel sure that ReggaeJAHM will prosper.
You can also find one of the few websites taking Hive and HBD through one of the founders of ReggaeJahm. Good going @dmilliz!
LEO
Ah LEO, my wild child! I have about 4,500 LEO delegated to an alt account @shani.leo. I think most of my LEO came through an airdrop and I've just added 500 to it from the wLEO Uniswap adventure. I'm really looking for a way to earn passively from this investment as, although I occasionally venture into LeoFinance and enjoy half an hour there, usually I'm too pre-occupied with other things. I'm hoping @spinvest-leo will set up a curation trail, so I can coat-tail there.

GOALS
Well, I've set my 100,000HP target and the timeline. I'd get there a lot quicker with regular posting, so now I've achieved my investment-through-purchasing goals, perhaps that's the way to go. I wonder if I can add another 300HP a month through posting? Two posts helped me on my way: @revisesociology's What crypto should I buy ... from which I have stolen shamelessly the simple slug idea and @themarkymark's How to blog everyday even when you don't want to. Let's see what happens ...
Happy HPUD day everyone, wherever you may be.
Thanks to @barge for the page dividers.

Posted Using LeoFinance Beta