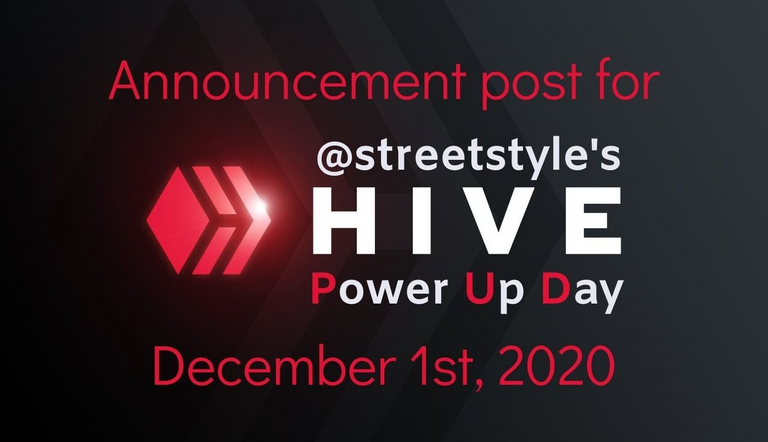 Find out more in the HPUD Announcement Post by @traciyork - you could win prizes!
Best Cryptocurrency 2020?
The best cryptocurrency to buy? Well, it has to be HIVE - a combination of the fabulously low price (rude not to) combined with the range of development PLUS free transaction costs - no expensive gas needed - and simple, easily remembered, user-name wallet addresses. Get in!
That's what I said last month, and this month it's even better: you can buy even more Hive with all the money you made on the Bitcoin bull run. While Bitcoin reached the dizzy heights of $19,000, Hive stayed resolutely under 15 cents - although Hive reached its own dizzy little peak on 26 November, right after the news that large parts of England would be coming out of lockdown and into Tier 3.
But, even better, are the second-layer tokens available through Hive-Engine. This month, I review SPI, Eddie-Earner and new kid on the block LBI. Leo Backed Investments (LBI or @lbi-token) launches on Monday 7 December 2020: brisk sales expected!
And I talk about how my 365 Day Challenge has gone and plans for next year. Let's get started!

not financial advice - do your own research :p

INVESTMENTS
1. Hive Power
I've earned about 580 Hive Power this month plus I will be powering up another 100 Hive for HPUD bringing me to somewhere around 56,680 Hive Power. At position 288, I'm in the largest 300 accounts by Hive Power, gaining another 40 places since I tipped over into Orca a few months ago.
At the current rate of activity, growing the account organically, it will take me another 55 months to reach 100,000 Hive Power - five less than last month - plenty of time to get to $2 dollar Hive.
2. SPInvest (SPI - Social Prosperity Investments: @spinvest)
The latest exciting news from SPInvest is that the Fund will be buying its first ounce of gold before the year is out. The Fund already holds one Bitcoin plus silver bullion, gaming cards and Ether in addition to Hive and Hive-Engine wallets. Read more about buying gold in Investments post no 3.
Last month, I was planning to sell 50% of the weekly SPI income - I think I was suffering from COVID-induced confusion! This month, I am back to my original plan of owning 10% of the Fund. My holdings are 9030 SPI with a token value of 4.45 Hive (28/11/2020) - just another 970 SPI to go.
The Fund value is quite high at the moment (about $49,000) due to the Bitcoin and Ether bull runs and may drop, which will also affect the token price. For me, this is a long-term HODLing, so those fluctuations are neither here nor there.
SPInvest is also a great way to learn more about investing and I recommend the weekly 10-minute latest investments post. There's also more investment chat (and lots of charts) in the discord channel.
Latest SPInvest weekly earnings and holdings report.
Latest investments post no 4
3. EDS (Inflation-proof income tokens: @eddie-earner)
Eddie Earners (EDS) is a really under-rated little token. It offers a very easy, low-cost way to start investing and saving - just 1.01 Hive from Hive-Engine. EDS are low risk, they can be bought using rewards from posting (so no fiat investment involved), and they provide a regular income. You can even win some in a weekly game!
I have been guilty of not paying too much attention to EDS beyond my initial 500 EDS investment when the token launched just over three months ago on 18th September. One of the great things about HPUD is that it encourages a regular review of what you're doing.
This month, I was prompted to work out the weekly income I'd had from Eddie Earners since it started and use it to buy another 15 EDS tokens. I also cleaned up my Hive-Engine wallet and found enough loose Hive Pegged to buy another 17 EDS tokens. It makes perfect sense!
Eddie Earner also has a cute little comic strip each week.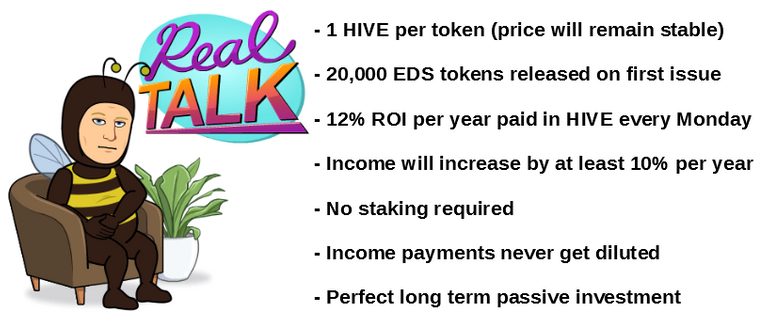 I'll leave the last word with Eddie Earner:
You're thinking to yourself, I can do this on my own with HIVE POWER but EDS tokens are 100% passive, no need to track curation, leases, no worrying about cool downtimes, power-downs, lost earning from life getting in the way, you don't need to worry about any of that as Eddie "the bumblebee" Earner does all the work for you and all HP will be used toward HIVE projects that have a positive effect on the blockchain. (Eddie Earner Introductory Post)
4. LEO Backed Investments (LBI: @lbi-token)
LEO Backed Investments (LBI) came along at exactly the right moment! Based on the SPI model, LBI cost 1 LEO each, the LEO is then staked and used to earn for the Fund - primarily through curation. You can find out more in the introductory post. The Fund launches on Monday 7 December 2020.
LBI offers some innovations: dividends will be paid to token holders once the project has stabilised, and 20% of the Fund has been put aside to reward content creators and others who contribute their time to grow the Fund. The former is a great incentive and the latter helps to ensure sustainability.
Again, although Leo is hovering around 2 Hive to buy, this is another very easy, low cost way to start saving and investing, especially because rewards from posting can be used to build your LBI HODLings. There's been a lot of positive support for the project and I'll be investing 4,500 Leo which, if you remember, I didn't know what I was going to do with 😁.
Here's what I said last month:
Ah LEO, my wild child! I have about 4,500 LEO delegated to an alt account @shani.leo. I think most of my LEO came through an airdrop and I've just added 500 to it from the wLEO Uniswap adventure. I'm really looking for a way to earn passively from this investment ...
Look what happened:
What shall I ask for this month? 😂
Don't forget - LEO Backed Investment tokens go on sale on Monday 7 December 2020 and are available by LEO transfer from @lbi-token.
5. 365 Day Challenge
At the beginning of 2020, I set a challenge equivalent to compounding a penny-a-day (day 1: 1 penny; day 2: 2 pennies etc to Day 365: 365 pennies). I found it hard to manage a daily challenge and re-organised it into saving £12.88 each week. I've done pretty well with this, saving double my target and buying .15 Bitcoin along the way.
The great thing about the 365 Challenge is that you get to spend the money at the end of the year: yay! I'm torn between a serger and a digital camera ...
It's been a good experience and I've enjoyed stacking every month.

GOALS
The 365 Day Challenge was a major re-set for me. I had already developed the habit of buying small amounts of (then) Hive each week. Through the Challenge, I honed my cashflow and budgeting skills, saving much more than I had originally intended (or thought possible).
Having decided a budget, one of the key things was moving a set amount out of my current account into my savings account immediately after I got paid each month. I could have automated this, but I liked having the control and I really enjoyed making the transfer every month.
The "savings" account was actually another current account that I had for this purpose. I wanted the flexibility to move money between accounts if I had an unexpected expense (car repairs, replacing white goods etc).
This did happen one month, but otherwise, once I had moved money into the "savings" account, I felt a real resistance to moving it back into my everyday account. If money was tight towards pay-day I'd find other ways to manage - eating out of the store cupboard, putting off purchases etc.
Next year will be one of those momentous years with a major once-in-a-life-time life-change coming up. As a consequence, I'm reviewing all my investments - shares, property and crypto - and putting some plans in place that will allow me to transition to where I want to be for the next five to ten years.
Crypto Savings and Investment Plans for 2021
set up a savings plan to acquire 0.3 Bitcoin by 31 December 2021.
achieve 70,000 HP, 10,000 SPI and 2,000 EDS by 31 December 2021.
Definitely need to do more posting!

Happy HPUD day everyone, wherever you may be.
Thanks to @barge for the page dividers.