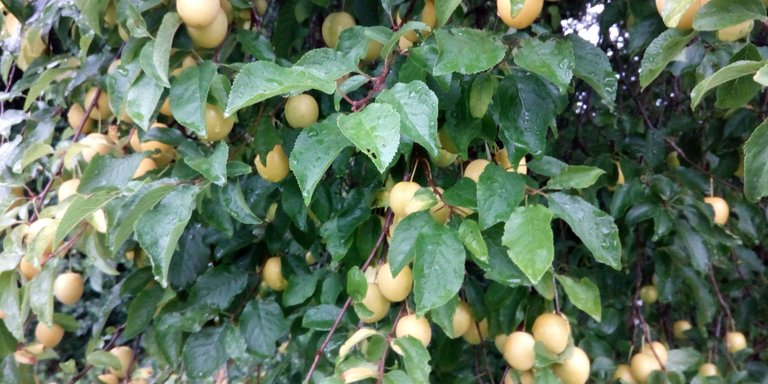 Plums or gages in the fields near where I live. See this post by @traciyork for details about Hive Power Up Day - you might be eligible for prizes!
Saturday 1 August 2021 and I'm taking part in Hive Power Up Day by powering up around 535 Hive to bring my account back to 56,000HP. But, somehow, it also feels like a good time to reflect on what's going to be happening over the second half of 2021.
Investments
I'm pretty happy with my Hive investments and, after watching what has been a mixed bag this year with crypto, I'm settling back into my old ways of gradually growing my HP over the remainder of the year.
H-E investments are doing well. I'm a slow and steady kind of investor, so I continue to enjoy the SPInvestments family, especially now that LBI is also going to be paying dividends. Together with UTOPIS, I'll have five residual payouts each week which makes me very happy.
SPI did a buy-back this week which has reduced the assets in the fund a little. The tokens that were bought back were burned, so there are now only 94,400 SPI tokens in existence. Inadvertently, I have achieved my ambition of owning 10% of the fund!
I'm pleased to see that SPI is looking at how to reward, especially, content creators, but actually anyone who does work for the Fund and is a reliable collaborator. We need to bring in new people for routine work like posting and free up others to focus on managing investments.
SPI is a growth token: my original stake cost about 7,000 Hive (900USD; 725GBP) and is currently valued at about 4.40 Hive per token (growth over two years). There was also an airdrop and SPIs continue to be distributed as a weekly dividend.


I'm pretty happy with my H-E wallet. I'm aiming for 10,000 SPI, 1,000 CL and 100 UTOPIS. I also have a couple of miners: EDSM and STEMM.
I have 2,540 LEO staked which I've been using for curation on @shani.leo. I've decided to delegate 2,500 LEO to @meowcurator's autocompounding scheme (the remainder to CL tokens). Let's see what happens - I'm really looking for projects that I can delegate to and keep an eye on without getting involved in H-E transactions every week.
Saturday Savers Club
I write the weekly posts for the Saturday Savers Club (see @eddie-earner) which is running through the year from 1 January-31 December 2021. The Club is based on the 365 compounding a penny a day savings challenge (day 1 = 1 penny; day 2 = 2 pennies, to day 365 = £3.65 pennies) leading to 670 GBP (or which ever unit you are saving in)
Each week I transfer Hive equivalent to that week's savings to the @susie-saver account set up for the purpose. This week, Week 31, the account reached Minnow - 1 million vests. Some Hive has also been invested in EDS and EDSM for that account, otherwise it probably would have reached Minnow a week or two earlier.
The Club has about a dozen regulars - it's very low-key and friendly - and each member has their own savings targets and ambitions. Some are saving Hive, others are accumulating EDS or Bitcoin (or, this week, SPS).
A couple of other great things about the posts are the high level of engagement (it regularly appears in the top ten posts for comments, often at number two or three, after @leomarkettalk); and that, every week, commenters are learning from each other. It's been a really successful pilot and I'm thinking up new ideas for the Autumn.
Wednesday Weight Well-being Club
I'd like to lose about another 6 kilos for health reasons. I've been thinking about setting up a Wednesday Weight Well-being Club (probably through the Natural Medicine community) along similar lines to the Saturday Savers Club.
I'm aiming for a lower weight that would bring health benefits through building on healthy eating and physical activity patterns. I'll have a framework and people are welcome to join me or have their own targets and plans.
I have particular things I want to achieve and the benefit of living in an affluent country and the opportunity to accumulate savings. Other people will be in different circumstances and on different journeys. There will be no food police and no evangelising about food or lifestyle choices.
The main thing will be that you want to change something and this is an opportunity to show up every week.
I'm aiming to have a launch post on Wednesday 11 August 2021 and Wednesday Weight Club will run for fifteen weeks after that until Wednesday 24 November 2021.
As with Saturday Savers Club, there'll be EDS giveaways for comments.
Saturday Savers Club
I run a savings club every Saturday over on the @eddie-earner account. We're aiming to save £670 ($800) by the end of the year using the 365 day savings challenge. You can join any time of the year and set your own goals and plans (some people are saving Hive, others Bitcoin, some their local currency). We share savings tips and there's a free giveaway every week.
Three things newbies should do in their first week and, for most things, forever afterwards!