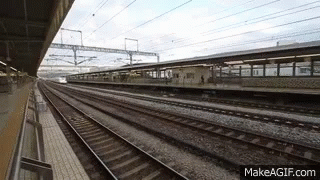 How do you get around?
The present weekend engagement topic in @THEWEEKEND community is about modes of transportation. I'd say my favorite mode of transportation is the car but I've also enjoyed taking the bullet train (known as the Shinkansen). It's super fast but the ride is smooth. Passengers often use this mode to travel from prefecture to prefecture.
I do enjoy going for little nature walks so I love that my feet can carry me around.
My family sometimes goes Shinkansen-watching. We get a thrill from watching them pass and usually try hard to get a proper video. It's like a challenge waiting for that moment it will come. It puts you on the edge. It appears and then disappears. It all happens in a flash.
My husband took this video some time ago. Here, we can see four modes of transportation. To the top, we can see a regular train. To the bottom left, we can see cars and a bike. In the middle, a Shinkansen quickly passes. You can hear my son saying, "That train is very fast!"
Below is a YouTube video. Here we get another view and see how quickly they pass. They're fast, but safe and convenient.
Enjoy the rest of your weekend.
Posted using Dapplr