Yesterday I posted a picture of a rusty old Bicycle on display! Today I re-visited the Garden Center to get a shot of the complete display to the public. From what I can understand, the display is meant to encourage re-cycling of plastic "plant pots" and other gardening stuff.
Anyway, as you can see from my new photo (below) there is now a huge plane suspended from metal beams in the building ceiling. The airplane is huge and probably really heavy, so I hope it is well secured LOL
Perhaps you can guess that my APART Reggae Challenge for this Saturday has a definite "flying" Theme. I could of found an airport or real aircraft picture, but I think my final photo choice is more quirky...
So Happy Irie Weekend Everyone... 😎 This "Picture & Song" publication is my latest contribution to the #APART Reggae Themed Music Challenge in the awesome [ ReggaeJAHM Community ]
APART = A Picture 🖼 And Reggae Tune 🎶
For more INFO: Please read the "Challenge Instructions" Post [here]
So let's begin with my latest #APART Picture (Taken by me).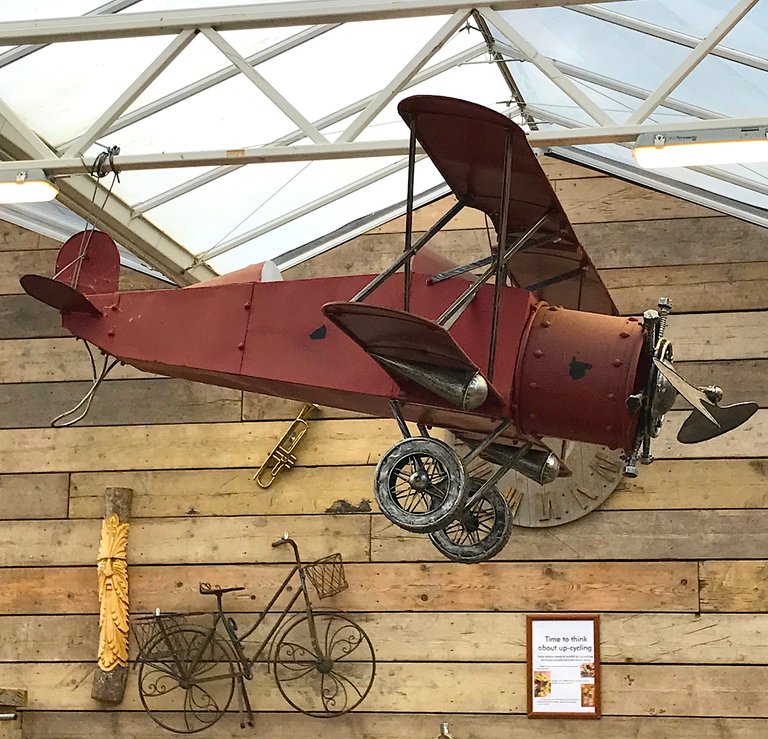 Photo Location: Woking Town, Surrey, England, United Kingdom 🇬🇧
Photo Source: Taken by me ©andy4475 Copyright ©2021
Now for my #APART Challenge ©YouTube Song choice...
After searching through some ©YouTube Channels I found this great Reggae Song that is titled "Catch A Flight" released in 2019 by the band "Through The Roots". This track is taken from their Album "Arrival".
From what was once a dream inspired by close friends, to humble beginnings filled with living room jams, late nights writing songs in the garage, backyard house parties and countless complaints from neighbors, San Diego-based reggae/rock band Through the Roots was born. ~ *Text Quoted from ©Yotube
Uploaded to ©YouTube by: ©High Stereo Love ~ Best Reggae Music (458K subscribers).
I really love the Artwork on this Video, and it's such a cool Reggae song! Please give it a listen, you might be surprised at just how good it sounds...
Above Music Video Sourced from ©YouTube [here]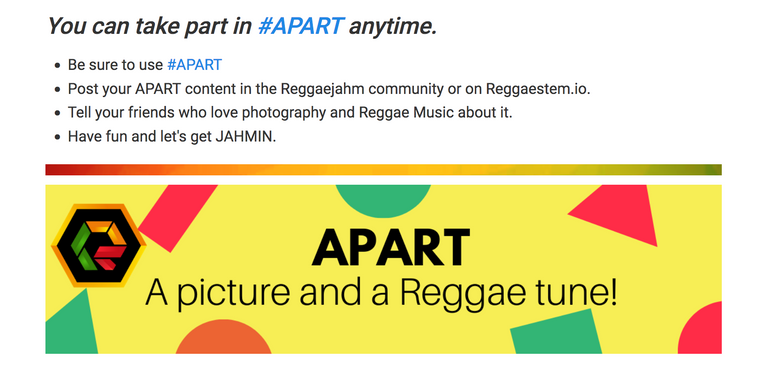 Above "Screen Shot" Sourced from the #APART Challenge Post [here]
Many Thanks for reading and listening,
and please come again soon to the #ReggaeJAHM Community.
This is meant to be a FUN Music Challenge... So just enjoy... 🙋‍♂️
Also Note: That I now have a brand new account @andy-jahm (only for #JAHM Token Curation) ~ It is now rewarding many quality articles posted in the ReggaeJAHM Community.
---
Posted via ReggaeJahm | Reggae Culture Rewarded