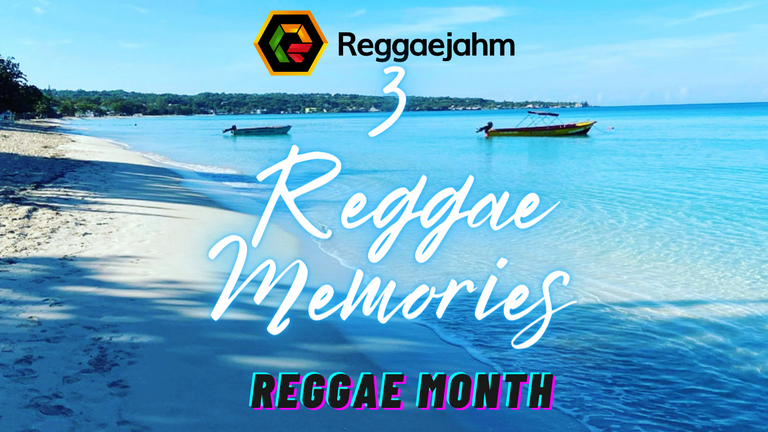 Well it's Reggae month (and Black
History month ) , yes I know it's actually every month when you think about it;). So let's get some things started and celebrate the culture.
First off, inspired by @rarej with his flashback tunes post, I spun it into "3 Reggae memories". Very simple initiative, here is all you have to do:
Choose 3 Reggae ( some hip-hop is ok) songs that have some good memories behind it for you.
Talk about the memory.
Post a link to the songs.
Make a cool cover photo. ( don't know how to make one? Just use Canva app!)
I'll be tipping posts with HIVE and sending out JAHM to spread the distribution out.
Here goes my 3 Reggae Memories.

First off is Snow, Informer.

When I first heard this song I was stunned to see a white man singing a song like that. But I was also impressed. I remember watching "In living Color" with Jim Carey's parody and laughing so hard. This song made me see Reggae and Dancehall not as music of Jamaica but as music of the world. You could give Snow all the heat and say this is not true Reggae, but this song was and is a hit that opened doors for Reggae.


Second,Bounty Killer & Baby Cham, Another Level

Seeing these two legends live is a real inspiring experience. I don't remember the exact event if it was fully loaded, Rass or another of the top events that went on in Jamaica. But I remember seeing when they first performed this song. The two biggest names in Dancehall releasing a unifying and motivational song on a Dancehall Riddim that wasn't normal for its time. The Riddim was called The Bug Riddim and it was produced by Dave Kelly of the Madd House Label. The power in the voices, how they commanded the stage and the team effort was brilliant. Being in the crowd was a historic moment. There were so many gun salutes and electrifying vibes, man!! Nothing can compare to a Dancehall session.

Third, Sean Paul with Temperature

When this song just came out I was working in Florida doing various shit jobs for the summer and this was the most played song on the radio. Everyone was jahmin to it. It felt really good to hear a Jamaican voice all over the radio and seing everyone go crazy at work. What made me more connected to this song was that Sean Paul was someone I used to see regularly at house parties in Jamaica before he was famous, and he is actually a cousin of one of my good friends.


Oh snap those were all Dancehall, I'll do a chill Reggae 3 memories soon though!
So what's your 3 Reggae memories? Make a post about it! Share it with the community!

Discord | Hive Community | Reggaejahm Interface | Twitter| Buy Beats With HIVE & JAHM
---
Posted via ReggaeJahm | Reggae Culture Rewarded