Waahgnwaaan HIVIN JAHMerz?
I feel like its time to do another #DashOutSunday, even though its a Tuesday here. But remember, you can post up those #DashouSunday posts anytime!
Last Saturday a friend blessed me with his some of his catch of the day. He went fishing earlier and stopped by in the afternoon with a school of hairtail 😂. Well not a school, but the fish seems to be abundant in the waters a he was fishing in as it was the only species he caught for the day and plenty of them.
---
The large-head hairtail (Trichiurus lepturus) or beltfish is a member of the cutlassfish family. This common and abundant species is found in tropical and temperate oceans throughout the world. This specific species is called the Pacific cutlassfish or Japanese cutlassfish. They are predatory and remind me of a mix between an eel and a Barracuda.
---
Cutting for cooking
Cutting for sushi
The photo of me receiving the fish was taken by my neighbor and friend who also received some of the catch. In total, we got blessed with 7 hairtails to be split between 3 friends. Because I have the "full-house", I bagged 3 and took two for a friend that wasn't around. Then it was suggested that we bring the fish to a local supermarket that does the cutting ( for cooking and sushi) for a reasonable price.
So off we went (the friend and I who received the hairtail), fish in bag. The teeth of these species are sharp and the head is pointy, so one of the 5 in my bag ended up piercing it. We threw them on the ground of my friend's Prius on top of a flatted cardboard box and headed towards the nearby supermarket. Just imagine walking into a supermarket with a bag full of long silver fish? We got more than a couple eyes.
At the back of the supermarket by the seafood section was our destination. The guy we handed the fish too told us it would take about 20 minutes, so we waited in the car and chatted a bit while scrolling the phones....20 minutes later, we are back in... the guys say, "ummh it is gonna take a little longer".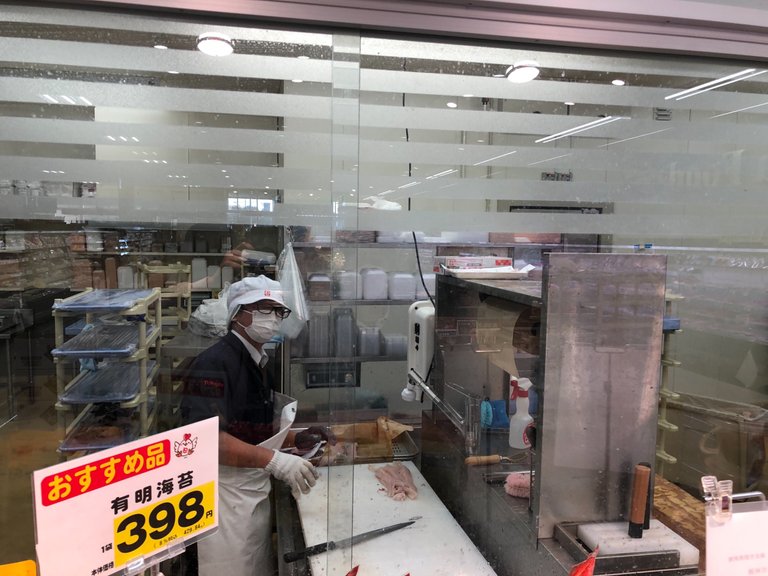 I don't think he liked us taking pictures of his cutting skills, but hey, it was out of respect.
After about 40 minutes and some supermarket shopping, or hairtail was ready. Interestingly I ran into my in-laws at the super market so the fam decided to go their for dinner bringing some of the fish along. We had sushi and grilled hairtail that day. And yesterday we had friend and grilled. I think my favorite of the three is grilled. Sushi is..well sushi and fried food and middle age don't gree ( "agree" in Jamaican patois). While the fish is tasty, my favorite of all time is the red snapper.
---
What is your favorite type of fish to eat?
---
Catch you next time web 3 peeps! Have a Blessed week ahead, and if some BS comes your way, don't let it get to your head.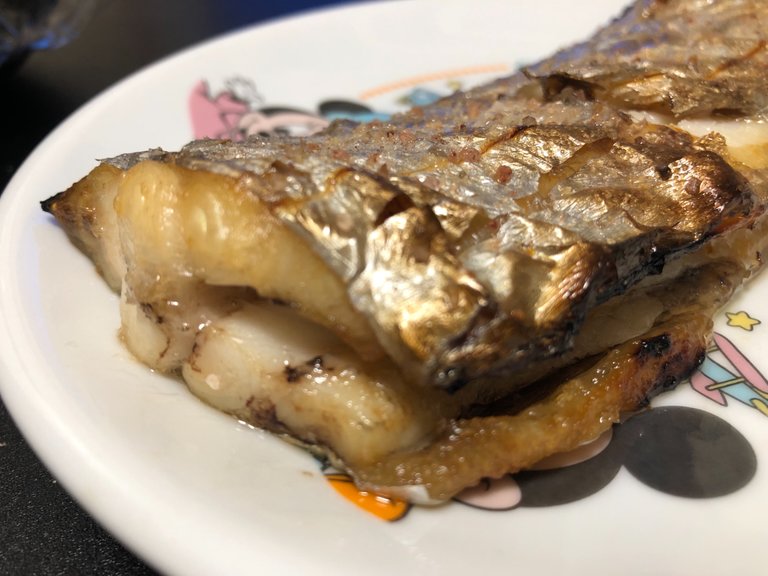 ReggaeJAHM.com
Discord | Hive Community | Reggaejahm Interface | Twitter| Buy Beats With HIVE & JAHM
---
Posted via ReggaeJahm | Reggae Culture Rewarded