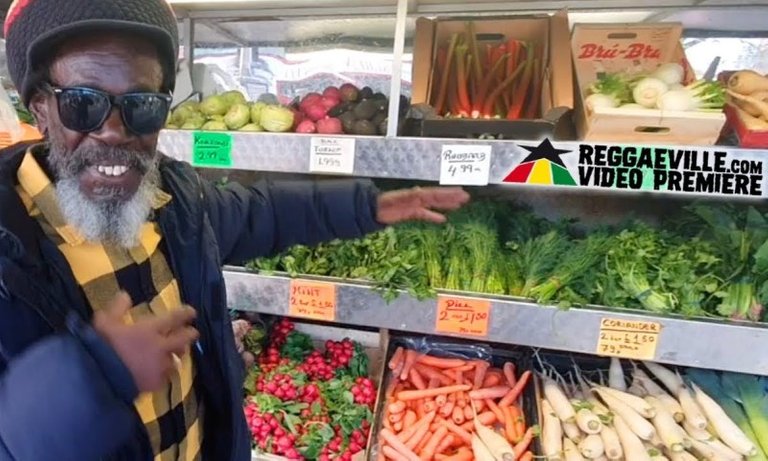 Many of you may know that members of the Rastafari community follow a #plantbased diet, with many choosing to refer to themselves as Italists when it comes to dietary and lifestyle practices.

Some Tunes For You Vegetarians
     With this in mind, I wanted to share with you all some of my favorite conscious reggae tunes that carry a vegetarian message of some kind, as well as a couple of new tunes I discovered while putting this post together.
     As a red-head, I myself am known as a ginger, so what better song to start with than Alika & Nueva Alianza's "Jengibre." This band has been one of my favorites for many years, hailing out of Argentina, she occasionally plays shows in the USA and Mexico.
     I had never even heard of Baba Ras until making this post, having discovered him by searching YouTube for "vegetarian reggae." That search led me to "Real Vegetarian," a truly infectious song with a valid point. In many Asian countries there is no word for "vegan," as you are either vegetarian or not, making ordering at a restaurant very simple without a long convoluted conversation.
     Sidenote: As an Ital chef, I must say Baba Ras looks to be cutting those cucumbers a bit too thick.
     British-born Macka B is a legend, and "Wha Ma Eat" is a perfect example of his very upbeat positive style. I've followed Macka B for many years, and he is definitely the undisputed King of kid-friendly PG-rated reggae music. This song demonstrates the wide variety one can have on a purely #plantbased diet, but I'm left with some doubts about Macka B's jogging routine.
     Black Uhuru, a classic band with an everchanging lineup, is responsible for this tune. In my opinion, Michael Rose is the most powerful singer the band ever had, and even "Guess Who's Coming to Dinner," a fairly simple song is given depth through his conviction on stage.
     I originally followed Perfect Giddimani's career with great hope for the future, and songs like "Handcart Bwoy" demonstrated his willingness not to overly embrace ego, a dangerous drug in Jamaica. The song is about his roots as a handcart vegetable seller in Jamaica, and it celebrates the allure of his simple and humble life.
     Bugle is a conscious artist with many songs I enjoy, and "Rasta Party" is a perfect example of how it's possible to have a fun party without alcohol, flesh, or foolish vibes. All drinks, drugs, guns, foolishness, and flesh, shall be turned away at the gates with respect.
     Lutan Fyah needs no introduction, and his lengthy career is testament to his appeal. "No Weapon" is one of my favorite Lutan Fyah songs of all time, and I can relate to this dream all too well of wanting a plot of land and some tools to get things started. He sings of the uselessness of weaponry when his money could be better spent on positive things.
     Macka B is back with Health is Wealth," and if don't know already, Macka likes to sing about food, and I can't blame him, but I like to cook much more than sing about food. This song carries a simple message that the Ital lifestyle is a healthy one and true wealth, and it's bangin' tune to play while your cooking up some Ital food.

🙏 THANKS FOR READING 🙏
If you enjoyed this post, please upvote and reblog.
CLICK HERE TO JOIN HIVE AND START EARNING CRYPTO LIKE US

---
Posted via ReggaeJahm | Reggae Culture Rewarded