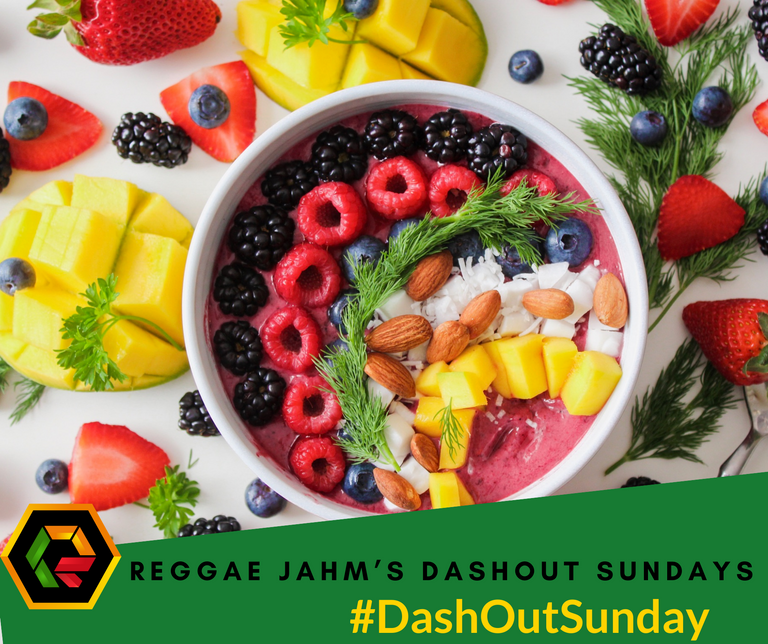 Greetings!
It isn't easy building a community and its culture, but it is up to us who are here now to set the trend. As we speak the Crypto & Blockchain floodgates are slowly opening. Soon all these communities on HIVE will be filled with new faces who need guidance. It is up to us to guide them and set the trend.
As some of you may know, #dashOutSunday started as a contest where individuals could place a picture of a home cooked meal they had over the weekend in the comments section of the contest post. They also had the option of making a post about it in the Reggaejhahm community. Creators could also share pictures of meals they bought or had at restaurants for Upvotes as well, but only self made meals would stand a chance at winning the IRIE prizes.
Now
#DashOutSunday is a tag we would like people to use on Sundays to share with us their home cooked meals, restaurant outings, take out food and more. More? Well if you would like, you could tell us about your Sunday, share your thoughts and show some pics from the day along with the meal you had. But the food is the main 😁.
The official #tag
Now this was something I had to finalize moving forward and the official tag is #dashoutsunday, I would have made it Sundays with an S but after checking past posts I just had "Sunday". So #dashOutSunday it is.

Where to post?
Post your #dashoutsunday
When to posts
#dashOutSunday is about sharing meals & thoughts from the weekend,(especially Sunday). So it would be highly appreciated if these posts are out between Sunday-Tuesday.
Food posts are always welcome on Reggaejham, but they have to relate to Reggae and the Caribbean in someway, BUT for #dashoutsunday, any type of food is a GO.
The best posts will be sent out to be curated by OCD.

.


Engage with others
One of the biggest problems communities have is that many members don't engage with other peoples' content. Now just imagine attending a party and not talking to anyone? Imagine the networking you missed? Imagine the image you portray? The best way to make it on HIVE is to engage with others and form real connection. Hit and run content creators don't get very far. Your content could be the best in the world, if you are not connecting with people, few may take interests ( unless you are famous). This is why we are encouraging you to engage with other members. It not only feels good, but will lead to a world of possibilities.
We look forward to your #dashoutSunday posts.
Keep it IRIE & Stay Blessed.
Give thanks for being a part of Reggaejahm.

Feel free to use the banner above in your posts
Discord | Hive Community | Reggaejahm Interface | Twitter|
---
Posted via ReggaeJahm | Reggae Culture Rewarded