I am a big lover of music, loving a wide variety if genre's. We all know that music has the power to connect us and also transform us! The universal language that bridges so many gaps within society and within the world.

Different songs, different pieces of music, bring us back to different times in our lives, to different places, different countries. I remember the very first time I heard Manu Chao, I was in Tulum In Mexico, many moons ago, before it got taken over by huge resorts and when the town was a mere village, with the bus station, a post office and one shop.
Damn I still remember the first time I heard Nirvana, I was 13 years old and I was mesmerized, watching them perform Smells Like Teen Spirit on T.V. I had never heard anything like them before.
When I listen to music, I want to be moved. When I listen to the words, I seek to connect with what they are singing. The older I have got, I have sought out music that is all about spreading awareness, either through the composition of the music or the lyrics/spells that the artist has composted/written.
Every artist, every composer, has the opportunity to create something that will help to broaden people's minds. I know that some music is purely for fun and to make people dance. But for me, I want to be moved, I want hear the artist tell their story, to hear their message.
With so much fact checking and censorship happening at the moment, we need artists who are not afraid to speak out, to be a voice for those who are being silenced.
Last Year, I discovered Greentea Peng, an artist from London, who fuses, Hip Hop, Reggae and RnB and I love what she has got to say! If you check out her songs on youtube you will see that all her videos have #FACTCHECKTHEFACTCHECKERS underneath them, promoting self research and Truth! This is one message that really needs to be promoted and I have a lot of respect for her, in doing so.

The following words, are from her track Make Noise, which is just above!
This is for the youth that can't be silenced nor battered nor beaten Though you try confine us
This is for your heart and not your mind No man made construct no divide
This is for your spirit for your loudest voice For our right to party this is our noise
We was sung into creation we have no voice But to chat out loud
Down Babylon, rejoice Make noise
Make noise
Make noise
She writes about real issues, about self identity, about suicide, about misinformation and the rise of the plandemic!
We get to chose what we listen to, what we want our children to be exposed to. I chose to listen to those who speak their truth and the truth of what is happening in the world. We can't sugar coat things any longer, people need to be informed. To tell it like it is!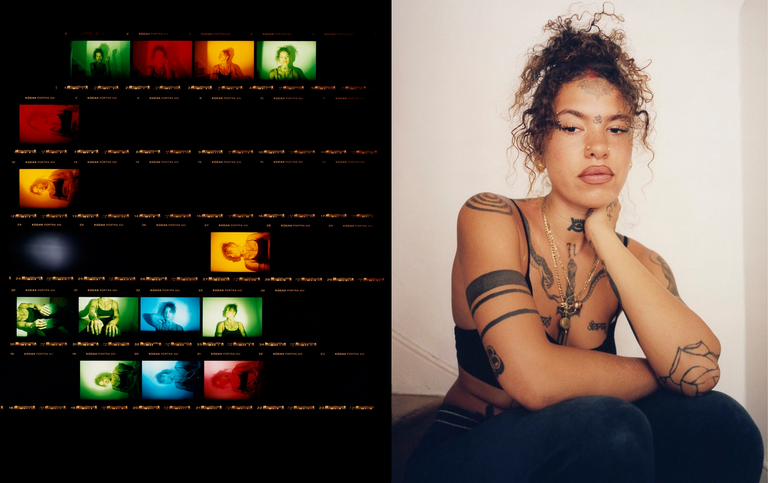 As I was writing this post, I opened up an article about her and found that she had spend some time living in Tulum, reading that made me smile. A little reminder that it's a small world and that we have all walked the same roads at times and that now we really have to remember what connects us all, to not focus on the propaganda that wishes only to divide us.
Which brings me to the first song I posted up top, Human. This is what she has to say about that song, a song where she is searching for balance and praying for clarity and unity!
Hu Man
YOU man, me man, WE MAN.
Hu Man is an exploration of self and our attachment to identity, especially in this modern age. Hu Man is a war cry from the battlefield of mind, calling to the divine Mother to take this ego, take this head, to remove all these words and man made constructs and take me, take us, back to centre. Back to oneness, forward to unity. In Lak'ech Ala K'in, I am you you are me, is a Mayan saying I encountered during a Ceremony in Mexico and it's stayed with me always. I find it very fitting for the times we find ourselves in, such shifting paradigms. Hu Man is an offering of peace and healing to the collective in these intense times, and I pray it takes people inside themselves if for only just a moment.
I hope you give her a listen and are as moved and inspired by her words as I am. Here's to a rise in more freedom seekers and truth speakers taking the stage!