I just opened my sixth 12 pack of cards on Rising Star - my fav game by a long shot !
Todays opening gave above average skill and IM (in both cases my highest ever), low fans, luck (my lowest ever), and uniques (my lowest ever) and low guitar skill compared to an average 12 pack opening for me ! And I didnt get any epics.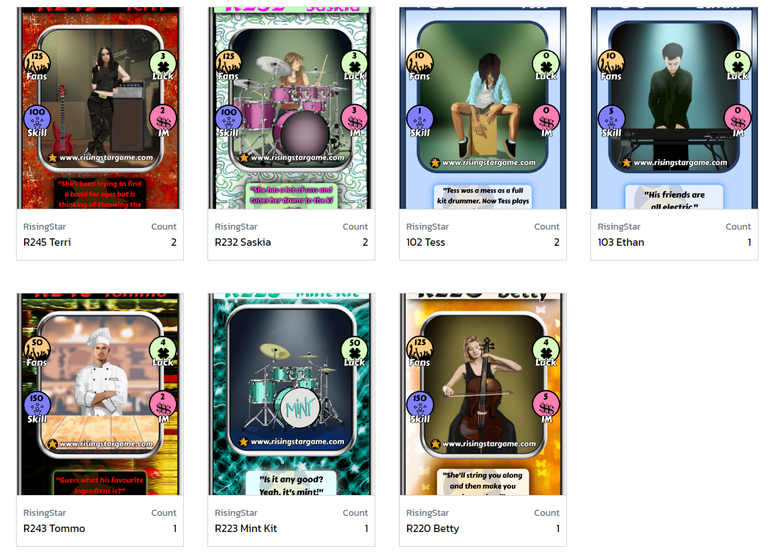 The table below lists all of the cards I got - rares with fans are in yellow, and the orange denotes cards with guitar skill (thats the lessons I use).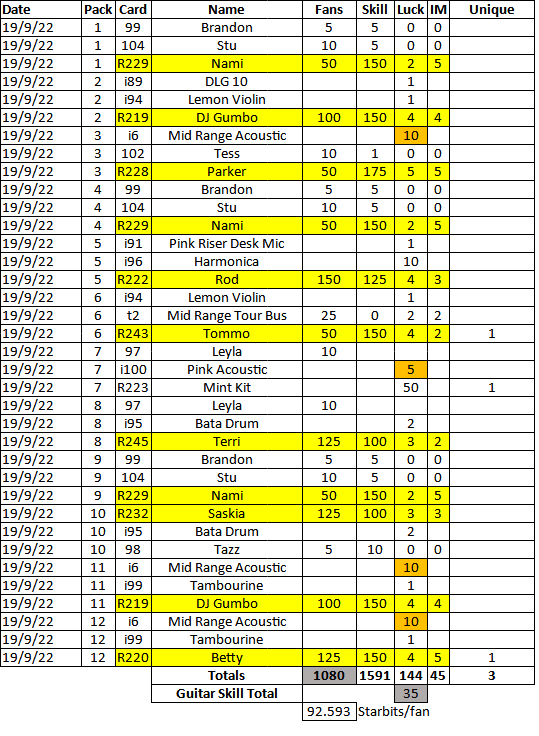 Pack Summary
No epics - boo hoo,
11 rares with fans, which is decent - with an overall fan count of 1080 which works out at 92.59 starbits/fan, which compared to the current lowest fan card on RSG Fam at 66.6 starbits/fan, is not great. My average fans pulled per 12 pack is 1467.5, so this was a poor pack on the fans front - although I have had lower,
Skill was the highest I've ever pulled at 1591 compared to my average pull of 1240 per 12 pack,
Luck was 144 compared to my average pull of 233, the worst I've ever pulled,
IM was 45 compared to my average pull of 33, and the best I've ever pulled,
I picked up 3 uniques compared to my average pull of 9.67, so that was quite poor (my lowest ever),
I picked up 35 guitar skill, which is what I use for music lessons. This was low compared to my average pull of 43.3.
So good on skill and IM, but low on fans, luck, uniques and guitar skill.
By comparison to RSG fam, to buy the same amount of fans and guitar skill today I would have paid 73996 starbits, so I've over paid - but opening a 12 packs is the funnest thing ever, so I will continue to do it !!!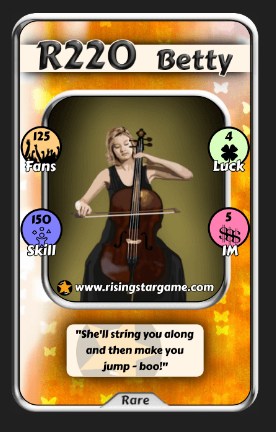 I've kept a track of my card stats from all of my pack openings, as per the following table: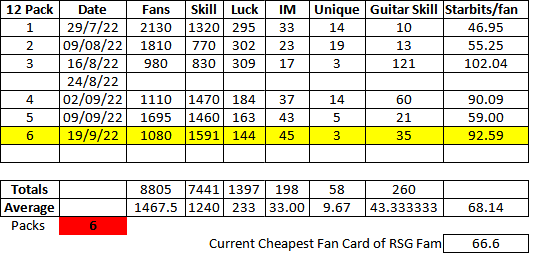 You can see todays pack in yellow, and then the totals and average at the bottom. So my average for fans is running at 68.14 starbits/fan, which is actually higher than what I could have gotten on RSG fam today (66.6 starbits/fan), but its close enough that I'm happy to keep buying 12 packs in comparison to buying individual cards at best price.

The table above shows my game stats summary, and compares to after previous pack openings, although player rank is not yet updated (it only updates once per day). So steadily making progress - so cant complain.
Well thats my 12 pack opening excitement over for today - and I'm looking forward to the next pack already ! !