---
WELCOME TO AFRI-TUNES COMMUNITY
A community open to all musicians all over the world, to share and enjoy African music.
---
Do well to subscribe to our community to share and enjoy your quality African Tunes.

Click here to be re-directed to Afri-tunes Community
---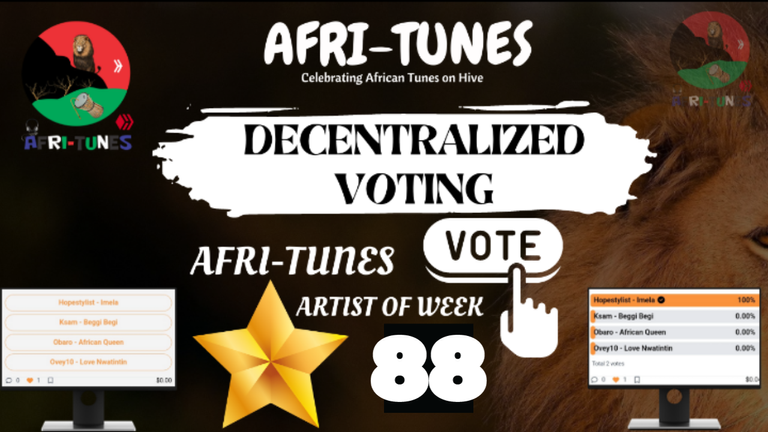 ---
DECENTRALIZED VOTING
---
By Decentralized Voting, we mean that every individual in the community will have a say in who becomes the artist/author of the week. Hence, the entire community will be fully involved in who takes this position.
Every week, the community curators (Admins + Moderators) will select the top four posts based on:
Quality video and audio production
Excellent musical performance
Quality write-up
Engagement in the Community
Then, the community will be invited to vote on the four posts via a Poll, and the outcome of this poll will determine our first and second winners for the week.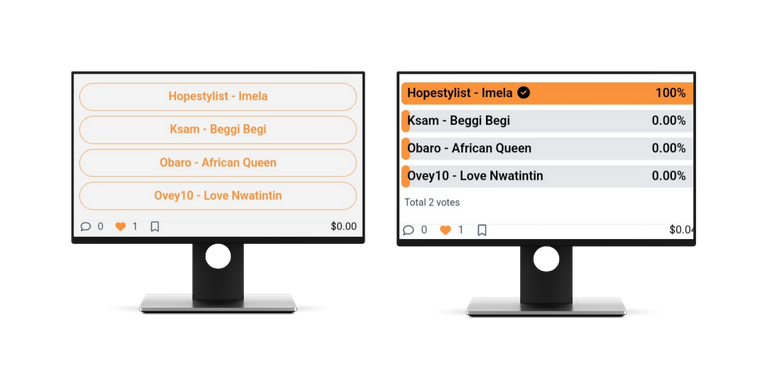 Voting will be an easy task, and the outcome will be easy to collate: clear winners and clear number of votes. The voting poll will be open till Sunday at 23:59 PST (which is Monday 07:59am West African Time), and a snapshot will be taken by that time. You can also invite other Hivers to vote for your preferred artist for the week.
---
HOW AND WHERE TO VOTE
---
To vote on your favourite artist, you'll need to login to leofinance.io on your mobile browser and sign in via HiveSigner. You can also sign in via Hive Keychain. To do this install Hive Keychain on your mobile phone, or install the Hive Keychain extension on your PC. You can read this post to guide you.
---
AIM AND REWARD
---
The aim of this initiative is to promote quality posts on Hive. The posts of the top authors and artists will be included in a weekly digest that will be promoted on Twitter and other Web2 outlets.
The post will be curated by Ocd, Blocktrades, Theycallmedan and Leofinance, and 60% of the reward from the post will be given to the winner of the previous week, together with other prizes sponsored by our amazing sponsors.
Don't miss out! Join the community in voting and make your preferred artist win!
---
VOTE YOUR AFRI-TUNES TOP ARTIST FOR WEEK 88
---
The top four selected artists for Afri-tunes week 88 are:
---
Wizkid's I love my Baby by @magicfingerz
---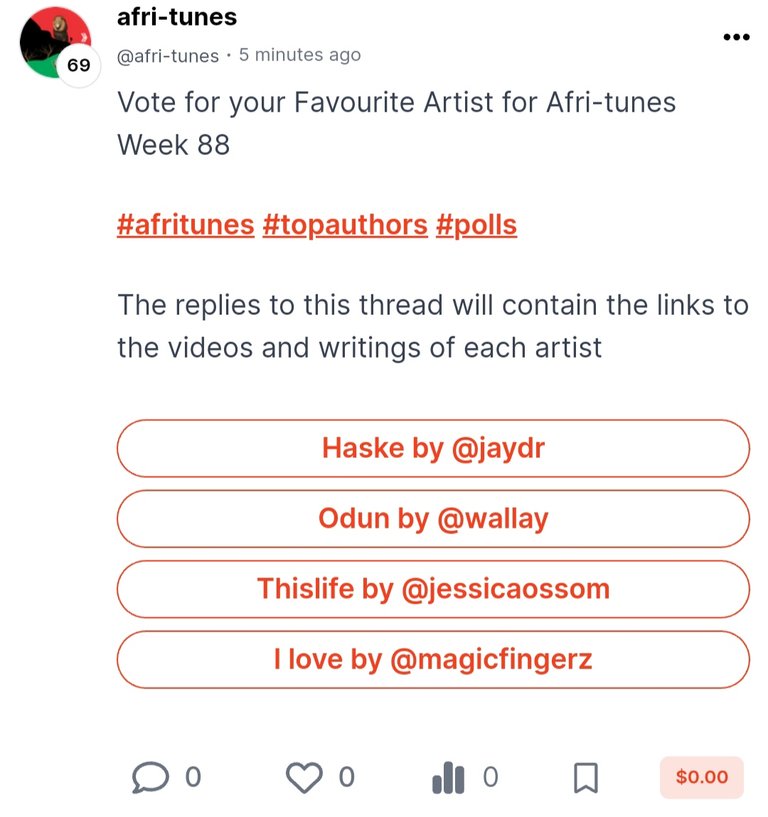 Or you can copy the link here and paste it in Keychain Mobile browser:

https://inleo.io/threads/view/afri-tunes/re-leothreads-2slcizyd6


60% of the post reward will go to @oluwadrey for being the winner of week 87.
20% of the liquid reward will go to @weeklytops for Hive Marketing.
---
Special thanks to the Weekly Tops Marketing team for this initiative to support top authors as well as promote the wonderful communities on Hive Blockchain
---
If you want to sponsor the Afri-tunes contest prizes with Hive, Leo or Ecency points, you can send the tokens to @afri-tunes or @afritunes, or you can reach out to us via Afri-tunes Discord Server!!!
---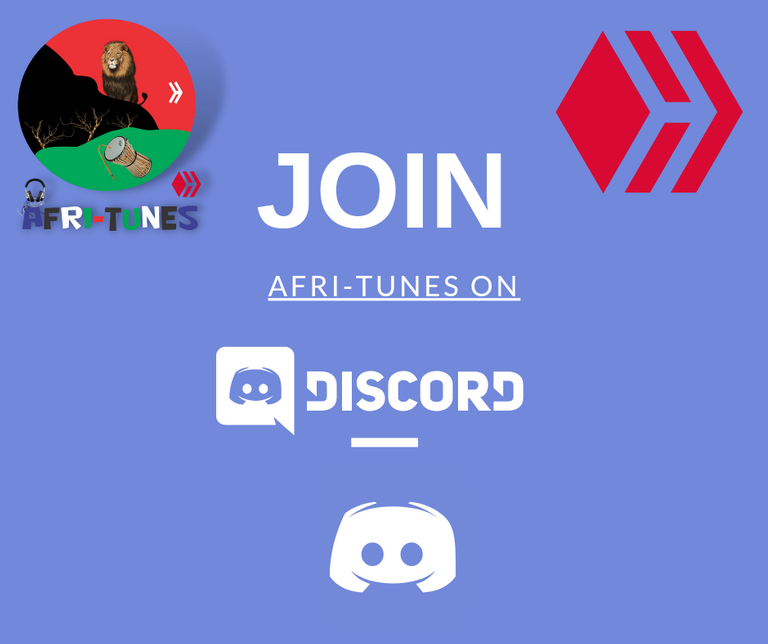 Click the banner above to join Afri-tunes Discord Channel
---
We hope to receive more collaboration, support and sponsorship in order to facilitate the growth of this project.
---
Click the link below to join the Afri-tunes Curation Trail so that, with your help, our Curation Trail can become stronger and better able to sustain and support high-quality posts.
Here is a guide if you don't know how to join a Curation Trail
---
You can also delegate HP to @afri-tunes (Afri-tunes official account) to help us curate high-quality African music for Hive.
---
Let's Spread the love, the calmness, the smiles, the culture, the songs and the dance associated with African tunes.

---
If you love this project do well to comment, reblog, upvote, tag one or two friends and support us in any way!!!
---
---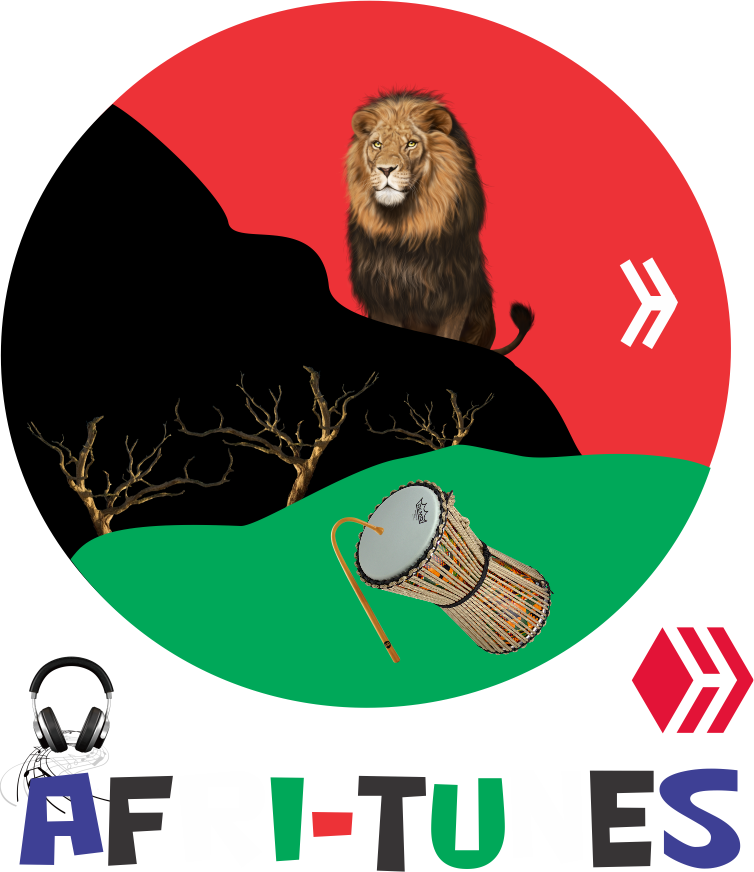 ---
You can also share your thoughts, contributions and suggestions.
👇👇