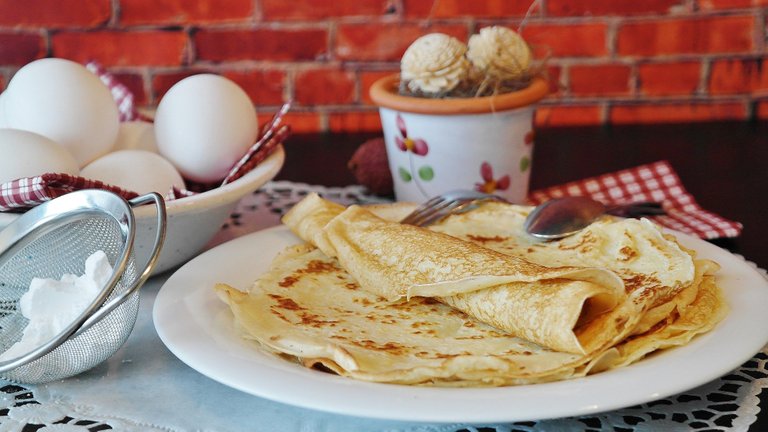 Today is Shrove Tuesday or Pancake Day in the dark northern European country where I live. Traditionally the day that Anglo-Saxons were shriven of their sins, it was also a day of feasting when eggs, butter (fats) and milk were used up before the start of Lent and forty days of sacrifice, penitence and reflection before Easter.
Fasting, or sacrifice, was synonymous with Lent, apparently to reflect the 40 days of sacrifice and temptation endured by Jesus in the desert. I think this may have been another appropriation by the ancient Christian Church of a period of the year that was happening anyway.
After the heady midwinter and start of Spring feasts, this would have been a pretty grim time in the Anglo-Saxon calendar with not much growing and not much left in store other than roots - ancient versions of carrots, swede and turnips - and field beans.
Thank goodness the Romans had popped by a few centuries earlier and introduced cabbages - sturdy vegetables able to stand up to the cold winds and survive frosts when left in the fields. Cabbages grow well in England.
I remember Lent as a child. I grew up in an inner city area of London, one that had been a separate village at one time with its own parish church, church school, and parish hall, built in the 19th century for worship by the common orders (too many by then to fit into the church on Sunday).
Although my parents were secularists, the church and its Sunday School and other activities provided a welcome respite from managing six small children. During Lent, every Tuesday evening I went with the Brownies to a special workshop held in the Church.
Each year there was a duplicated book with pictures to colour in and activities to complete. There was talking and prayers, kneeling down on the embroidered hassocks, so tiny we were hidden by the pews, and much fidgeting and shushing and giggling.
The church was dim and musty, only the first few pews lit up, the altar and nave in darkness. But it was all part of the year, marked out by festivals and events like the Sunday School picnic, Brownie Revels, Christmas Bazaar and Summer Garden Party; and Lent, cold and dreary with some vague promise of a future, much like it must have been for the Anglo-Saxons.
I've just finished reading The Obesity Code by Dr Jason Fung. Dr Fung is a nephrologist, specialising in treating kidney disease of people with diabetes, who are also often obese. His book tackles the problem that the treatment (increased insulin) for diabetes Type 2 makes people sicker.
On the way to exploring an alternative approach, he addresses the flaws in the calorie-deficit (Eat Less, Move More) model, takes a swipe at Big Food creating new markets for snacks and breakfast and introducing fake foods like High Fructose Corn Syrup and Trans Fats, and at the science, including "nutritionism" as Michael Pollan calls it.
For example:
The evidence on a link between dietary fat and obesity is consistent: there is no association whatsoever ...
Even the National Cholesterol Education Program admits, 'The percentage of total fat in the diet, independent of caloric intake, has not been documented to be related to body weight.' Translation: despite fifty years of trying to prove that dietary fat causes obesity, we still cannot find any evidence. This data is hard to find because it never existed. Source p.204
'has not been documented ...' - How weasel-y can you get?
Dr Fung's premise is that the body is designed for both feasting and fasting. When food is available, we feast and our body has automatic systems, controlled by hormones, which uses food energy that is needed and stores excess food energy as fat.
When no food is available, our body switches systems to one that retrieves stored fat and converts it to food energy, available for the body to use. There's a short-term intermediate system where the body retrieves food energy which has been stored in the liver as glycogen.
There is some opposition to Dr Fung's ideas but, on the whole, they made sense to me. The framework that he suggests is not complete, because there are still many things that we do not know about how the body works - I liked that admission, too.
Dr Fung proposes using the body's natural capacity for fasting to re-adjust the body's "set weight"; in particular, using intermittent fasting to help with weight loss. He has lots of videos on YouTube, both on his own channel and as a guest on other channels, where he develops his ideas.
The thing that interested me, though, as a person who could do with losing a few pounds but isn't chronically overweight or diabetic, is the idea that it is natural to fast - our bodies are designed to be able to do that as well as to be able to digest and metabolise energy from food.
I wondered, then, whether not only are we able to do it, but actually whether it is health promoting to do it. We would have developed the capacity to cope with times when food was not available, but would we also have developed inter-related systems (feasting/fasting) that, together, provided optimum health?
Dr Fung says we've always fasted - as a cultural, spiritual, religious practice. But I wonder if, like I'm suggesting about Lent, some of us have adopted fasting as a cultural practice because it was already an inherent part of our lives in times of food scarcity?