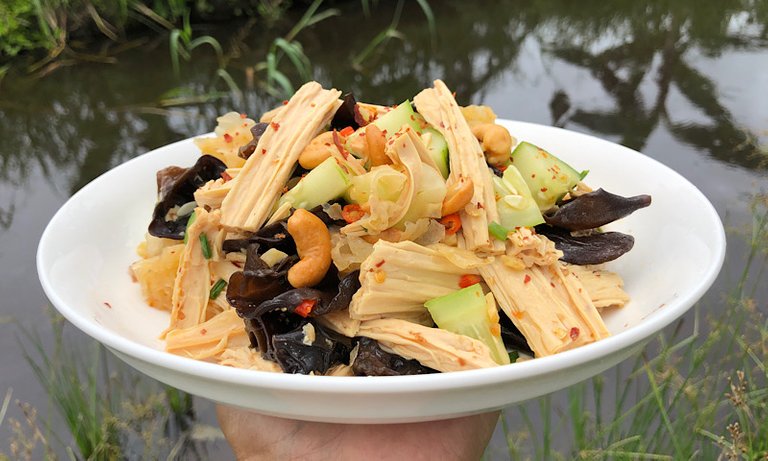 Happy Sunday everybody! Today I have only a 1/2 cucumber and I still have a little bean curd skin from a long time ago. My mother-in-law send us one kilo of cashews from USA last week.
So I have an idea to make a salad from these ingredients and share with you all too. We enjoyed it, and the flavors were tasty together. I think you like it the same if you can taste it 😊.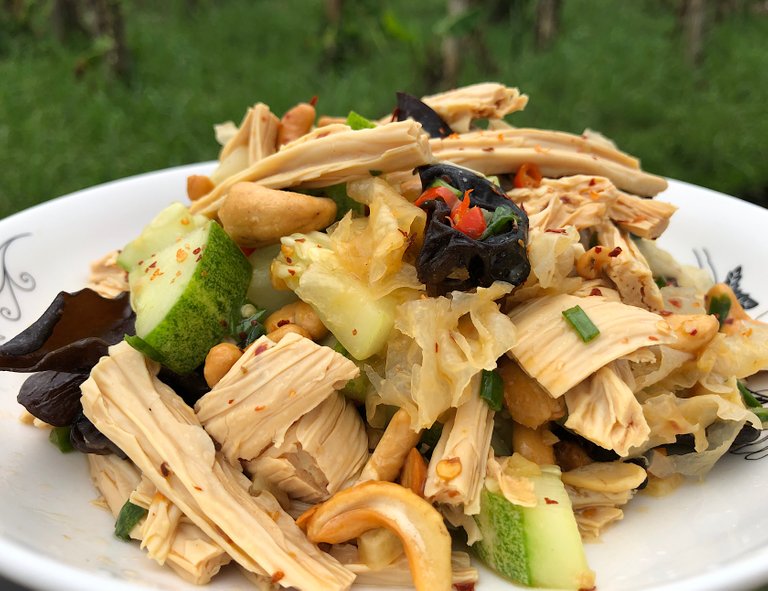 👩‍🍳 Bean Curd Skin & Cucumber Salad (Ital) Recipe 🔪
វិធីធ្វើសាឡាដពពុះសណ្ដែកត្រសក់បួស

Ingredients For Make Salad
100g bean curd skin
10 small pieces of wood-ear fungus
1/4 of a snow fungus
1/2 cucumber
1/3 cup roasted cashews or as you like
10 green onion leaves
4 cloves garlic
5 fresh chilies
1/2 tsp salt or taste
1/2 tsp brown sugar
1 tbsp soy sauce
1 tsp sesame oil
1 tbsp nutritional yeast
1 tsp dried crush chili
2 tbsp vinegar or taste
5 tbsps olive oil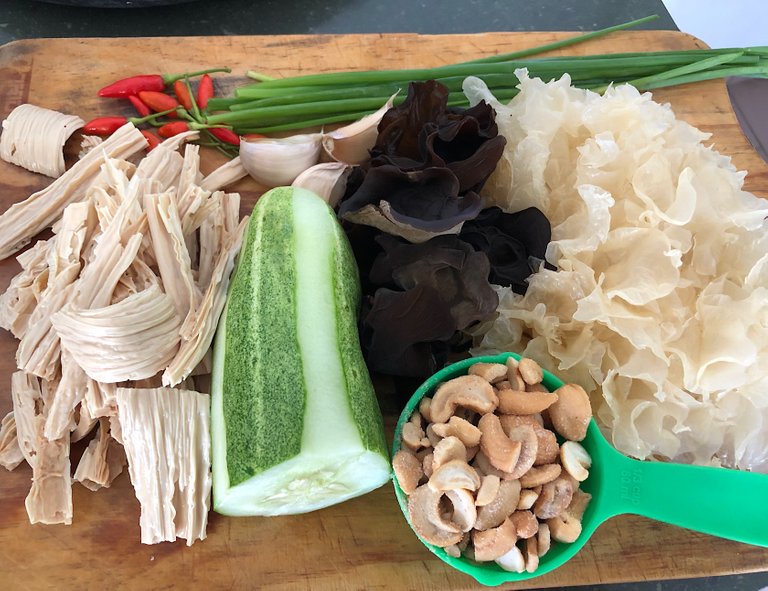 Soak bean curd skin, wood-ear fungus and snow fungus in water until soft, then wash them well.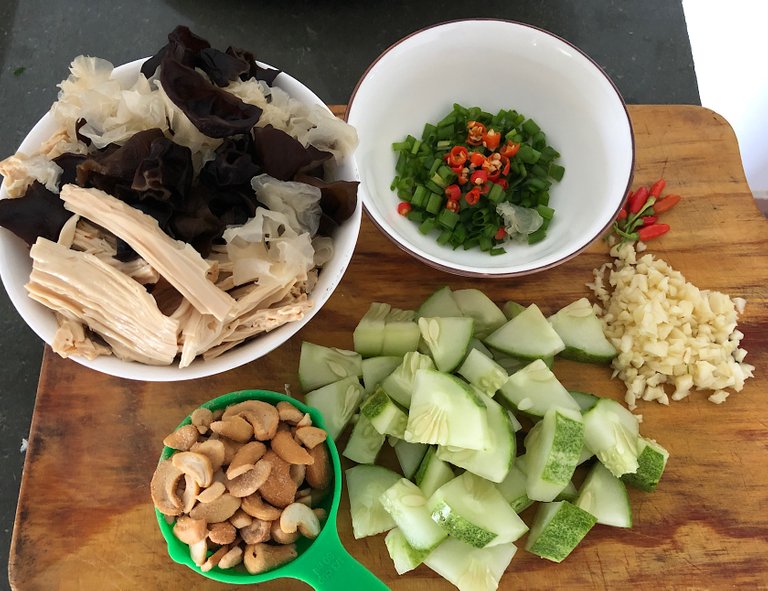 Cut bean curd skin, wood-ear fungus, and snow fungus, then boil water and add 1 tsp salt. Cook them a few minutes, then remove them from the hot water and put in the cool water. After about a minute, remove them from water.
Cut cucumber, garlic, green onions and fresh chilies, then put them in a bowl. Then put salt, sugar, soy sauce, nutritional yeast, and sesame oil in different bowl.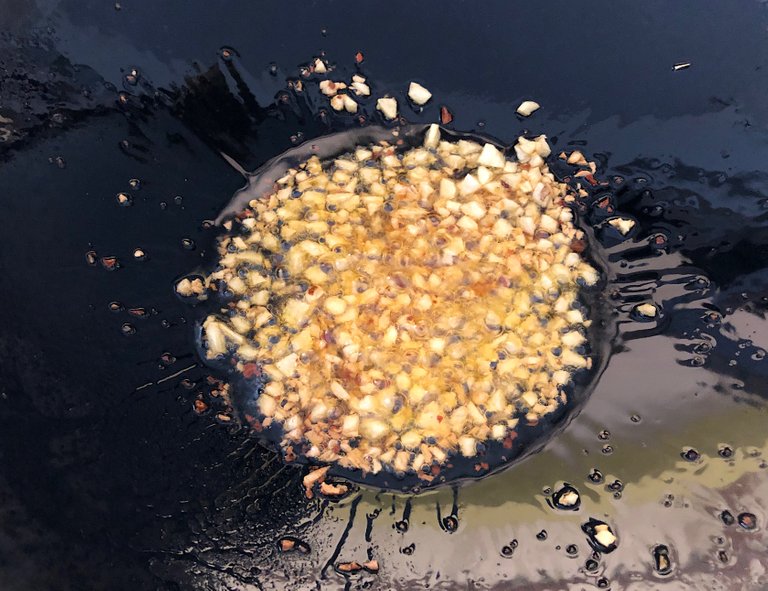 Take a pan and put it on the stove. Heat oil and fry garlic until brown and add crush chilies. Stir-fry a little and turn off the stove.
Pour it in a bowl and add the rest of the ingredients. Stir it together.
Pour that on cucumber, bean curd skin, wood-ear fungus, snow fungus, add vinegar and mix up together and taste. Finally add cashews mix it up again, it's ready.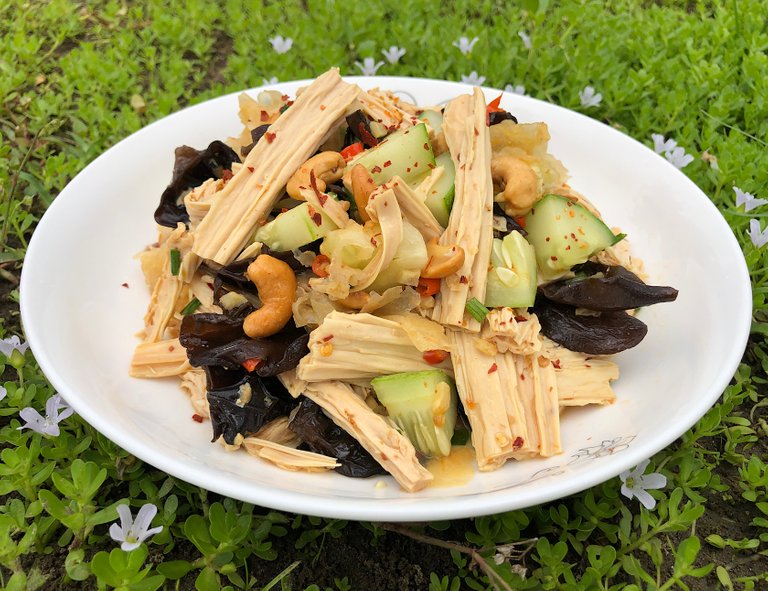 I hope you all are well everywhere you are 😊.
CLICK HERE TO JOIN HIVE AND START EARNING CRYPTO LIKE US

---
Posted on NaturalMedicine.io