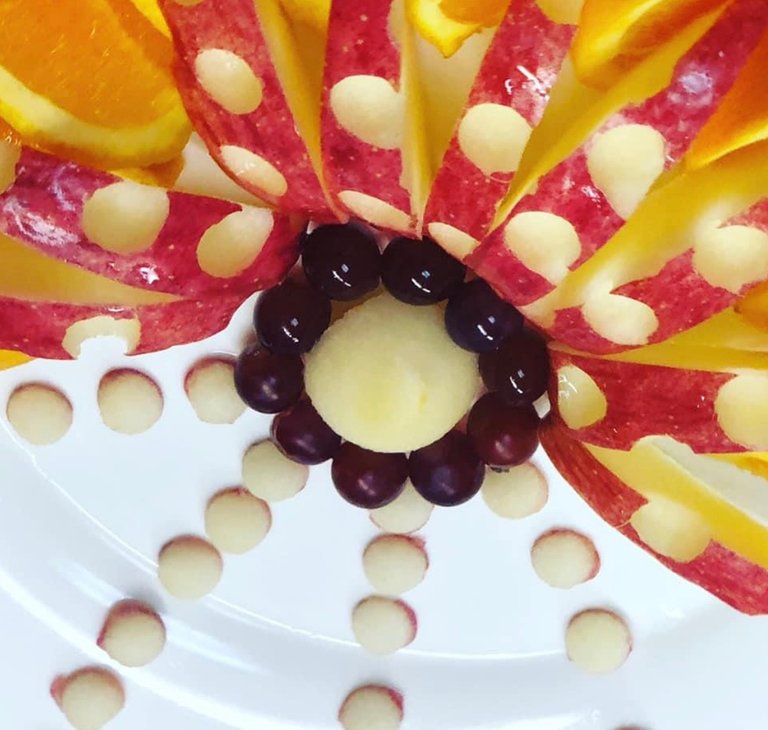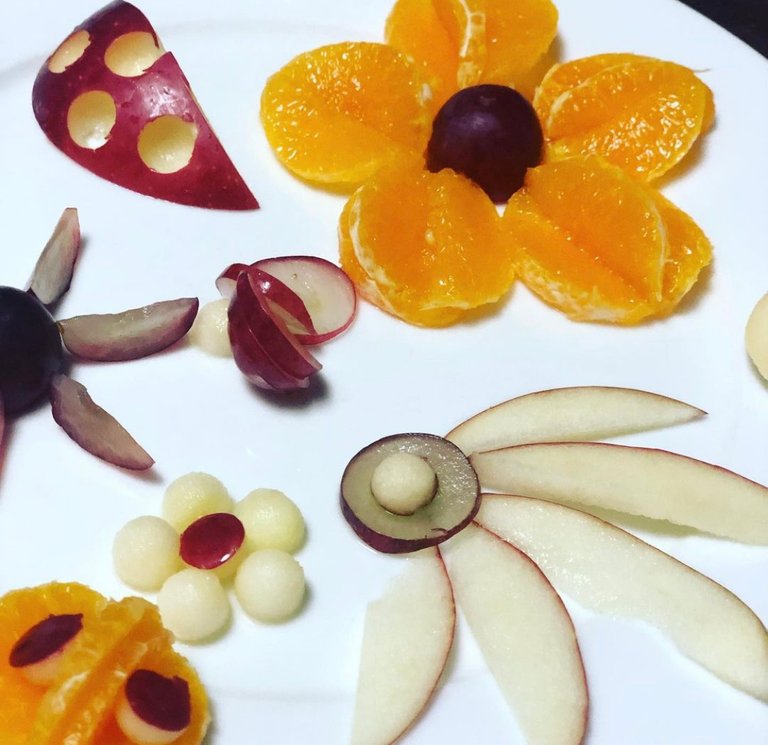 Hi Hivers.How are you?
Thought I'd share with you two of my random fruit-plates.
I use the word random, meaning "unplanned".
I believe planning and preparation are important steps and processes in life. These steps give direction and vision. There's a great feeling of satisfaction when things work out as planned. When things don't go according to plan, there's much to be learned, new ideas are generated and one can still get a feeling of satisfaction upon completion.
That being said, I must admit that I like being a bit spontaneous.
Since I became a parent, most of my activities have had to be more routinely planned and scheduled. I have to wake up at a certain time, wake the kids up, get them to school, get to work, pick them up, prepare meals and so on. I know... all of that sounds normal but with kids, you kind of "have-to-do-it". Planning and preparation have become even more crucial.
So, when there's time, I like to be "off-schedule" and a bit unplanned.
One thing I really enjoy doing when I have my me-time, is making fruit and or vegetable plates or arrangements. I could put that "really" in block letters, hoping you'd understand how much I enjoy doing it. Haha!
I sometimes plan what arrangement I'll make and what fruits and tools I'll use but, often times, I just see what I have in the refrigerator and start making "something". Hence, the title above, "Random Fruit-plate". I get a thrill from not knowing what exactly I'll be making and feeling the ideas coming in as I work. Oops! Let's call that play. I get that same feeling of satisfaction upon completion as when I have planned. Well, sometimes I feel more excited.
Let's now get to the fruit of the matter...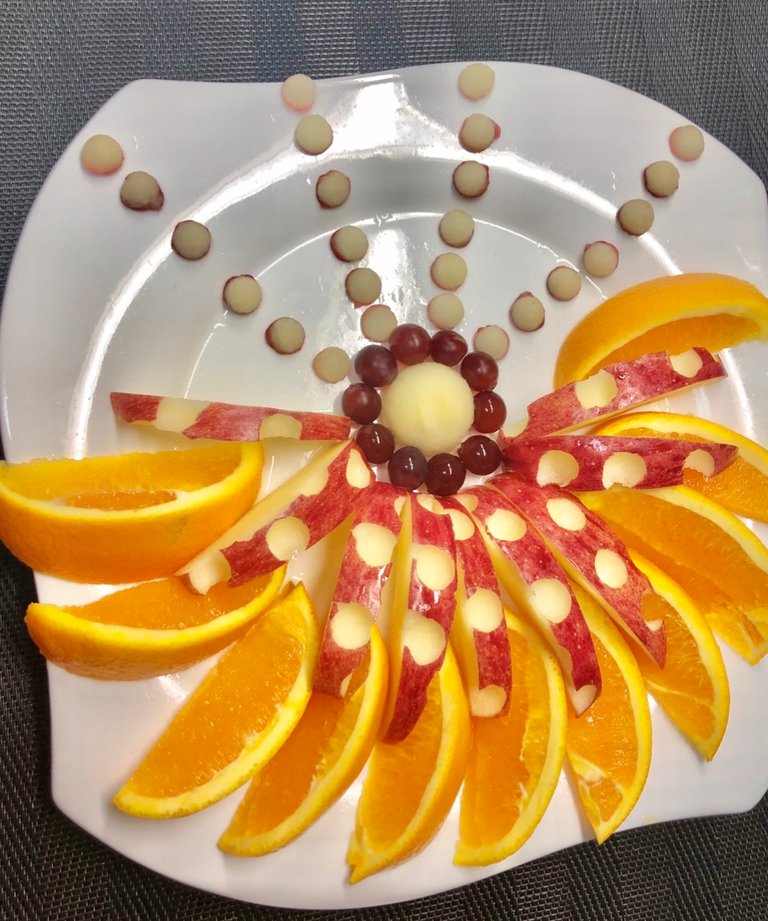 I really didn't and still don't know what I was making here. I used less than a whole apple, an orange and you can literally count the grapes. How many grapes did you get? Lol!
I used a knife for the slices and fruit ballers to make the holes or dots. The balls from the apple were inverted to create white dots. Now, if you put the dots together, you'll realize that just a few fruits were used.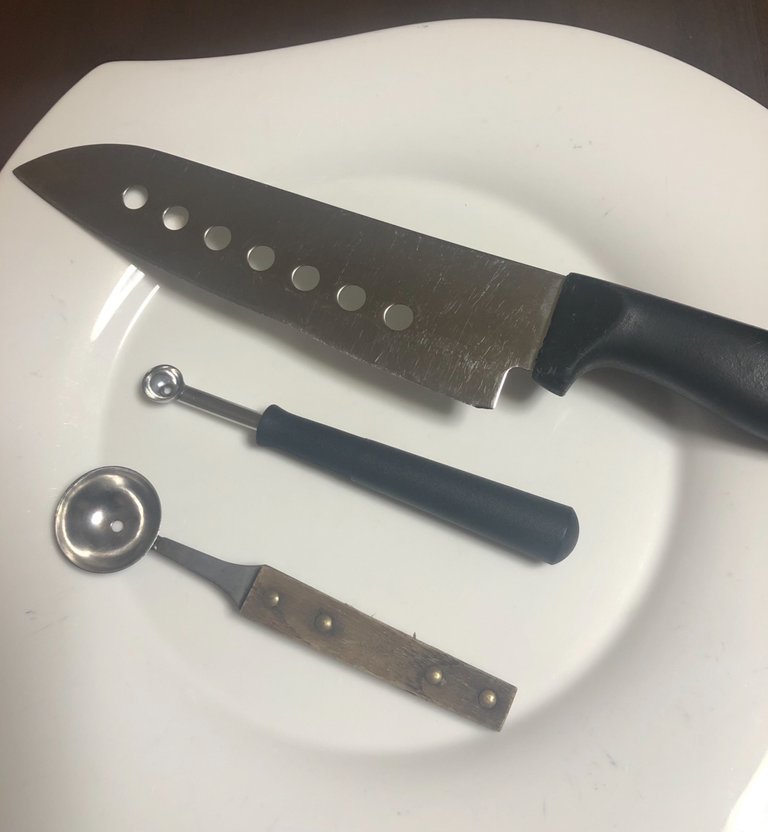 I often hear people complain that fruits are expensive. Yeah, that may be true but we can enjoy even a little in creative ways. A little goes a far way. I do have a bias and could find many other reasons to eat fruits but let's be honest... they're just naturally good.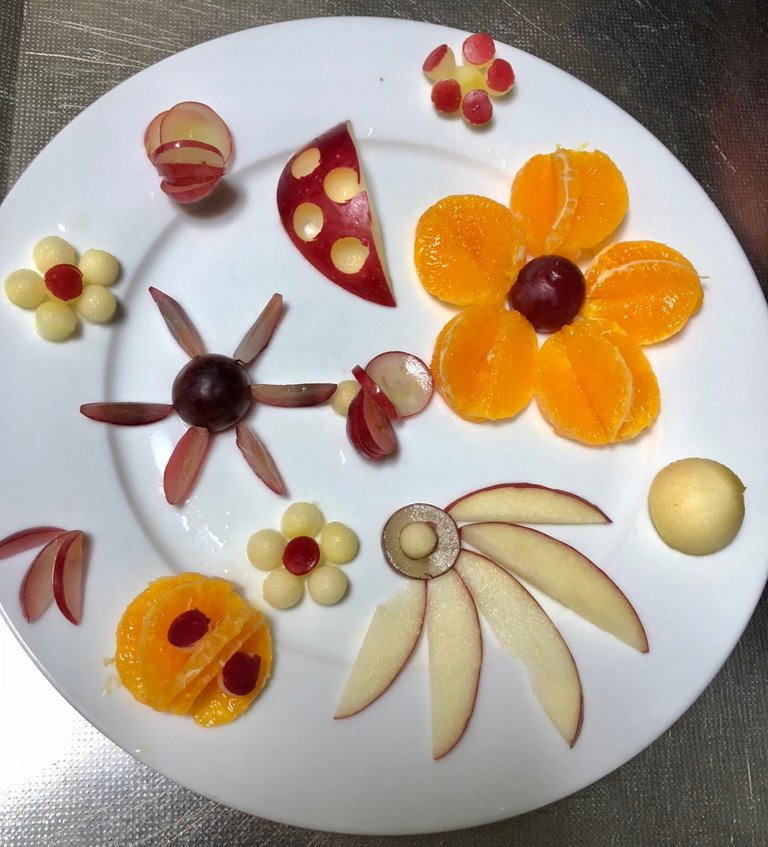 For this second arrangement, I used similar ingredients. Just a piece of apple, an orange and bigger but fewer grapes.I used the same tools but also a little carving knife (I hope that's the name of it) that gave me some thin and small slices.
Looking back, I basically played around with the colors of the fruits and tried to create different shapes and dimensions. I'm now saying this so as to seem a bit more planned and organized. How random! Haha!
Have a fruitful day everyone.