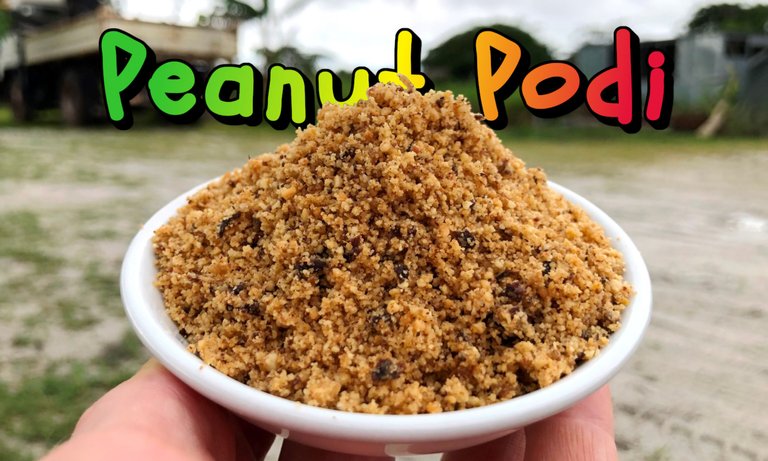 Greetings Hivers, have you ever wanted to experience spicy roasted tamarind and peanuts melting in your mouth in milliseconds? If you don't want to experience this, you will after seeing this recipe, guaranteed to jazz up any dish.

🌶️🥜 Peanut & Tamarind Podi 🥜🌶️
an entry for
     I've already shared with you all my poondu podi and flaxseed podi recipes, but this peanut podi is perhaps my personal favorite, as well as my family's. It melts on your tongue almost instantly, and when you drop it on some hot rice, the smell is out of this world.
     Today I prepared a simple channa masala and served it with brown rice, fresh red onions and green chilies, and of course, this peanut podi, which adds a sour and spicy kick, and I wanted to make something special for the three ladies in my life for International Women's Day.

🥜 Peanut & Tamarind Podi Ingredients 🌶️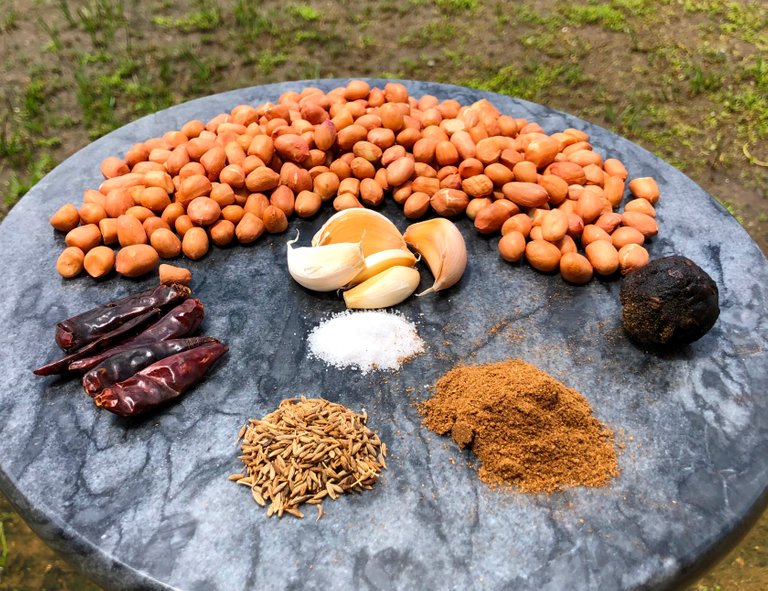 raw peanuts (shell on) | 1x cup
garlic | 5x cloves
dried chilies | 5x
cumin seeds | 1x tsp
tamarind pulp | 1x ping-pong sized ball
coriander powder | 2 tsp
salt | ½ tsp
🔥 Peanut & Tamarind Podi Preparation 👨‍🍳
STEP 1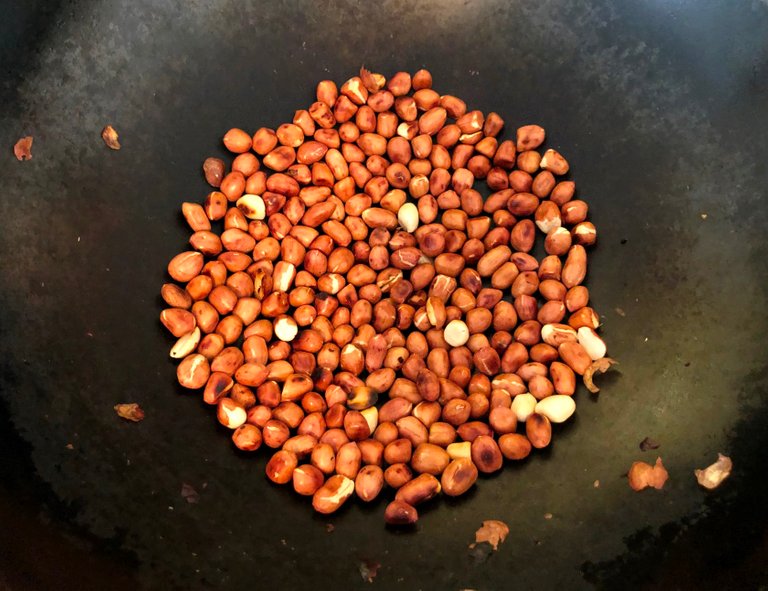 Dry-roast the peanuts in a wok or suitably-sized pan, remembering to stir often in order to prevent any burning. Remember to use a low flame while roasting and take your time; we are trying to slowly activate the peanut oil.
     Remove the peanuts from the wok when they are well-toasted, set aside and allow to cool to room temperature.
STEP 2
     Have a hungry family member perform peanut de-shelling and winnowing for you. Make sure your peanut winnower doesn't eat too many peanuts, and have them return the peanuts to you promptly. Hide the peanuts from all family members until further notice.
STEP 3
     In a dry pan or wok, begin roasting the cumin seeds on a very low flame, stirring occasionally. When the cumin seeds are fragrant, add the coriander powder and roast a few more seconds, remove spices from the pan, set aside and allow to cool.
STEP 4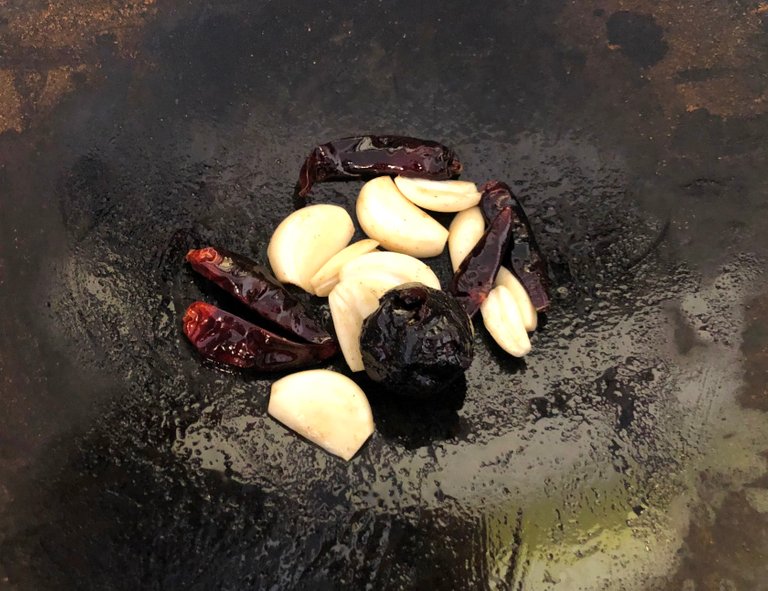 Return the work to the stove, and while it is getting hot, slice the garlic cloves in half. When the work is hot again, add a teaspoon of oil, then begin sauteing the chilies and tamarind about a minute until fragrant, then add the garlic cloves and continue sauteing until all ingredients are browned and fragrant.
     Turn off the stove and and remove the garlic, chilies, and tamarind, and set them aside to cool.
*Note - remove the dried chilies first if they being to burn, and then continue sauteing the other ingredients until browned
STEP 5
     Add the the chilies, coriander powder, salt, and cumin seeds to a grinder and grind into a coarse powder.
STEP 6
     Add the peanuts, garlic, and tamarind to the grinder, and grind until you get a coarse powder. It only takes a few pulses of a few seconds each. Don't overdo it or you'll make peanut butter instead of peanut podi.
STEP 7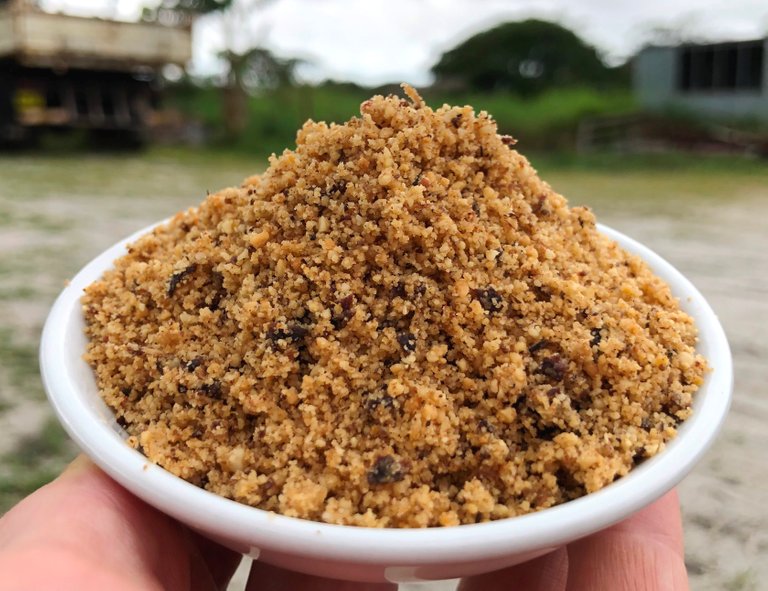 Transfer to an airtight container and try not to consume it all in one day. Enjoy with rice, idli, dosa, fresh vegetables, sandwiches, and just about anything that needs a spicy, salty, savory, and sour kick!!

🙏 THANKS FOR READING 🙏
If you enjoyed this post, please upvote and reblog.
CLICK HERE TO JOIN HIVE AND START EARNING CRYPTO LIKE US