Today I visited my Son to see how his Garden Project is going. To my surprise it has been completely transformed into something quite amazing. Mostly the more technical work has been done by professional Landscape Contractors.
Laying porcelain paving slabs is a lot more difficult than you might think. "Porcelain Slabs" are much more expensive that York-Stone but do not suffer from "Black Spot" mould after a few years. Something which was not available when I created my own Garden. My Garden paving slabs are covered in "Black Spot" sadly.
However, he did dig the trench for the water pipe. A hose is essential to any Garden, and he did not want the pipe visible through the Conservatory (which was the easier option). You can just it protected by a black circular plastic covering next to the fence (in the very last photo).
Other things we did together were cutting down two trees, and transferring large shrubs into pots (to be re-planted again at a later date). Establishing flower borders will be the final stage of this complex Garden Project going forward.
A new "water butt" has also been ordered, which should somehow connect to the plastic down-pipe from the Conservatory roof. This should help to conserve water, an important conservation feature for any Garden really.
So enough talking from me, just enjoy my photos...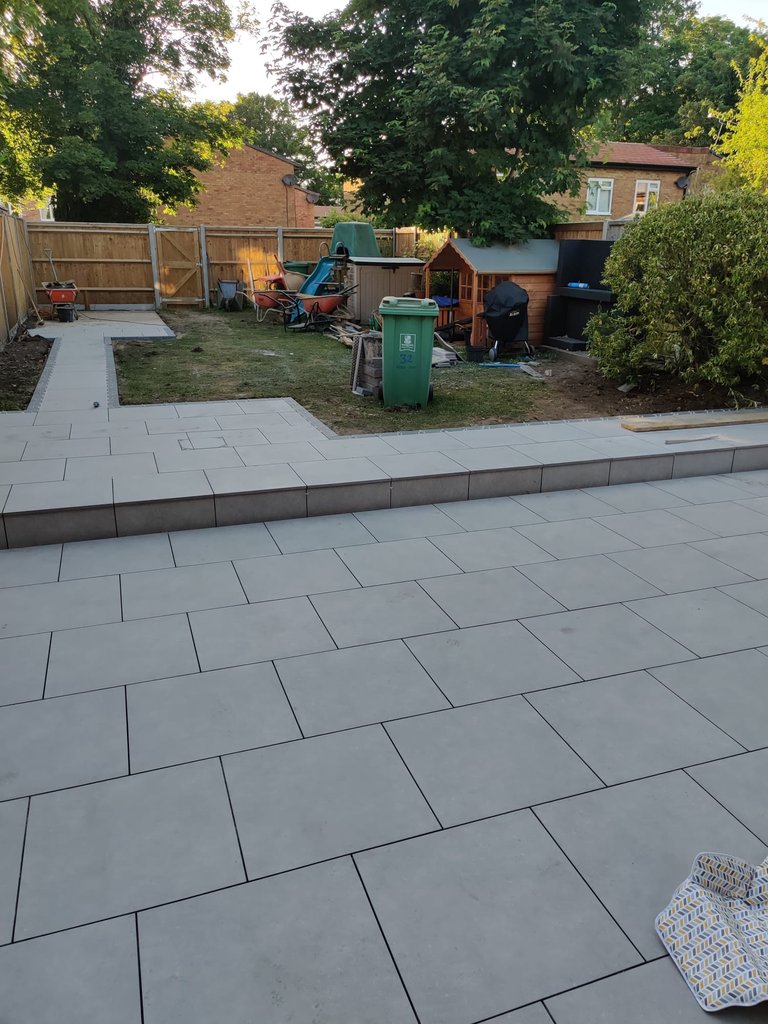 A really lovely finish, looking so clean and stylish I think! All the way to the back gate at the bottom of the Garden...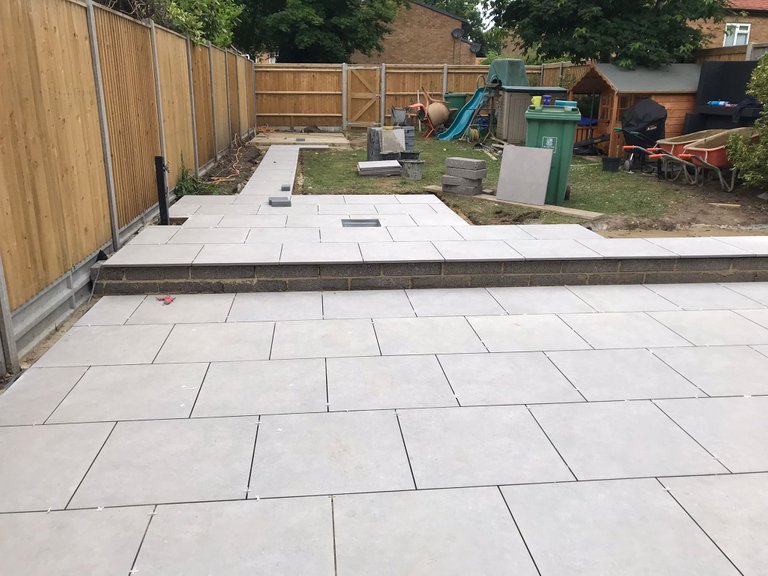 The kids loved playing in the Digger when the workmen had gone home for the day. Kids enjoy anything that looks fun and messy LOL
My Son supervising of course...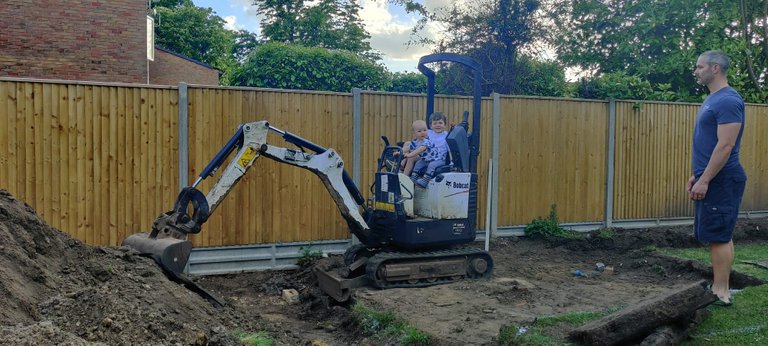 You can read more (including photos) about how this Garden Project first started on my previous post [here] a few days ago.
This photo (below) gives you some idea of overall perspective...
Looking down from the main bedroom viewpoint, above the glassed Conservatory roof.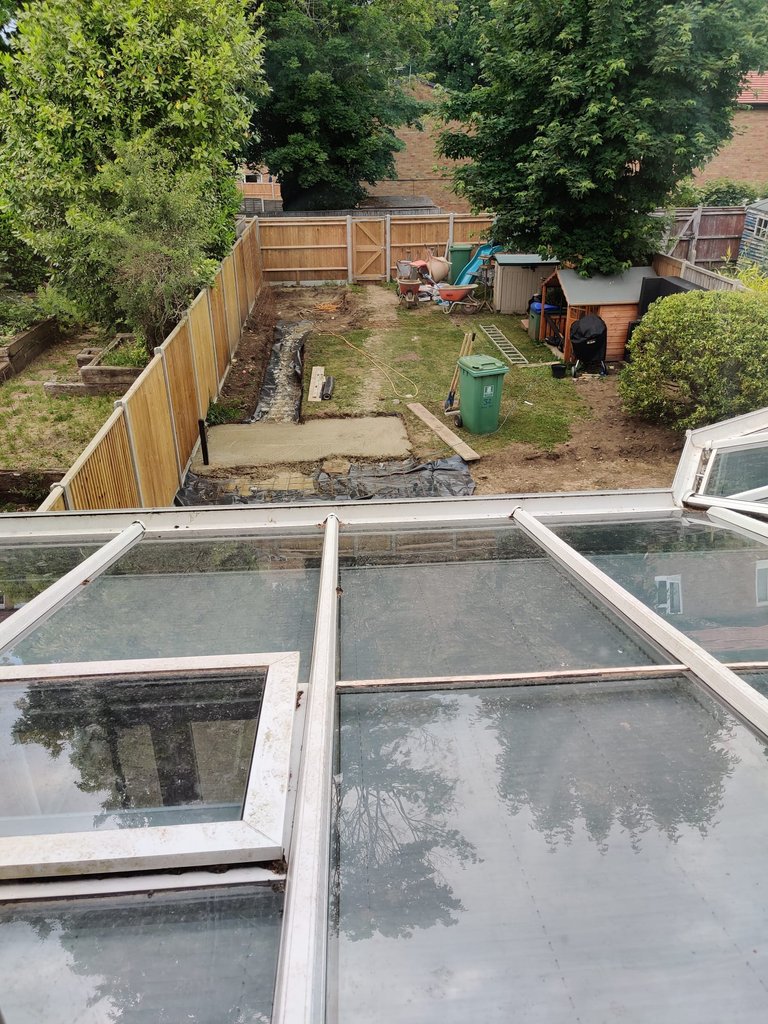 Patio area cleared and ready for the slabbing work to begin...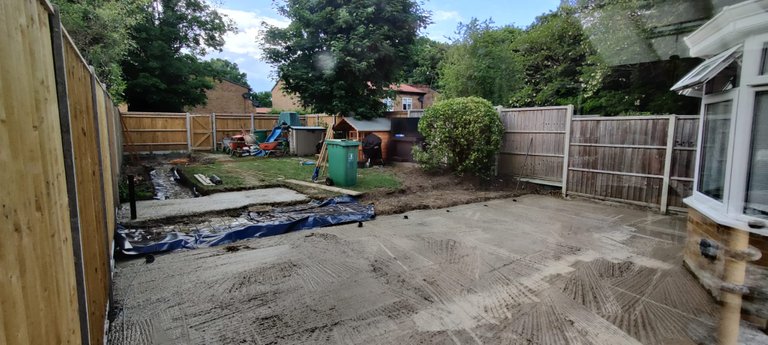 The above Photos were all taken by me with an Apple iPhone
[ Strictly Copyright ©2022 ©andy4475 ]
Photo Location: Surrey, England, United Kingdom 🇬🇧
Many Thanks for visiting, see you again soon... 🙋‍♂️