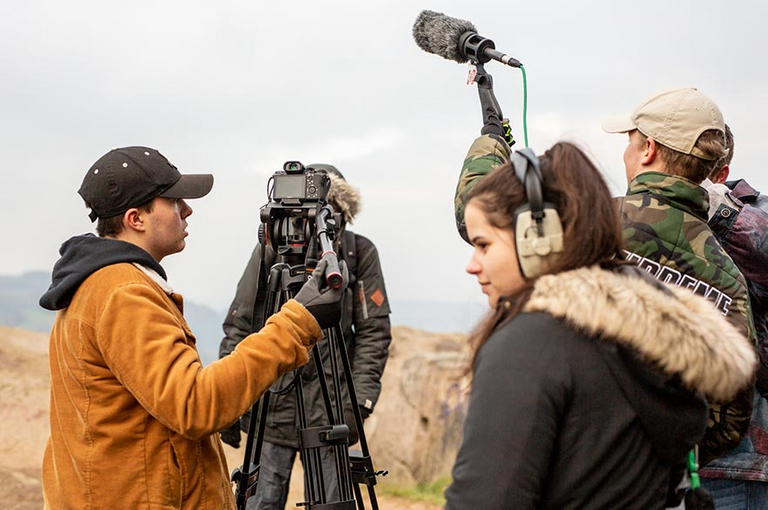 Source Students from the Filmmaking BA (Hons) at Nottingham Trent University on location.
Back in the nineties, when I lived just north of Liverpool, there was a notice over the hatch in the public bar of The Liver Hotel, which we would use as a rendezvous and office on a Saturday afternoon, saying "no begging or pleading".
The phrase worked its way into our lives and we still use it today or, more likely, its inversion, either "I'm going to have to do some begging and pleading" or "that'll involve some begging and pleading" when any of us want to make something happen.
Today, I'm doing some begging and pleading on behalf of a young film-maker who is trying to raise funds to make his final year short film. Here's the trailer explaining what he's trying to do:
He's been making films since he was about ten, saving up to buy his own kit and cajoling all his friends into being his cast (and sometimes holding the other camera). Now he's in his last year at Nottingham Trent University and his film making has developed exponentially while he's been there.
I'm really proud to support him and beg and plead on his behalf to raise the money to make his latest short film. Fundraising options start from £2 a throw, so please make your way over and sign up:
IndieGoGo - Until The Sun Comes Up
EDIT at 12:21: although the campaign target has been met, a contingency has arisen - the editing computer needs a new graphic card - also the constantly changing COVID-19 regulations are creating some extra filming costs, so please keep supporting.
Thank you for your support - you'll enjoy saying in the future, "aye, I helped him with his first film" 😁.
All rewards from this post will go towards funding the film.