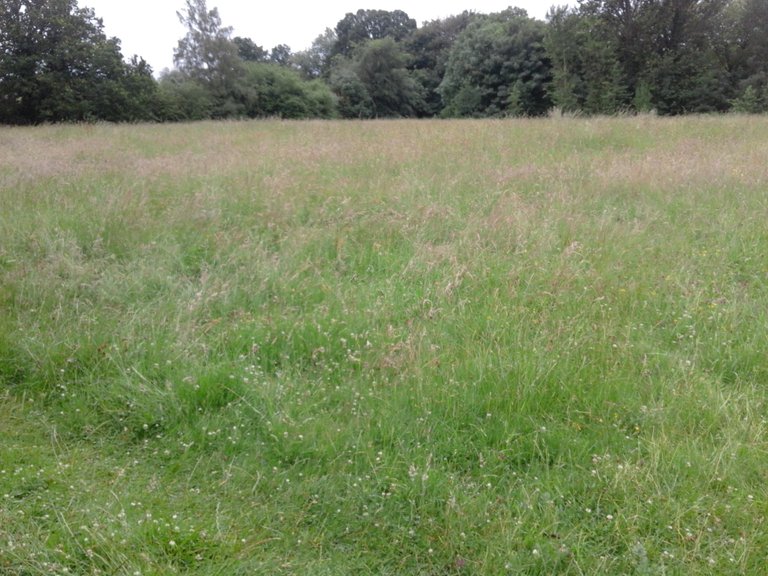 Medieval meadow at the back of where I live. Buttercups have been replaced with clover and seeding grasses. It was an overcast day, but warm and good to be out. There was lots of wildlife out and about, many rabbits, lots of birds, I wasn't fast enough to catch any on camera 😁.
Welcome to Hive Power Up Day - check out the post by @traciyork for all the details - you may be eligible for a prize.
I enjoyed a Hive spending spree over the past week or so, buying a little every day. My best buy was at about 21c, but all of them have been under 30c, so I've been very happy.
It helps with my Saturday Savers Club project, too. Last week we hit the midpoint - 26 weeks on the 26 June with just over 56 Hive powered up for the week. We're moving into the second half of the year of saving by compounding an additional penny a day so the amount of Hive each week is steadily increasing. You're very welcome to join us, by the way.
This power up will bring my account back to 55,000HP. With the Hive-Engine wallet, that's about 114,000 Hive overall. I'm impressed, I was aiming for 5,000HP 😂. I do like Hive, it's a wonder every day to see what's happening, and the latest HF25 - Equilibrium - has brought a nice feel with it, I love the opportunity for leisurely curation and the recurring payments subscription feature, both open lots of new doors.
I have been exploring other cryptos, I'm starting to put together a list of the ones that interest me, but at the moment, I'm stacking pennies and Hive until later in the year, possibly early next year, before I start buying.
On Hive-Engine my passive income streams are coming along. I have some new targets there:
| Token | today | target | information |
| --- | --- | --- | --- |
| SPI | 9,880 | 10,000 | Holdings and earnings report for w/e 26 June 2021 Investment token, weekly dividends in SPI on Sunday. |
| LBI | 5,029 | 5,000 | Holdings and earnings report for w/e 26 June 2021. Dividends not active yet, will pay out on Saturday. |
| EDS | 2,092 | 2,000 | @eddie-earner Income token, weekly dividends in Hive on Monday, home to Saturday Savers Club. |
| CL | 766 | 1,000 | Holdings and earnings report for w/e 26 June 2021 Farms CUB finance, weekly dividends in LEO on Friday. |
| UTOPIS | 63 | 100 | White Paper weekly dividends in Hive on Sunday. |
SP Investments have already picked up on the opportunities offered by the recurring payments feature: I reckon we can expect a pay day every day by the end of 2021. Lovely!
Saturday Savers Club
I run a savings club every Saturday over on the @eddie-earner account. We're aiming to save £670 ($800) by the end of the year using the 365 day savings challenge. You can join any time of the year and set your own goals and plans (some people are saving Hive, others Bitcoin, some their local currency). We share savings tips and there's a free giveaway every week.
Three things newbies should do in their first week and, for most things, forever afterwards!