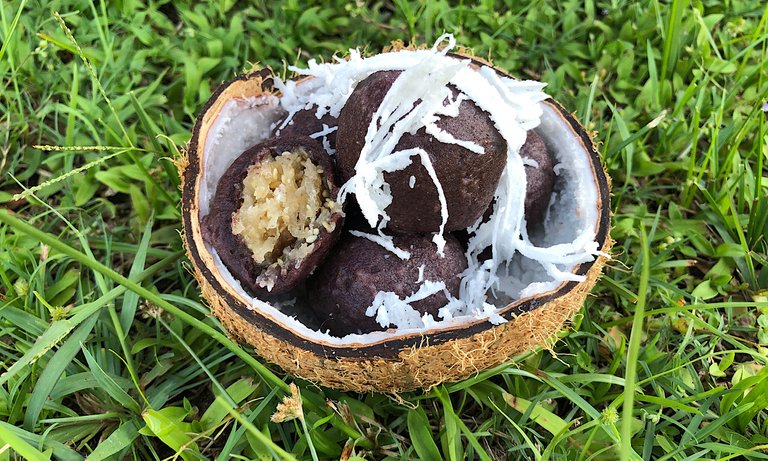 Hello from here everyone! A long time already I do not make desserts for my family because glutinous rice flour from Thailand is very expensive now. But two days ago I saw Suriname black glutinous rice flour in the store, and the price is cheaper than the one from Thailand.
I bought a bag to make dessert. I usually make this dessert with white glutinous rice flour, but this is my first time using black glutinous rice flour. Its taste is better, but all Suriname rice flours are not grinded well, That's not good for certain desserts, but for this recipe it's okay.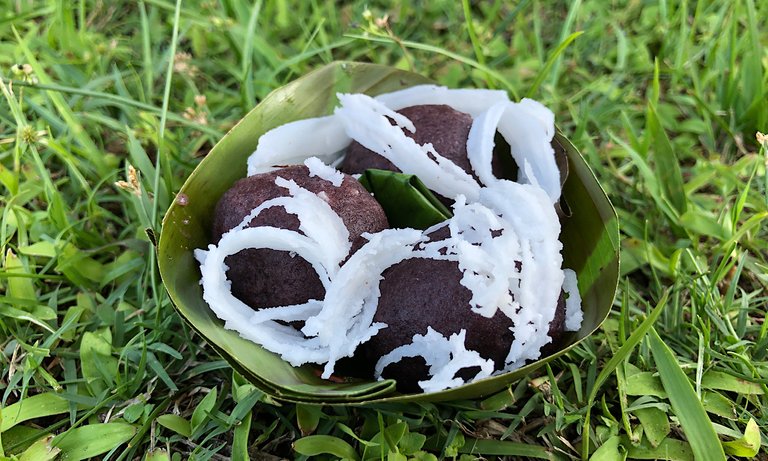 The people in Cambodia make many different kinds of fillings for this dessert. Most people love using hard palm sugar for filling and some people use coconut meat with palm sugar. I made this dessert for my friend @faustofraser, who came to visit us yesterday, and for my family too😊❤️.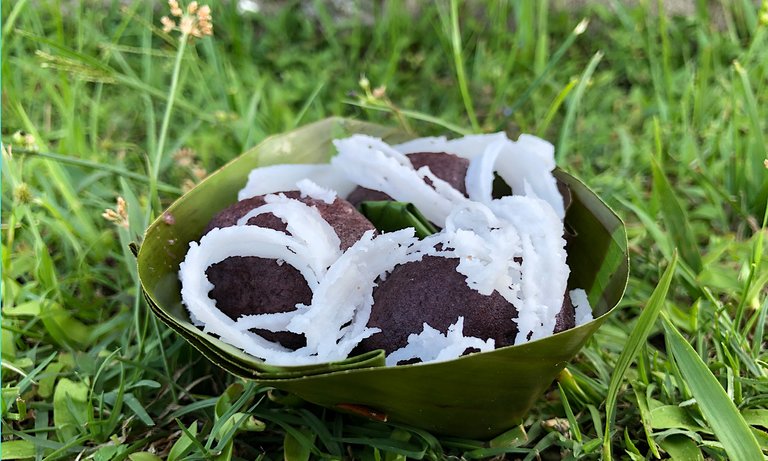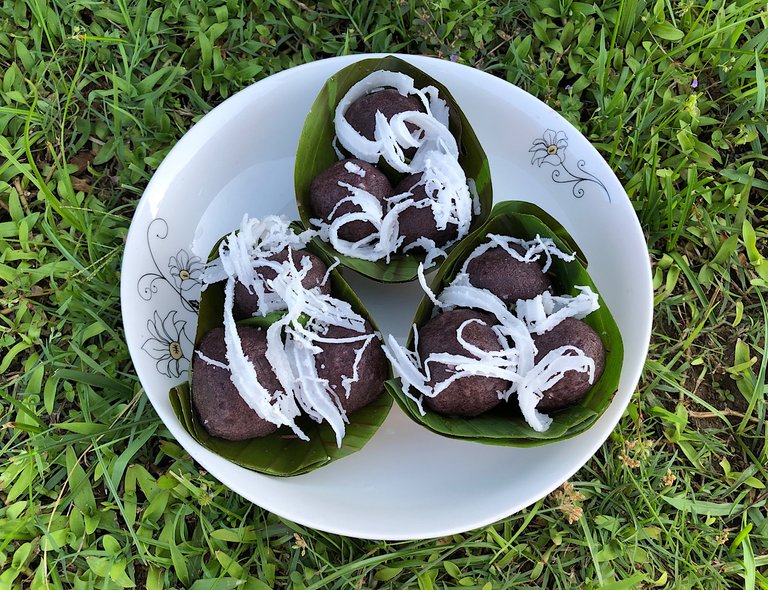 👩‍🍳 Black Glutinous Rich Balls With Coconut 🔪
វិធីធ្វើនំផ្លែអាយស្នូលដូង

Ingredients For Make Filling
1 fresh coconut's meat
1/2 cup brown sugar, or to taste
1/2 tsp salt
5 tbsp roasted sesame seeds
1/3 cup ground cashews
4 tbsp of water
Scrape the coconut. Heat a pan, add water, sugar, salt, and stir it until brown. Then add coconut meat and stir it well. Add roasted sesame seeds and cashew powder, stirring until looks like not have much water.
Keep it until it's cool or put it in the freezer so it's easier to make balls. After it's cold, make it into balls, small or big as you like. Normally people in my country do not use cashews like me, this is my idea, and it's tastier too.

Ingredients For Make Dough
350g black glutinous rice flour, or white
1/2 tsp salt
water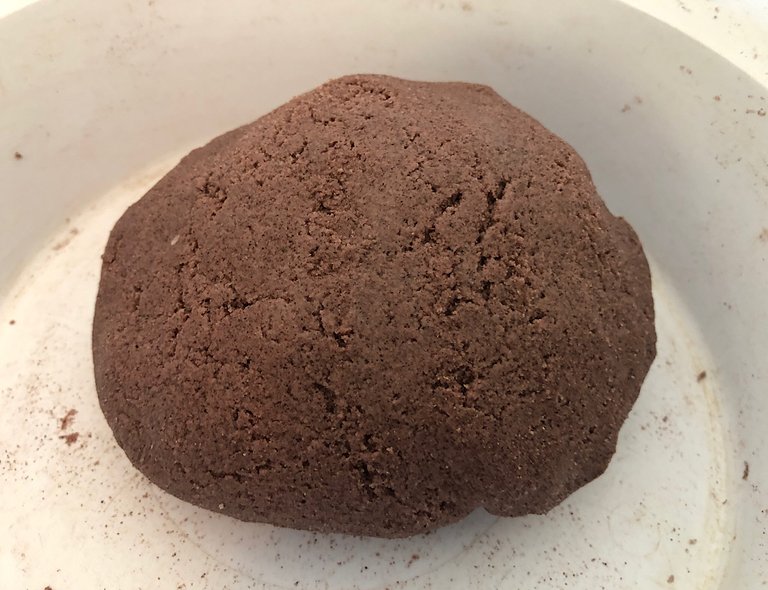 Take a big bowl and put flour and salt and pour a little bit water and stir it, after use hand and knead it well. This flour is not fine but its taste is good.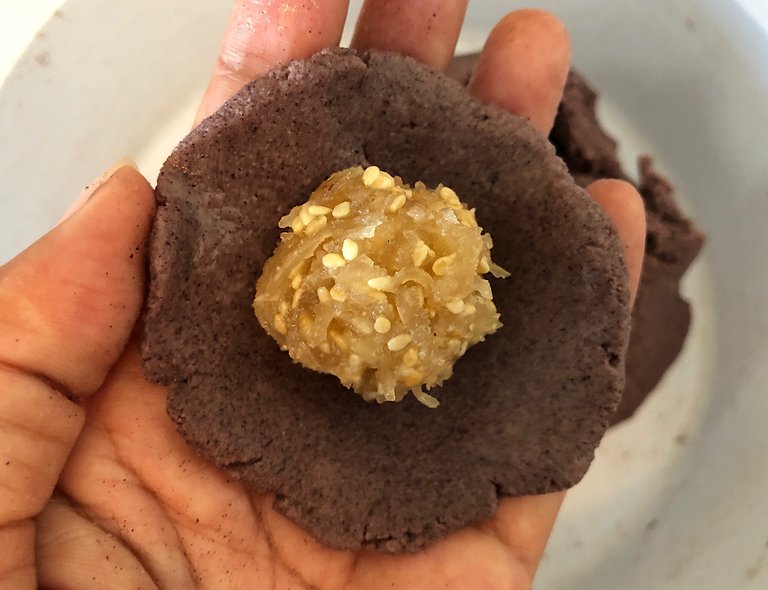 Pick a small piece of dough and made it into a ball, then make it like a roti in your hand, then put some filling and close it well, make it like a ball. Repeat until it runs out.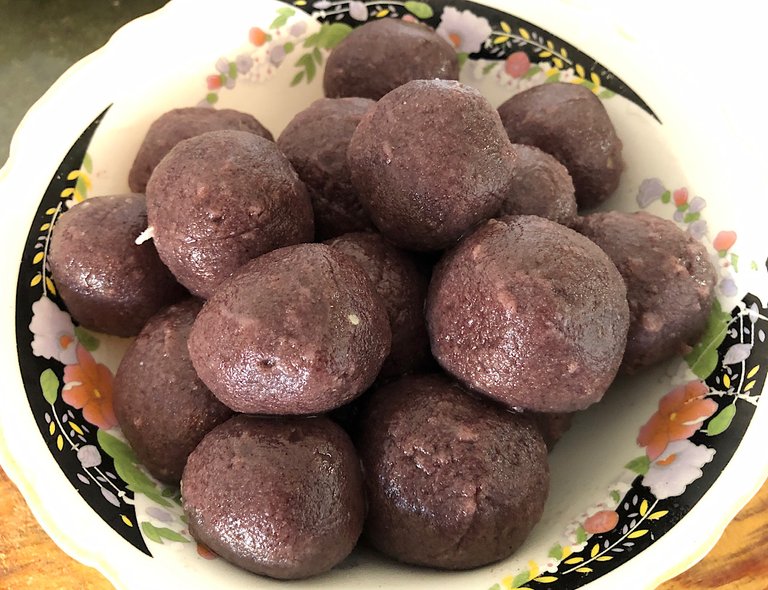 Next boil water to cook them for 5 minutes or until they are cooked, then remove them from the hot water and put them in the cool water. Then remove them from the cool water, it's ready.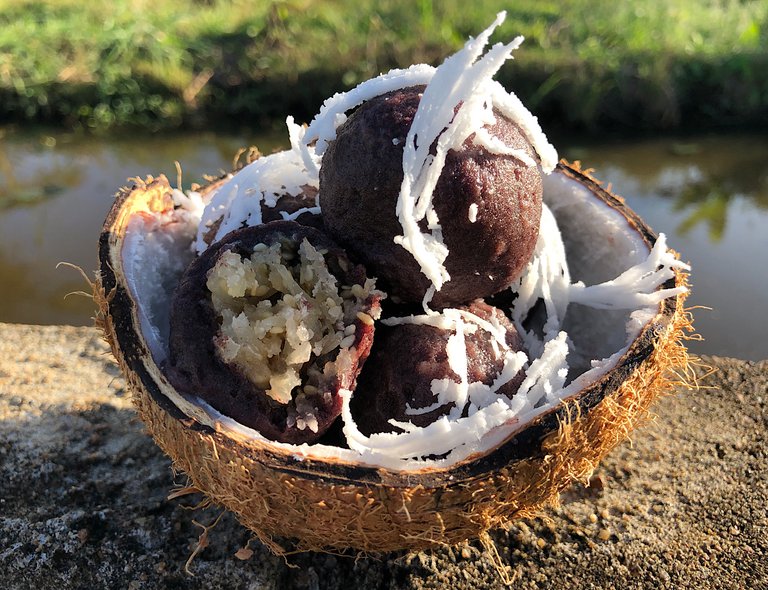 When we eat, we add some fresh coconut, it's more delicious.
Have a great weekend everybody, and I hope you are all well everywhere you are. Stay safe 😊❤️.
CLICK HERE TO JOIN HIVE AND START EARNING CRYPTO LIKE US