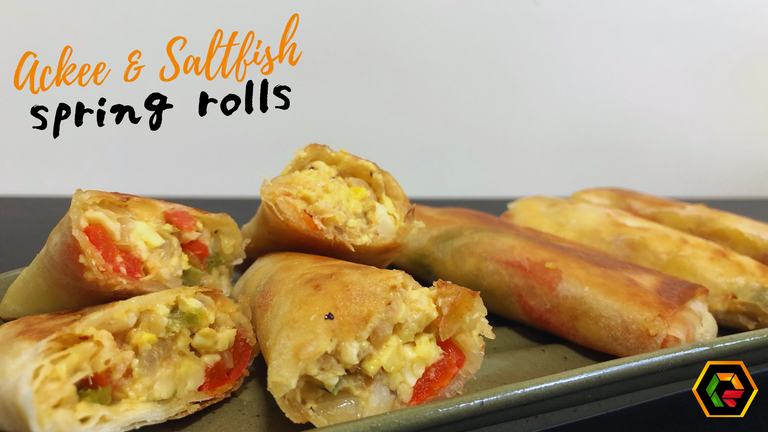 I've been wanting to try this combination for quite some time and I finally got around to doing it. It contains Ackee & Salt-fish; the national dish of Jamaica, done in an asian spring roll style. It takes some effort but the end result is worth it.
Luckily I got a few tins of Ackee in a care package from the UK, nope not Jamaica as the logistic is still messed up. Moons ago I was the one to call when one wanted Ackee in Japan, but with the current logistics mess, it wouldn't be profitable to bring them in and the cost to customers would be beyond outrageous..but I digress. Let us dive into this early #DashOutSunday
Ackee Spring Roll
So here is what I used to make this international combo:
1 tin of Ackee
150- 200 grams of Salt-fish
3 Garlic cloves
1 Green pepper
1 Sweet pepper
1/2 large tomatoe
Some Scallions
Thyme ( Not in the pic)
Some black pepper ( not in the pic)
Spring Roll Sheets ( Not in the pic)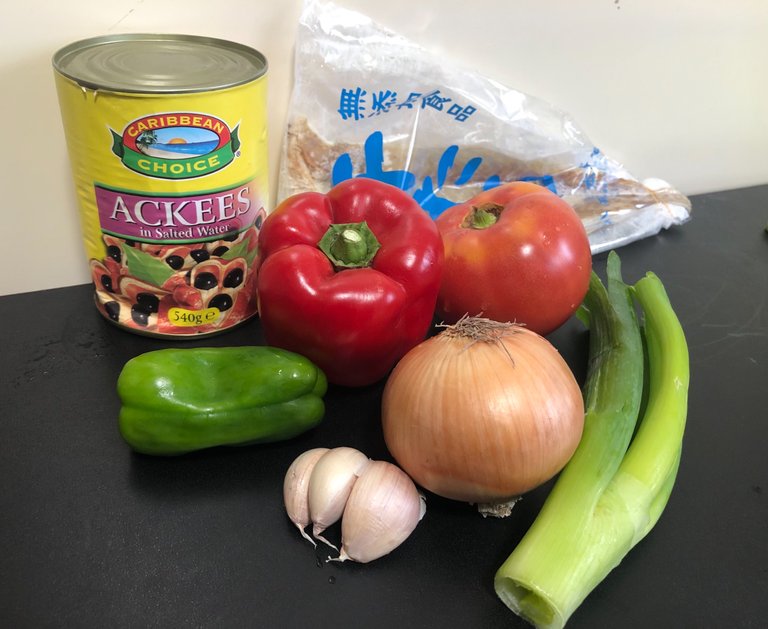 Below are the two main ingredients that you cannot do without.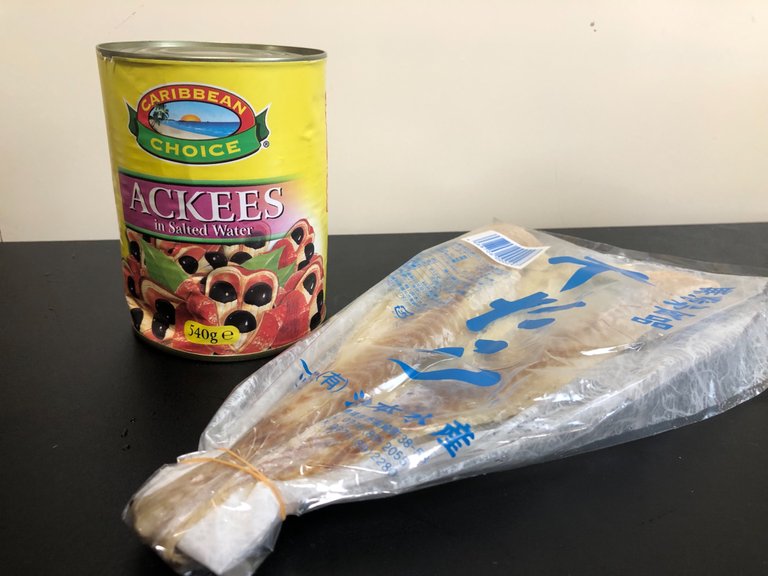 After chopping up the veggies and de-salting the salt-fish, I laid them out so I would be ready to fire. The salt-fish takes a little work as it has to be boiled and then flaked and if still too salty, drained a few times with cold water. This is the step you have to be careful at as salt-fish varies from country and region. You might get fish that is too salty or tasteless.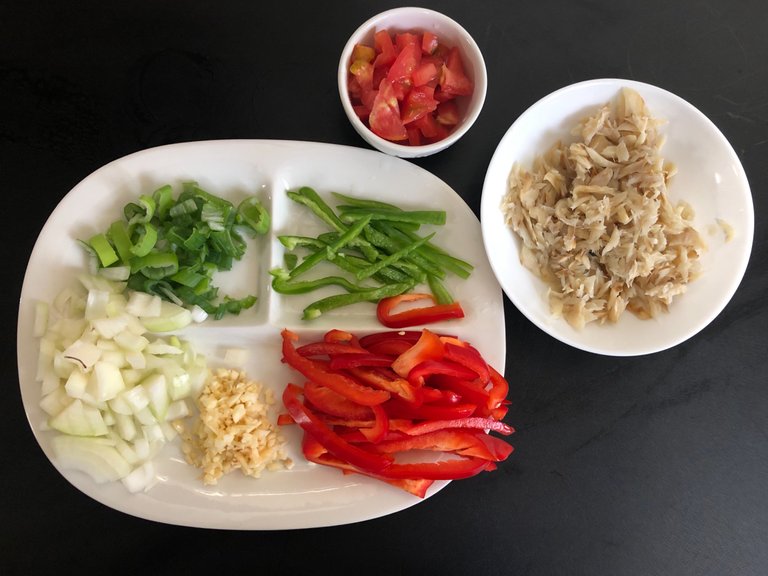 | Flaked Salt-fish | Chopped Tomatoe | Seasoning Veggies sliced/chopped |
| --- | --- | --- |
| | | |
---
The first thing I did was added the garlic, onions and peppers to the fry pan with olive oil.
Ackee and tomatoes go in last after the above is cooked.
---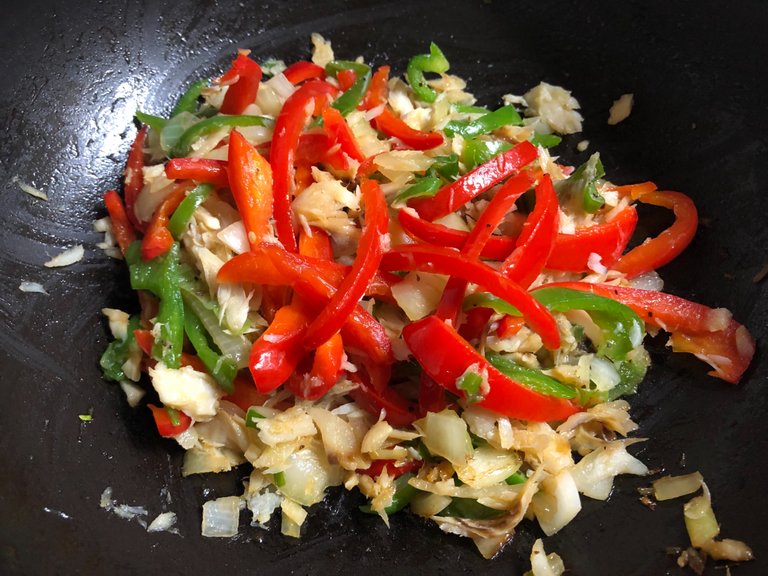 I grouped it up into a kind of ball for presentation.
---
Here is the Ackee added ...oh the tomatoes, threw those in after
---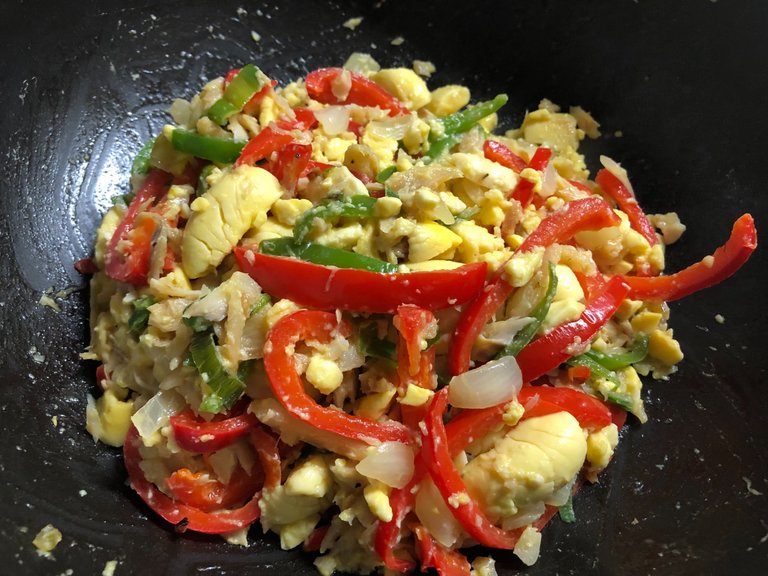 ---
Time to Roll
---
The rolling is a delicate process as well. It is best to wet a little flour in a small bowl and use as a kind of glue around the edges to hold it together when wrapping.
| Spread the wrap | Fill it | Roll it, use wet flour to hold it together |
| --- | --- | --- |
| | | |
Frying the rolls is quick as the sheets are thin, so it is best to watch them and turn as they get brown and get them out quickly. The amount of oil makes a difference too. The first batch came out great as there was sufficient all ( left photo, spring rolls at the top). The second batch was fried with the left over oil in the fry pan and turned out not looking as scrumptious.
| All Rolled Up | All Fried Up |
| --- | --- |
| | |
The finished product
And here we have the Ackee & Salt-fish Spring Roll. It was good, still have a few left as I type this....well one.. I only have one left.😂
Things to improve
The salt-fish did not need as much de-salting.
The spring Rolls should have been cut diagonally for presentation.
Pour on the oil on the second batch.
All in all I enjoyed making these. I have been out of the kitchen for a long time and this is a good way to make a come back. I hope your weekend cookings went well. And now, time for a drink .
Cheers 🍻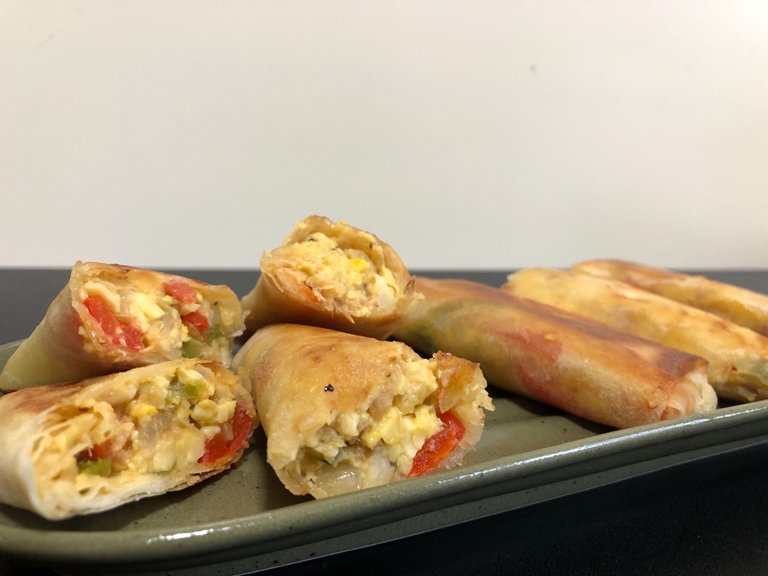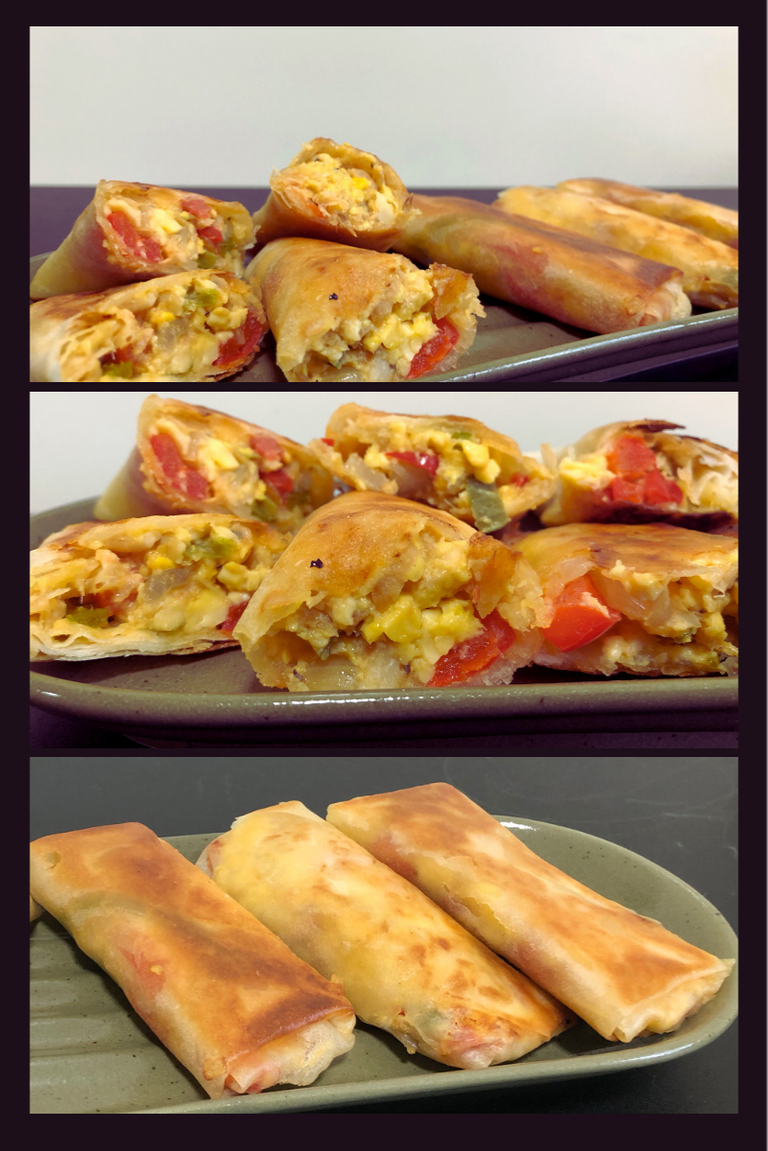 ReggaeJAHM.com
Discord | Hive Community | Reggaejahm Interface | Twitter| Buy Beats With HIVE & JAHM
---
Posted via ReggaeJahm | Reggae Culture Rewarded