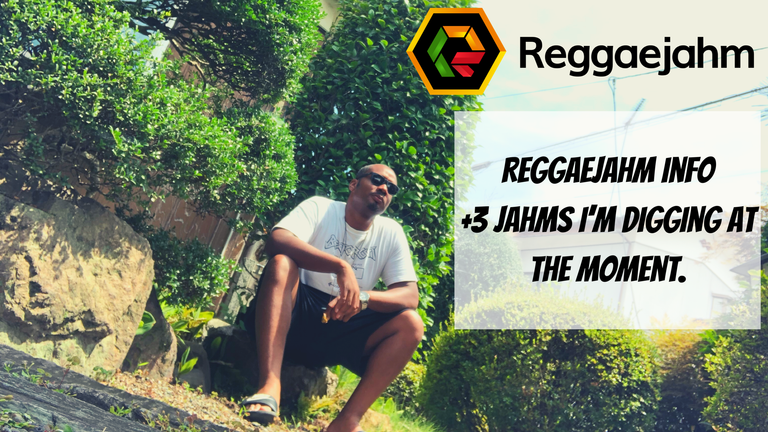 Me outside my wife's Grandparent's house. Today was "Obon" and "Ohakamairi", basically most people in Japan visit the graves of relatives and they bring a lantern looking thing to carry the spirits of their loved ones back home for the Obon holidays. Yup, this is the period when the ghosts come out to play.
ReggaeJahm info
Waaahgwaan ReggaeJahm Massive ?
The JAHM Token is on Hive and ready to roll. The ReggaeSteem.io website now has the new reggaeJahm logo and all the old adds that were up have been taken down along with links that no longer serve us. Big up to @eonwarped for doing a great transition of the jahm token and helping us to to get ReggaeSteem.io looking decent. The next step is to change the URL and that will be done pretty soon. If you post through ReggaeSteem.io at the moment you will realize it also says "posted via Reggaejahm" now.
It will take some work to get more people posting in the Reggaejahm community and on the interface and I realize I will have to lead this. All I ask for is for your support in any way possible and good wishes.
Behind the scenes I'm working on something that will bring a real and practical use case for the jahm token. It is ready to go actually but I will wait until the time is right to roll it out. @miyard is also working on something which will take some time and he is also closely monitoring the tourism sector on the Island looking for opportunities. The way I see it, if we all do something that brings value to Reggaejahm and Hive, and then we bring it all together, the better it will be for us all.


3 Dancehall JAHMS I'm Diggin ATM
Below I share 3 Reggae/ Dancehall songs I'm digging at the moment. I love reggae and Dancehall culture and I'm gonna represent it on the chain! Feel free to do the same if you love the culture too.
Let's get Jahmin!!!
First off is a song by the controversial Tommy Lee Sparta called "Tattoo". Man the Riddim in this song is bad nuh bombocl@@t!! And Tommy has a wicked flow and vibe on it. The Sparta don is even bussing some moves that also look pretty cool. Many songs don't catch my attention these days but this one does. It's a pity Tommy is in custody at the moment as it is said that he is the mastermind behind a lot of "incidents". Tommy Lee has a lot of talent and a unique voice, but when will these artiste learn to leave the badness alone? I had the pleasure of seeing Tommy Lee Freestyling at the UIM studio with Popcaan and other Gaza members back on the days. It was a vibe for realz.


The Next two songs I won't go into much detail but let the music speak for itself. Below is a new track by Protoje featuring Popcaan called royalty. Basically this song is talking bout setting things right so we can live with royalty. This one I have to listen to again deeper as I just discovered it.

The next track I'm digging is Lava by Jahmeil ( interesting how his name has JAHM in it, would be cool if he became a part of Reggaejahm ). With this track, again that banger riddim and flow. Yeah I love a floss tune, especially one that has a positive energy to it.

Wich song did you like the best? Any questions about Reggaejahm? Leave them in the comments below.
Look out for my new single produced by @luca1777 coming soon titled "Bitcoin Times". We rep the block in this on!


Discord | Hive Community | Reggaejahm Interface
---
Posted via ReggaeJahm | Reggae Culture Rewarded