Hello ReggaeJahm community, I hope you are all well, have an excellent weekend, and a Sunday with a special meal that you can then share at #DashOutSunday 😀
Today things are changing, I don't know if it's because of a pandemic or because technology has allowed everything to be much faster, and any information to get everywhere faster... there's something I want to talk about in the #APART initiative... if you don't know it, it's easy to do, just use some of those many images that you capture (even with your cell phone) and present it to us, along with some song that you can relate to the image, here, in the ReggaeJahm community.
In this case I bring the following image, captured with my Huawei Y5 phone: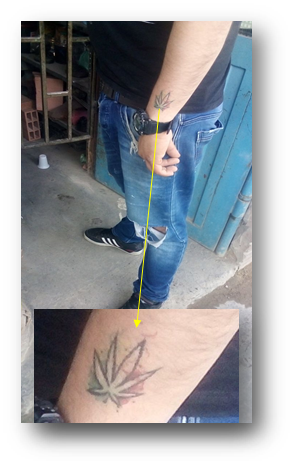 Image ofmy autorship
Yes, a tattoo of a marijuana leaf on the arm of a person, whom I unwittingly caught...
In this aspect I want to say, I live in COLOMBIA, here is regulated the use of cannabi for personal consumption, one can go walking or be in any place and some person passes by the side smoking a joint calmly, in general it is not badly seen, although many traditionalists or classic families are in disagreement, however, if it is already law for a few years, there is not much that those who do not agree can do.
This plant has been used as medicine for thousands of years by our ancestors. Even today the therapeutic effects it has are recognized, scientifically proven, here in Colombia I usually see many creams and ointments sold everywhere, for medical purposes.
Some years have passed, and its use has even been taken to treat people with some types of cancer, to relieve pain and give a sense of tranquility, in some cases they have been able to recommend it. Some medical colleagues, of course, is not something that is in some medicine protocol, however, you can recognize its good effects on some people.
In the last century, I could say that its use was normalized, and it became public largely because the greatest exponent of Reggae, Bob Marley, spoke it freely. And he not only made Reggae music transcend beyond Jamaica, but also the use of Cannabis for religious purposes. The plant is present in the Rastafari movement from the beginning.
Below I leave a couple of songs that we can relate to the main image of this publication:
Ras Attitude - Marijuana (We Ah Bun) [Official Video 2016]
Smoke Marijuana

In the community of REGGAEJAHM there is a dynamic that serves very well for all those who like photography, you do not need to be a professional in this area to share good photos, this dynamic is #APART A Picture & A Reggae Tune, created by @dmilliz.
What is it?
It's very simple, some image that makes you think of a specific reggae song, that somehow you can relate it, ready, you have a publication ready to share with an original image and a song by an artist of your interest.
How to participate?
"You can take part in #APART anytime.
Be sure to use #APART
Post your APART content in the Reggaejahm community or on Reggaestem.io.
Tell your friends who love photography and Reggae Music about it.
Have fun and let's get JAHMIN."Source
Happy weekend to everyone.
10% of the profit of this publication is to support @reggaejahm


I authorize the use of this banner to everyone who wants to do it.

---
Posted via ReggaeJahm | Reggae Culture Rewarded