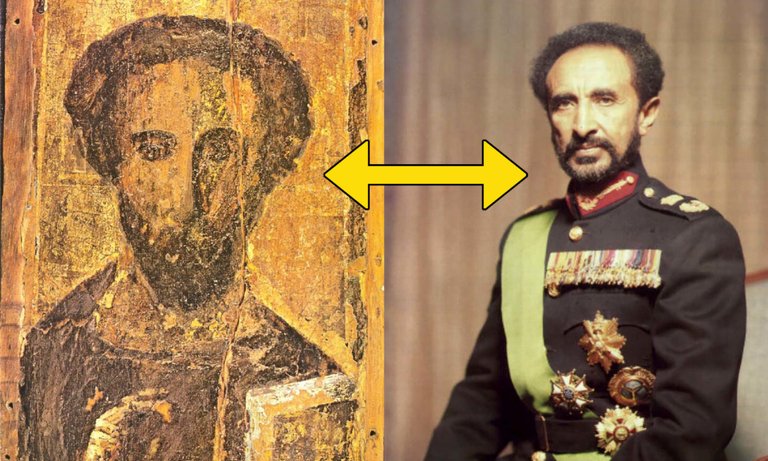 The Pantocrator, or Christ in Majesty, are the earliest depictions of Christ developed by the church, and of these depictions located at St. Catherine's Monastery in the Sinai peninsula is considered to be the oldest known.

🛑 Before We Start
     I should start by disclosing that this is a very biased post, as I see H.I.M. Emperor Haile Selassie I as divine, and I am known by some as a "Rastafarian." Although I personally dislike this label and labels in general, I opt for "Nazarite" when someone is trying to cram my spirituality into a simple box and give my livity a title.
     The term Nazarite isn't something the general public are overly confident in their knowledge of, and this leads to much more of a serious spiritual dialogue than flying under the "Rasta" moniker, and it's also a better bridge when reasoning with Christian brethren and sistren.
     With this in mind, know that I choose to accept an Ethio-centric history of Christianity and general human history.
What is the Pantocrator? 🤷
     Simply stated, it's the most iconic and oldest detailed representation of Eyesus Kristos (Jesus Christ). The word pantocrator itself is derived from two ancient Greek words; pantos (all) and kratos (strength), approximating the word almighty in English.
     The Christ Pantocrator features Jesus holding a book in his left hand while his right hand portrays a blessing type guesture. In most depictions, the book held in the left hand is the New Testament.
     The oldest known Christ Pantocrator dates from the sixth or seventh century, and is housed within St. Catherine's Monastery in the Sinai Peninsula, modern-day Egypt.
---
Compared With Haile Selassie I 🤷
     It's hard not to immediately notice the likeness in these two images. H.I.M. Emperor Haile Selassie is the 225th King of a Solomonic Dynasty in Ethiopia, having descended from Menelik, the child of King Solomon and Queen Makeda.
     If you're not familiar with Haile Selassie I, a thorough study of World War II's true origins will lead you to the Second Italo-Abyssinian War, where Mussolini attempted to colonize the only nation in the world to never have been colonized, but only with the blessings of the Vatican and Pope Pius XI, whom perceived the Solomonic Dynasty of Ethiopia and it's 225th King/Emperor as a major threat to the legitimacy of the Vatican.
Don't Let Babylon Fool Ya' 🙅‍♂️
     In this post I have taken a very small piece of history as just one example of the many mystical revelations unfolded when studying the livity of H.I.M Emperor Haile Selassie I. I by no means intend for my personal study of history to be your truth, and I only aim to share the world as viewed through my eyes.
Let's End It With Some Conscious Music 🙏
     There is no better song to compliment this post than the tune "Gather Them In" by the "Wordsmith" Vaughn Benjamin. This likeness of His Majesty at St. Catherine's has been known by Rastafari scholars for a long time, but stories like these don't exactly find their way into the mainstream media.
     Below is an excerpt from this song where elder Vaughn makes reference to this important cultural, religious, and spiritual relic.
Well look at the image and the Christ likeness in the monastery
At Saint-Catherine the very image and likeness of Haile Selassie
Inna Mount Sinai is where dem make this discovery
YES
It is he who was the beloved of Magdaline
From second century compare the images to be seen
Gather dem in

🙏 THANKS FOR READING 🙏
If you enjoyed this post, please upvote and reblog.
CLICK HERE TO JOIN HIVE AND START EARNING CRYPTO LIKE US

---
Posted via ReggaeJahm | Reggae Culture Rewarded