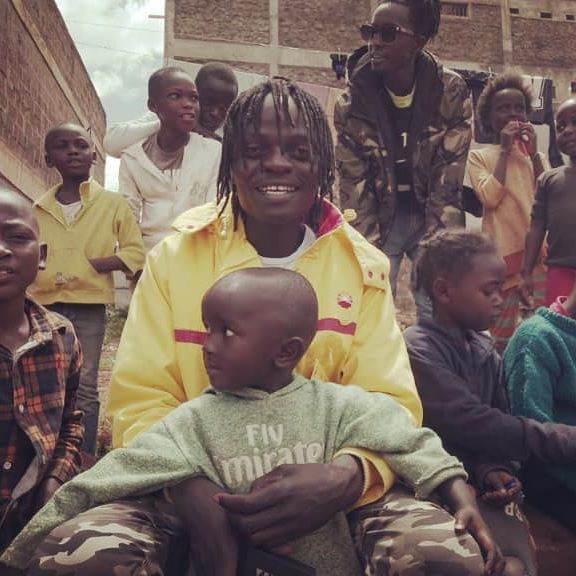 sourse
This is a post I am going to share with the community again since it is a beautiful memory this artist called me Empress Wao made me feel like an entire African princess I hope you like living is remembering and remembering is living ..
Este es un post lo voy a compartir con la comunidad nuevamente ya que es un bonito recuerdo, este artista me llamaba emperatriz wao me hizo sentir como toda una princesa africana espero les guste vivir es recordar y recordar es vivir..
Hello dear friends, I hope you are doing very well a few days ago. I shared with you a reggae in the style of Kenya, this style is really charming and very nice, but I was worried that I was looking for the artist's biography to interpret and I did not find him reviewing several virtual documents and nothing. . It was already late at night and the dream I had was great and I only shared his music and a brief summary of his musical style according to what I perceived in the video and the musical essence that he transmitted to me.
Hola queridos amigos, espero que estén muy bien hace unos días. Compartí con ustedes un reggae al estilo de Kenia, este estilo es realmente encantador y muy agradable, pero me preocupaba que estuviera buscando la biografía del artista interpretar y no lo encontré revisar varios documentos virtuales y nada. . Ya era tarde de la noche y el sueño que tenia era grande y solo compartí su música y un breve resumen de su estilo musical de acuerdo a lo que percibí en el video y la esencia musical que me transmitió.
the next day my curiosity was so much that I added this artist to my friends with a bit of doubts since social networks lend themselves to deception and because he accepted me he wrote me a message on his wall and greater was my surprise when he responded to the private. that you would send me the requested information about your biography ..
al dia siguiente fue tanta mi curiosidad que agregue a este artista a mis amigos con un poco de dudas ya que las redes sociales se prestan para engaños y pues el me acepto le escribi un mensaje en su muro y mayor fue mi sorpresa cuando me respondio al privado. que me enviaria la informacion solicitada sobre su biografia..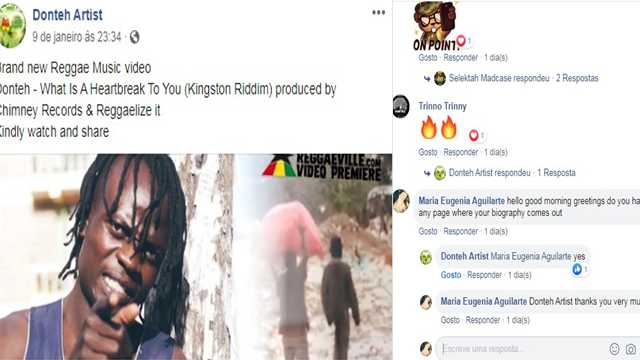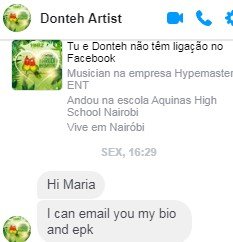 Today I share the information received about this artist through his Facebook page
Hoy comparto la información recibida sobre este artista a través de su página de Facebook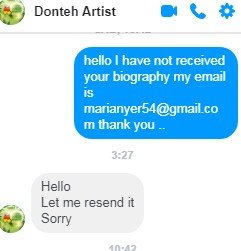 email received now only download all the information -
correo electrónico recibido ahora solo queda descargar toda la información -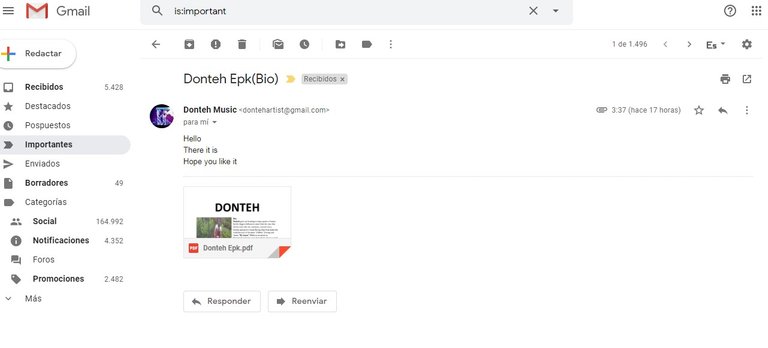 Bio:
Donteh grew up listening to many genres of music
but his biggest influences came from the ones that
fed his soul with raw emotions, craziest lyrics,
rhymes and groovy beats.Having been bred under the
watchful eyes of Jermaine "J Zero" Ojwang and
Aaron "Dj Aaron" Mbalu as an artiste at
Hypemasters Ent,he's now brought his down to earth
feel with the tenacity of a wildcat to the
industry.Singing out anything from Dancehall,
Reggae, Afro to sensual deep RnB.
He not only stuns but rocks his audiences to the
ground as they ride the waves of his passion and
desire for the perfection that only one with an obsession for beauty would understand.An irony
through and through,but that's what music is all about.It's a journey through the depths of the
mind.A release from reality into the world of stupendous and dreams which only Donteh can
bring you through.
He is no greenhorn when it comes to the stage,having shared it with the likes of Busy Signal,
Wyre,Nazizi,Vivian,Aarowboy,Mc Teargas,Zj Heno,M.O.G to name a few.He has also
worked on some international collabos with Milli Chab from Hungary and Saynega from
France.Also featuring in global produced riddims.
He never fails to light the night with the crazed rush and that fine salt that makes Donteh a force
to be reckoned with.
Bio:
Donteh creció escuchando muchos géneros musicales.
pero sus mayores influencias vinieron de los que
alimentó su alma con emociones crudas, letras más locas,
rimas y ritmos maravillosos. Habiendo sido criados bajo el
ojos vigilantes de Jermaine "J Zero" Ojwang y
Aaron "Dj Aaron" Mbalu como artista en
Hypemasters Ent, ahora lo trajo a la tierra
sentir con la tenacidad de un gato montés para el
industria, cantando cualquier cosa desde Dancehall,
Reggae, Afro a sensual profundo RnB.
No solo aturde, sino que mueve a su público a la
tierra mientras cabalgan las olas de su pasión y
deseo de la perfección que solo alguien con una obsesión por la belleza entendería.
de principio a fin, pero de eso se trata la música. Es un viaje a través de las profundidades de la
una liberación de la realidad al mundo de estupendos y sueños que solo Donteh puede
Traerte a través.
No es un novato cuando se trata del escenario, ya que lo ha compartido con gente como Busy Signal,
Wyre, Nazizi, Vivian, Aarowboy, Mc Teargas, Zj Heno, M.O.G, por nombrar algunos.
trabajó en algunos colaboraciones internacionales con Milli Chab de Hungría y Saynega de
Francia. También aparece en riddims producidos a nivel mundial.
Nunca deja de iluminar la noche con la fiebre enloquecida y esa sal fina que hace de Donteh una fuerza
a tener en cuenta.
SOCIAL MEDIA:
Twitter :https://twitter.com/iamdonteh
Instagram :https://instagram.com/iamdonteh
Facebook :https://m.facebook.com/Mbichez
YouTube :https://m.youtube.com/user/Dontehhype
Soundcloud :https://soundcloud.com/iamdonteh
CONTACTS:
Email; Dontehbookings@gmail.com
Phone; +254 704 017 665
This was the information provided by Donteh to my person was a very kind and receptive person with me has enough humility despite having fame .. I share a topic that I liked very much I hope you enjoy it ..
Esta fue la informacion suministrada por Donteh a mi persona fue una persona bastante amable y receptiva conmigo tiene bastante humildad a pesar de tener fama.. les comparto un tema que me gusto mucho espero lo disfruten..
DONTEH - SOLDIER - OFFICIAL VIDEO 2019

Donteh, is a new artist in the genre of Reggae with this song was nominated twice in Kenya as "Reggae artist of the year" in 2019 this song was nominated as reggae of the year "at the Xtreem Awards 2019.
Donteh, es un nuevo artista en el genero del Reggae con esta cancion fue nominado 2 veces en Kenia como "Artista del reggae del año" en 2019 esta Canción fue nominada como reggae del año "en los Xtreem Awards 2019.
---
Posted via ReggaeSteem | Reggae Culture Rewarded
---
Posted via ReggaeJahm | Reggae Culture Rewarded