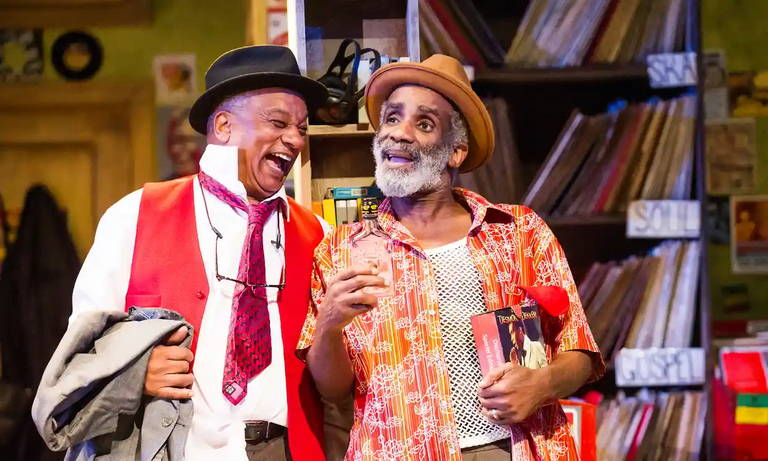 Source Jeffery Kissoon (Clifton) and Larrington Walker (Rudy) in the Birmingham Rep stage play of the Radio 4 show. Larrington Walker was a British actor from Jamaica appearing on TV and films and a member of the Royal Shakespeare Company.
We have a little sitcom on BBC Radio 4, set in an old school record shop in Handsworth in Birmingham. Dad Rudy, aging but still raring to go, his friend Clifton, and girlfriend Doreen, and neurotic, English-grown son, Adam.
The humour is very obvious and the studio audience love it (so do I). As Adam says, often it's not even "a single entendre". It's the kind of gentle show I like to listen to late at night, maybe when I'm in that dream state, half sleeping, half awake.
What I had never really realised before is what a fantastic sound track each half hour show has running through it. I was there the other night, just dreaming, when a sound came on reminding me of dancing in dimly lit basement rooms late at night anywhere in South London. Suddenly I was awake and checking the playlist - I've just picked three of the fourteen tracks featured in that episode to share.
This is the one that roused me from my slumber, reminding me of my young days, out late and running around, finding blues parties and sneaking in under cover of much older boys. We were tolerated as long as we kept a low profile.
Written and first recorded by Leonard Dillon and the Ethiopians in 1967, 'Train To Skaville' was one of the most influential recordings to be issued during the rock steady era. The song later provided the baseline for the Maytals '54 46 That's My Number' (later recut as '54 46 Was My Number'), Marcia Griffiths's 'Feel Like Jumping' and 'Boops' by Super Cat. Source
Here's a version by The Selector, released in the 1980s (this performance in 2015) - made the hairs on my arms stand on end hehe x
This version of Ruby Soho by Jimmy Cliff was new to me, I'd never heard it before catching it on my little radio show:

A collaboration between Jimmy Cliff and Tim Time Bomb, of Rancid, a punk band, which wrote and released the original version (much noisier). I'd come across Tim Time Bomb somewhere before (how)? but never this recording, released as part of the Grammy award winning Re-birth album.
Finally, this happy pop-py song from Aswad (although it has a sad theme), released in 1988 and a number 1 in the UK charts. I love the outfits and the wild west theme - how did that get in West London?
This wasn't quite how I remembered Aswad - I knew them as much more gritty, with songs about the experiences of young black men growing up in England - Three Babylon and It's Not Our Wish - I was surprised to find it was them. But lovely, all the same.
Rudy's Rare Records - BBC - you may be able to listen to episodes.
Saturday Savers Club
I run a savings club every Saturday over on the @eddie-earner account. We're aiming to save £670 ($800) by the end of the year using the 365 day savings challenge. You can join any time of the year and set your own goals and plans (some people are saving Hive, others Bitcoin, some their local currency). We share savings tips and there's a free giveaway every week.
Three things newbies should do in their first week and, for most things, forever afterwards!