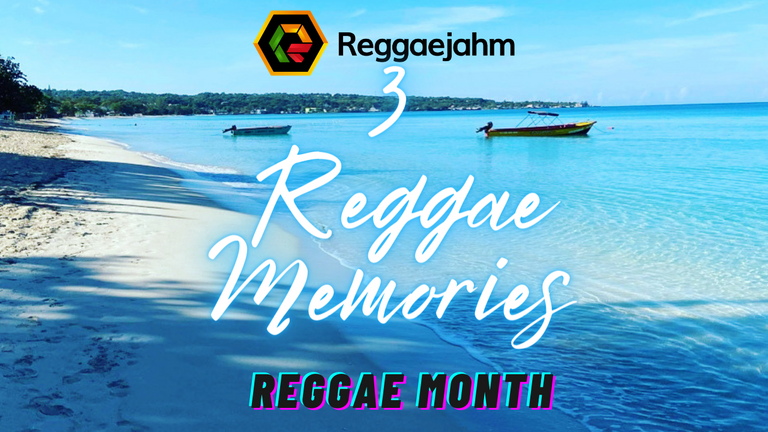 Make a cool cover picture? Here's one I found on the Internet 😁
Hello ReggaeJAHMers
I've been missing you so long 🙂. When I saw this picture come up in my feed and that I had a month to get my act together, I thought "I can do this" 😂.
First of all, though, shoutout to @bearmol! I see you've recently completed a month on the blockchain, we've already said hello in the Saturday Savers Club and here you are in ReggaeJAHM, fabulous 😍.
Now, everyone knows I am old school (and avant garde, all at the same time 😛), so I've picked three memories from times long gone past that are still alive and kicking today.

Israelites - The Dualers

Three in one in this memory: Desmond Dekker's Israelites, released by Trojan Records, was the first reggae song to reach number one in the UK charts way back in 1969, and a global million sales were reported in June of that year. I can remember being so excited!

Here's
Israelites
being performed by Tyber Cranstoun in North End Road Market in Fulham, London in 2016. Originally, the Dualers were Tyber and his brother, Si, who started busking around south London and Essex after finishing school (and maybe before, but at a young age, you get the picture).
In 2004, the Dualers busked their way to number 21 in the UK charts with their own song, Kiss on the Lips, all without any backing from the music industry. It's a catchy little song (see them busking here), bringing Jamaica to London town:
Your daddy says I should leave you alone
But from the start you know you stole my heart
Now I can't forget you
So take a trip along the River Thames
To Tower Bridge
My favourite bridge
Then home to Crystal Palace
I worked round the corner from North End Road Market, a mile or two from where I lived in Chelsea. Fulham is a strange place, it's a peninsula in the Thames, only accessible from the north and across the river from the south. Like much of London, you'll hear many languages on the streets and in the markets. And, like so many other parts of London, it has some of the poorest neighbourhoods sitting cheek by jowl with areas which have seen the highest increases in house prices in the past decade, rivalled only by Sandbanks in Dorset.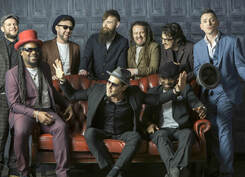 Source: The Dualers
The Dualers, now a seven-piece band, are
touring
this year. They'll be at the Winter Gardens in Margate on Saturday 13 November, when (at least) three generations of my family are planning to go as a reunion (some of us haven't seen each other for over a year) and celebration.
Si Cranstoun, the other half of the original Dualers, also has his own band and tours extensively. Here he is doing a great version of Reet Petite.


Ghost Town - The Specials

Ah, Coventry. Like Leicester where I live now, Coventry is a city in the Middle Lands of England. You used to hear a joke in Leicester about a new motto for the city,
"at least it's not Coventry"
. Well, the joke's on Leicester now as Coventry is UK City of Culture 2021.
The City of Culture programme will include the first major exhibition of the lives and legacies of the two-tone era, one of the most inspiring periods of postwar youth culture, when Coventry hosted the most innovative music scene in Britain. The iconic beats and dubs of Ghost Town by The Specials, released in 1981, summed up the laying to waste of much of industrial Britain in the eighties.
The Specials published their music on 2 Tone Records set up by band member Jerry Dammers in 1979:
Dammers, with the assistance of Horace Panter and graphic designers John "Teflon" Sims and David Storey, created artwork that was to become central to 2 Tone Records. The logo portrays a man in a black suit, white shirt, black tie, pork pie hat, white socks and black loafers. Named "Walt Jabsco", the fictional character was based on a photograph of Peter Tosh, a former member of the Wailers. (Source)
I worked in Wood End in Coventry for a while, where Specials band member Neville Staples and his family lived. Neville was a great supporter of community events and I met him several times. He never recognised me 😂.
There will also be a three day music festival as part of the City of Culture, curated by Terry Hall, previously lead singer with The Specials. Now in his sixties, I'm curious to see what Terry will include in the festival.

I'm in the Mood for Love - Rico Rodriguez

I love this song! Originally published in 1935, a ska version was recorded by Lord Tanamo in 1965, then
Jamiroquai
sang
a beautiful version
(Rico is also playing in this) with the
Jools Holland Rhythm and Blues Orchestra
on
Small World Big Band
in 2001. Here's Rico singing it with Jools Holland in 2012.
Rico Rodriguez has been a constant in my journey through reggae and ska, playing with Desmond Dekker and The Specials and many, many others. I love brass instruments and Rico's trombone, taught by Don Drummond, Jamaican trombonist and composer, is a beauty.
One time Rico and I travelled together from London's City Airport to Geneva, Rico's trombone sitting on the seat beside him. He had no hand luggage, no luggage at all, apart from the trombone. Like Neville Staples before him, and Rio Ferdinand and Noel Gallagher since, Rico didn't recognise me 😂.
Incidentally, Small World Big Band has a great version of Oranges and Lemons Again, written by Jools and Suggs, about Ian Dury.


So there you are, three memories from across a lifetime, with old style ska and reggae still as popular across the generations as ever and, as Ghost Town shows, a huge influence on the British music scene, merging with many other genres.
Enjoy!
Thanks to @dmilliz for the images.