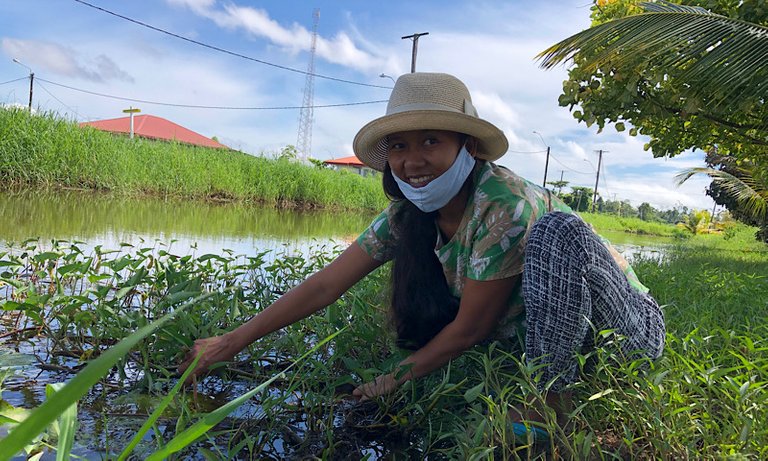 Happy Saturday dear Hive friends! Yesterday we tried to bike to get money from the ATM because my mother-in-law is tired of sending money by Western Union. We know we can't do it already from our local friend two days ago because he can't get money from an ATM around Paramaribo. But we still try do it because we have only five dollars.
The five dollars is so small we can't go to buy anything in the store. We hope if we can get some money from ATM then we can buy more food. That ATM is near the US Embassy, a bitr far from our place, maybe bike 30 minutes.
When we reach there my husband said, "The ATM is not working and I feel too tired to bike all the way to the city now, plus I think it's going to rain soon." So we head back home and I tell with him I will stop to pick waterlilies and water morning glory in the canal for making food today.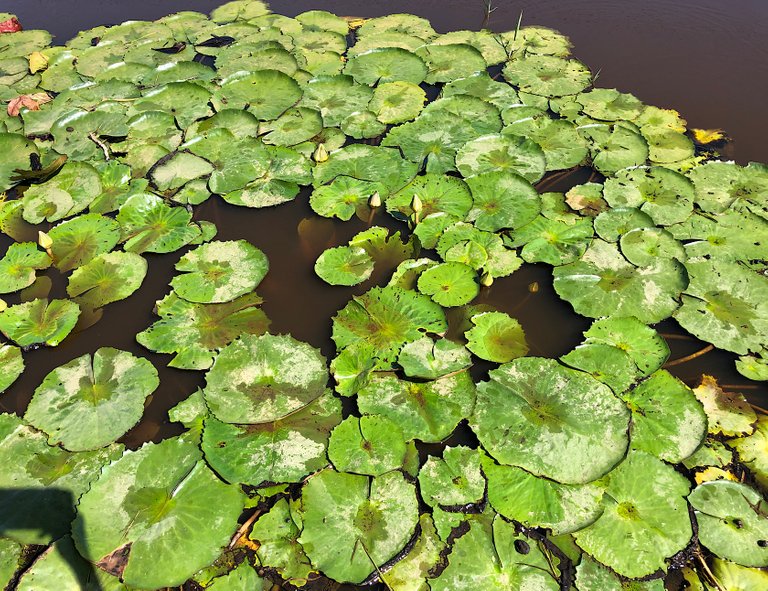 This canal usually I see people fishing all the time when I bike over there, but I never see them picking these vegetables like we do in my country.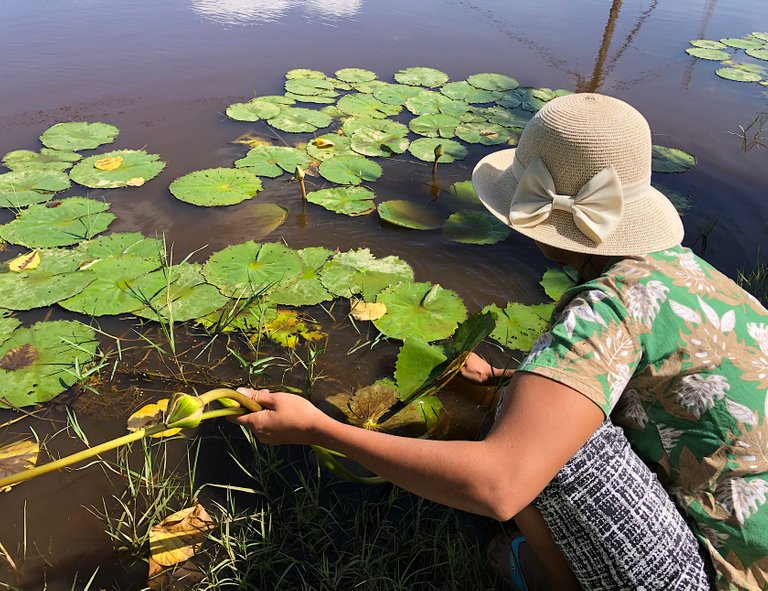 When I live in my country Cambodia, I do that many times in my life, but this is my first time I pick these vegetables in Suriname.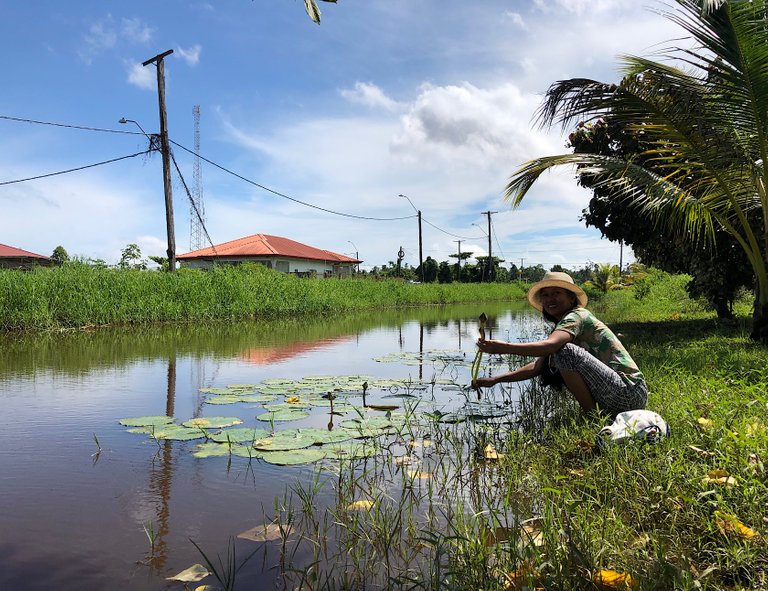 This canal has so many waterlilies, but they are too far from my hands, so I can't pick them, but a few were near my hands.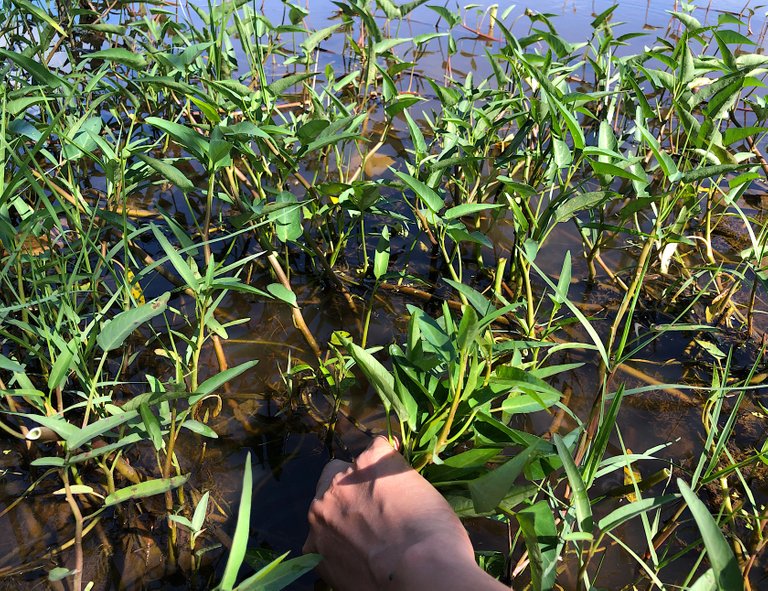 This kind of morning glory grows in the water, and it is red, normally they growing all by itself. For the white morning glory, the people grow it in dirt.
In Cambodia we have two different morning glories, and so many people sell it at the markets. But for here I see only white morning glory sold in the markets, so I don't know if the people eat red morning glory or not.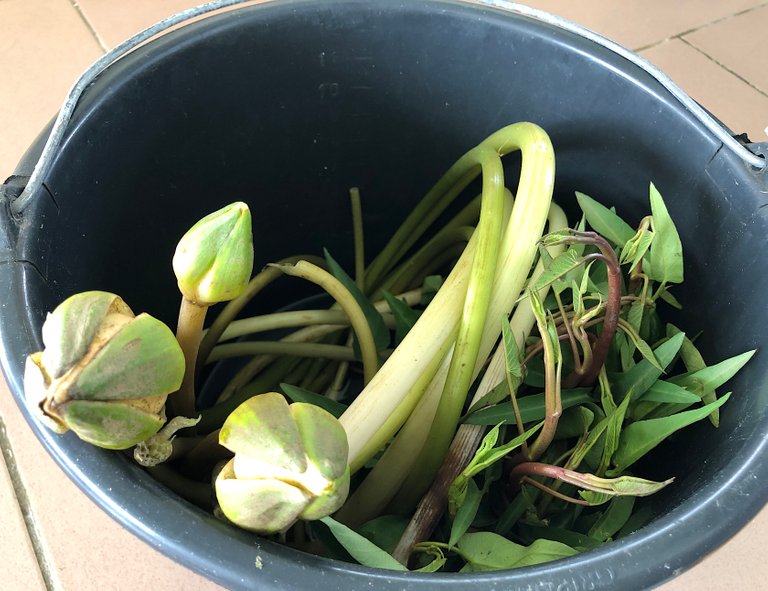 These vegetables are special for us. I made sour soup from them and my family enjoyed it because we can't eat it a long time. This day I go to the store and my husband go to city for get money again.
Here still not have much vegetables yet, but in the Chinese store there is a few brown cucumbers, they are nearly spoiled but still selling them. I really miss good vegetables like in my country. Have a nice weekend everyone.
CLICK HERE TO JOIN HIVE AND START EARNING CRYPTO LIKE US

---
Posted via ReggaeJahm | Reggae Culture Rewarded