Hello my beautiful and handsome viewers, it's the most beautiful Hopestylist (HS) here again, hehe. It's been a while since I last shared a video to this community and I think it would have taken even longer but then I got a reason to. Just this week, @josediccus made a post of how sad he was over the lost of his only brother and I personally thought of singing a song hoping to uplift him somehow. I don't even want to imagine losing a loved one but here is someone that have lost his only family and singing and praying for him is all I can do.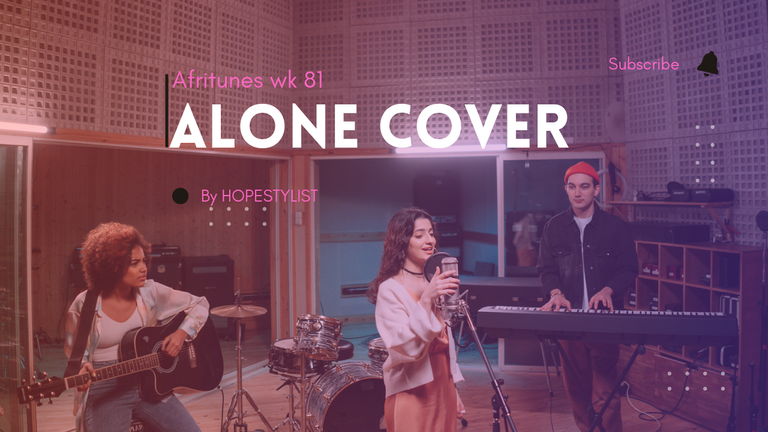 Image is designed using canva
I sang the song cover of ALONE BY NEEJA, a Nigerian singer who is trending on tiktok. The first time I heard the song, the first thing that caught my attention was the lyrics of the song. I could relate so easily with it and I believe JJ will too. I've known him ever since I came on Hive and since then I have been fascinated by how he handles the challenges and storms life keeps throwing at him. Despite all the things that he has gone through and what he is going through, he is still holding on to God.
People always say, you never know where a shoe hurts if you are not the one wearing it and so I can't say I know what JJ is going through now but I do hope and pray this song comforts him for me and I want to plead with you all to please say a prayer for him too, that's the only thing we can do for him right now. JJ you are not alone at all, even if we as humans aren't there for you, know God is always with you. Cry but don't cry like you don't have hope because you do as long as you have life.
I'm so sorry I presented this particular song to a just one person but it is also to anyone going through difficult times and feeling they are all alone, you are not. I And as for the lyrics of the song, you can find it here and also on the screen as you watch.
Until next time, stay AWESOME and JIGGY!!!