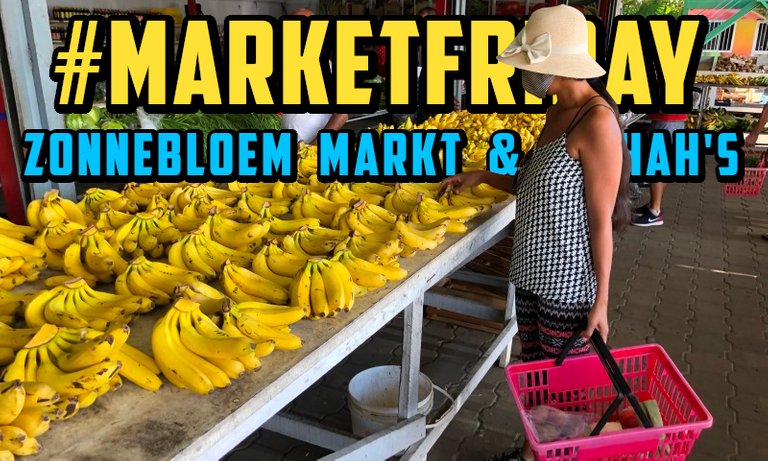 It's #MarketFriday once again thanks to legend @dswigle, and I had to visit the Zonnebloem Markt for some odds and ends. 🥒🧴🍅🍞
---
First, A Little Marketing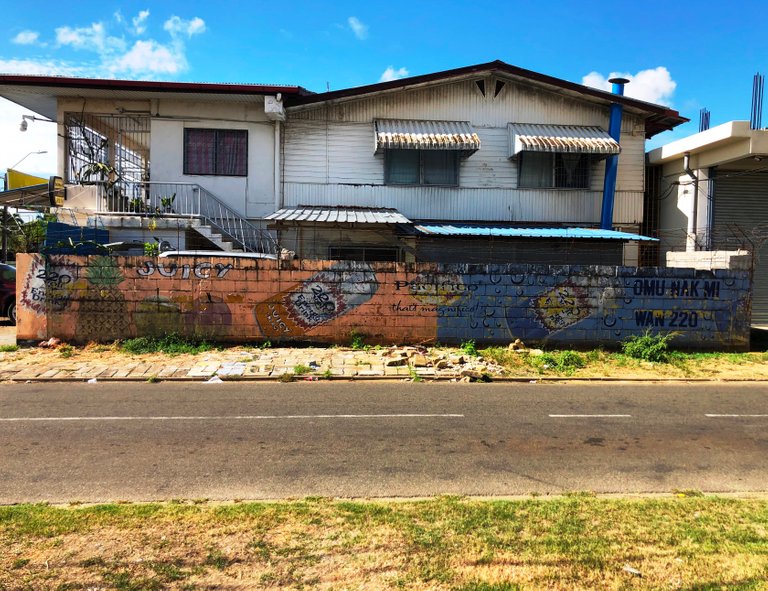 We have recently moved into a smaller apartment not much bigger than a prison cell, but we've decreased our rent by $50, something I didn't previously think possible in Suriname. With our new cheaper rent comes many sacrifices, the biggest one being the distances we have to walk have just doubled.
     With this in mind, we now must head out in the morning or risk turning to dust in the midday equatorial sun. The first thing we see every morning when we close the gate is some old handpainted advertising from a cornershop that used to be across the street.
🥵 We Made It 😩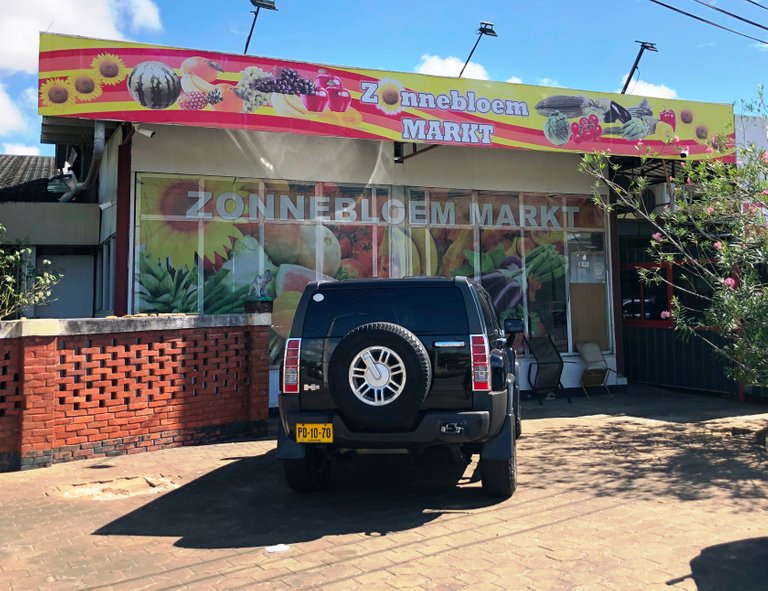 We arrived at Zonnebloem Markt much more exhausted than we normally do, but we won't let multiple kilometers stand in the way of us and our produce. I did quickly realize I should've drank a liter of water before leaving our apartment though.
Zonnebloem ☀️ Zonne Damage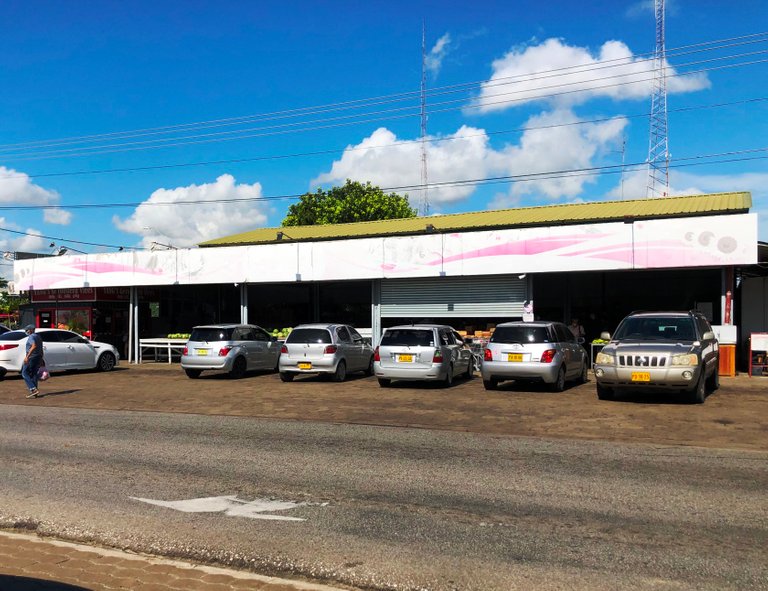 I originally took this picture to show you all the market signage, but I guess we have lived in Suriname long enough to see this sign get bleached by the sun, no longer legible from this side of the road. I think most of my clothing has lost this much color since we've been here in Suriname.
🍌 Banana Boycott 🚫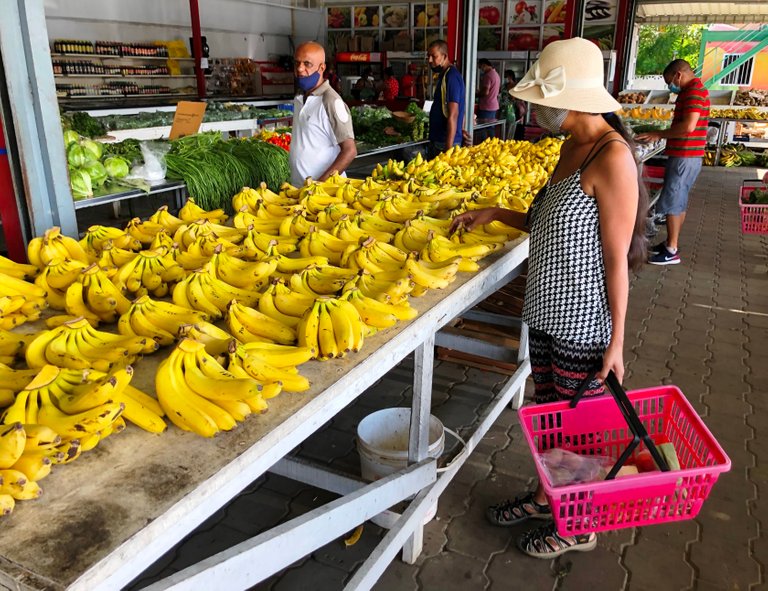 We headed inside to see that bananas, good ole' bananas, the last fruit we could afford to eat here, have gone up too much in price for us to continue willy-nilly eating them whenever we want. It only took one look at the banana table to see the banana game has changed in Suriname, and we have gracefully bowed out of fruit-eating until further notice.
Longbeans Never Fresh 👎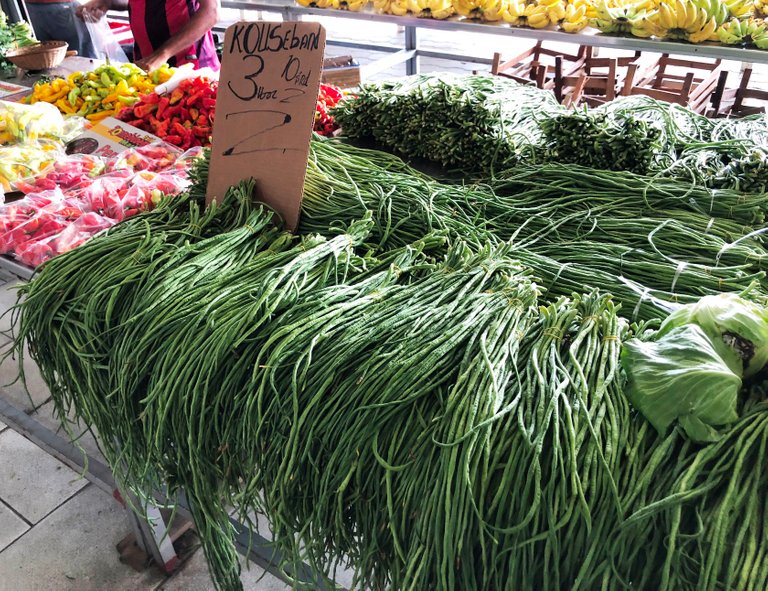 Any random village market in Cambodia has literally hundreds of varieties of edible meats, plants, vegetables, and fruits for sale, but here in Suriname it's the same 20 or so fruits and vegetables day in and day out, and it get's boring.
     We used to love eating longbeans in Cambodia, but in Suriname they are always dry and spongy, obviously picked too late and not fresh, but the locals don't seem to mind. @sreypov says in Cambodia, longbeans in this condition are given to the pigs.
The Affordable Zone 👷
     At the back of the market is a sort of dry goods area, where there is dried fish, beans, some snacks, flour, sugar, rice, and a few other things. There are also potatoes and onions in this section, which are relatively affordable, so our new boycott diet is going to be a lot beans, potatoes, onions, and rice.
🍜 The Bamie Problem 🧪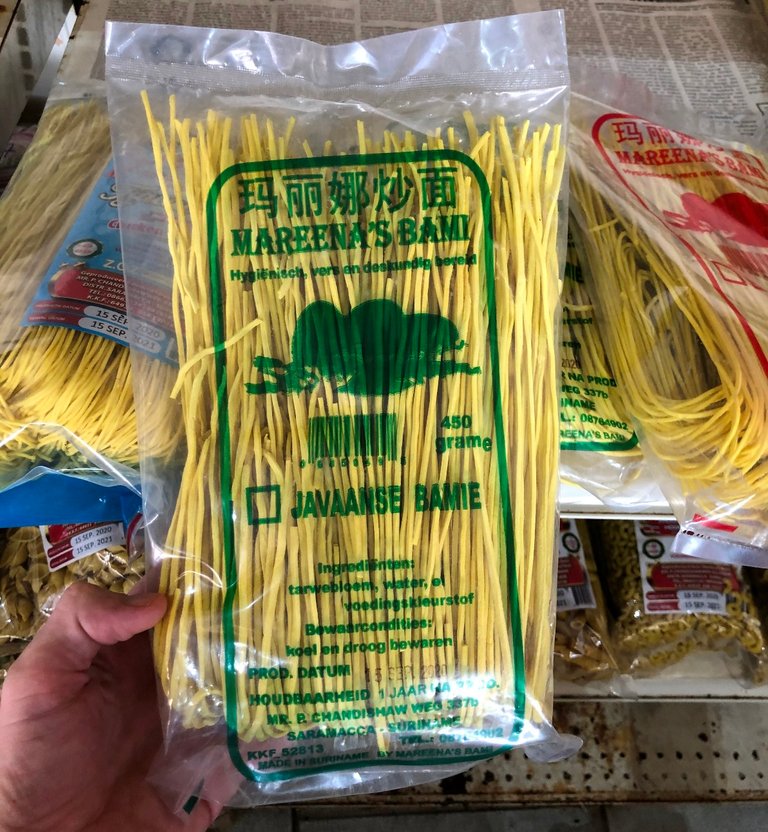 Bamie are the noodles of Suriname, an adaptation that came from the Javanese immigrants long ago. Living in Cambodia, we were accustomed to buying our noodles fresh from the person who made them at home from rice they often grew themselves. Here, modern technology is the name of the game, and all the noodles come from a factory and are laced with yellow food coloring.
     I've had Mii Goreng many times outside of Suriname, but I have yet to eat the Javanese noodles here because they all have yellow food coloring. Surinamers really like their noodles artificially yellow for some reason. The words "kleursel" and "kleurstof" are on every Suriname bamie noodle package, so we haven't had much interest in giving them a try.
🏃‍♂️ Let's Skedaddle 🏃‍♀️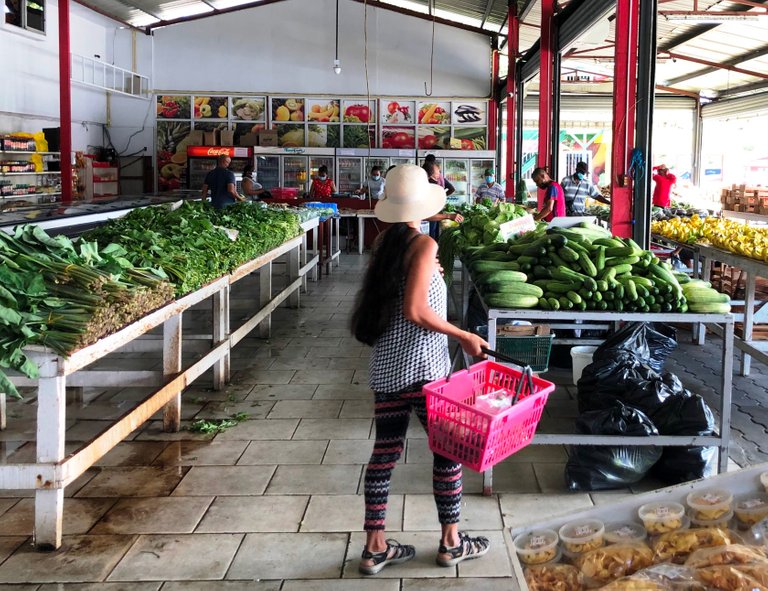 With some cucumbers, tempeh, tofu, and tomatoes in hand, we headed for the checkout to tally up the damage and hit the road again.
Aishah's حلال Delight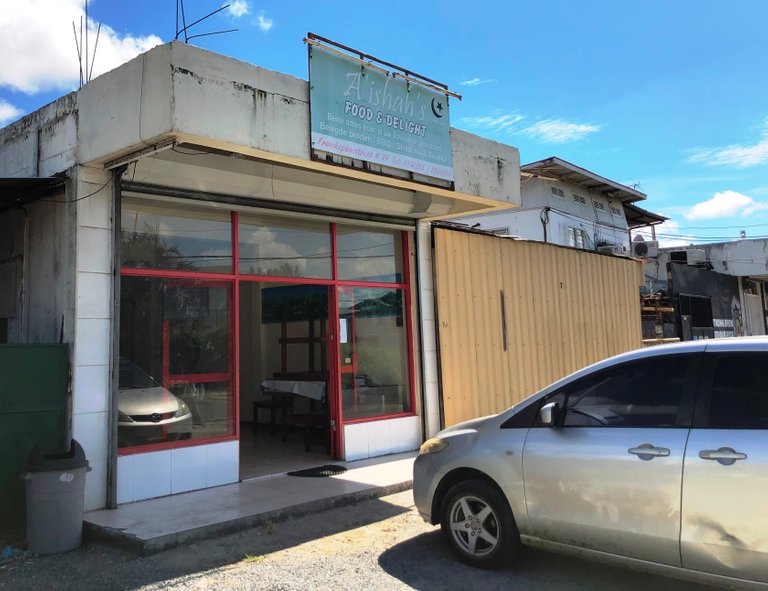 On our way back to the apartment, we swung by Aishah's Delight, a Halal eatery in our neighborhood we buy samosas from on rare occasions. It's far from a delight, but the room-temperature samosas are edible if purchased before 11am, and also the only vegan choice.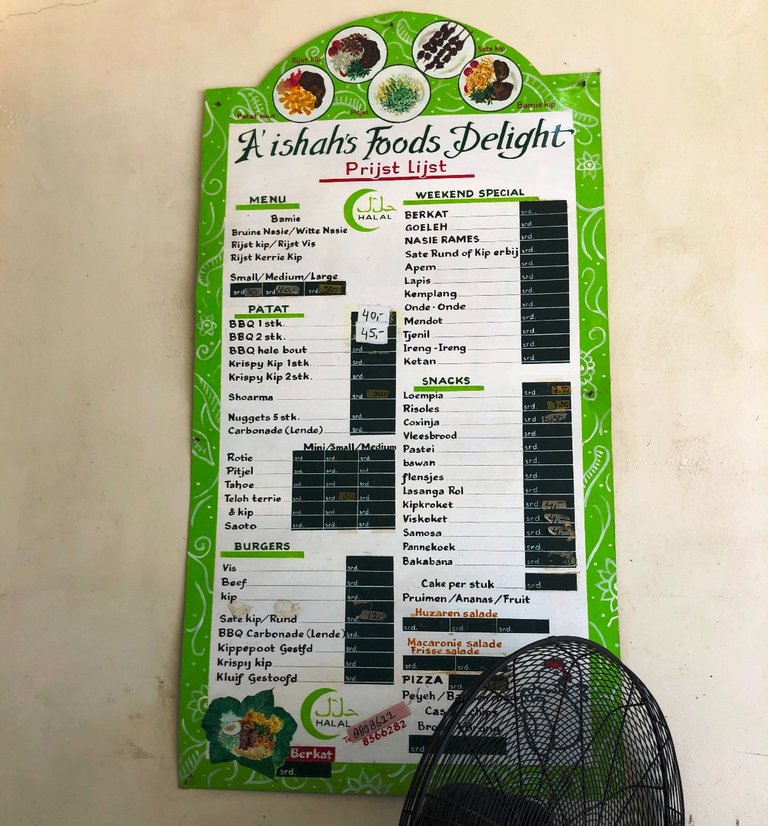 Don't let the large menu mislead you, there are only 8 to 10 dishes available, and all of them are pre-cooked and waiting for you behind glass. I've never once heard any typical kitchen noises from the kitchen here, so I guess we are brave to continue eating the samosas.
     Aishah's should hire someone to bang plates and slam a knife against a cutting board all day so the place sounds like they are making fresh food in the kitchen, it would give me more purchasing confidence.
👩‍🔧 Finish It Up With Some Shadetree Repairs 🔥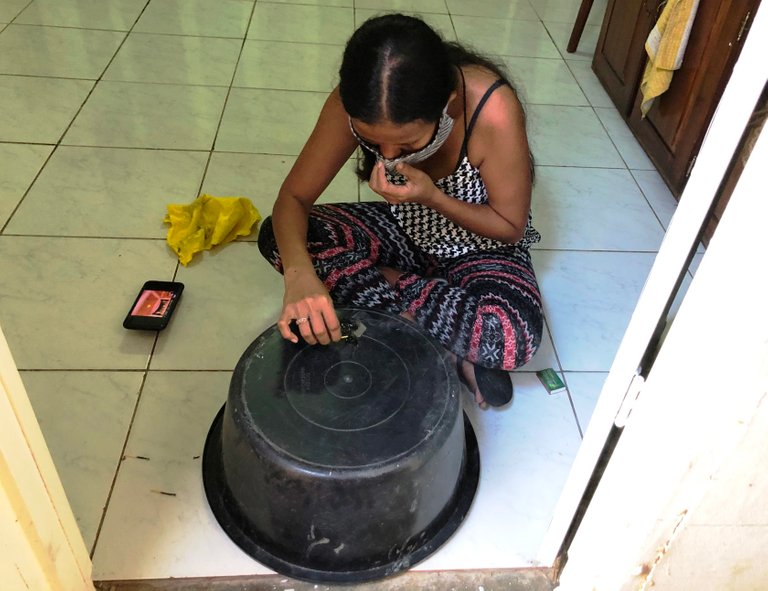 Finally back from our #marketfriday trip, @sreypov sat down with a mission to fix an abandoned and cracked plastic tub so that we can wash our clothes at this new apartment. The struggle is real folks, but a little melted plastic can fix a lot of problems, but mostly just other broken plastics.

🙏 THANKS FOR READING 🙏
If you enjoyed this post, please upvote and reblog.