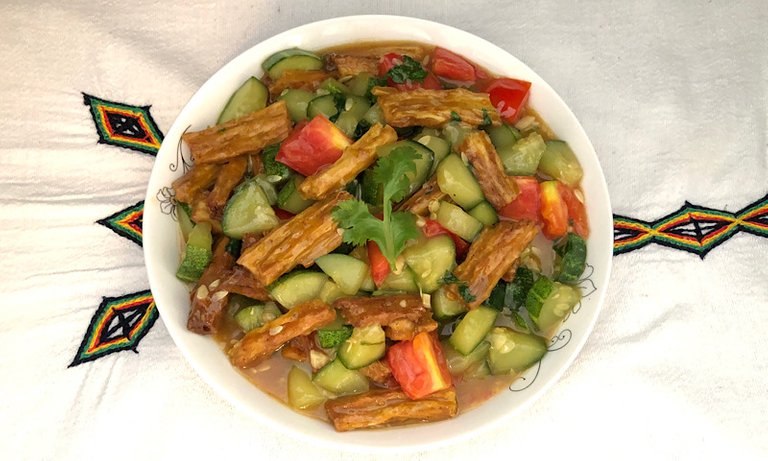 Hi dear Hive friends! Today I would love to share another recipe with you all. This recipe is absolutely delicious with rice. It is cucumber stir-fry with deep-fried bean curd skin, my original idea, a new recipe.
I have made deep-fried bean curd skin before, but I made it to eat with other things. After they ate it, my family said it was delicious with cucumber. I think maybe you like it also if you could taste it. This recipe is an entry for Qurator's Hive Top Chef | Cucumbers.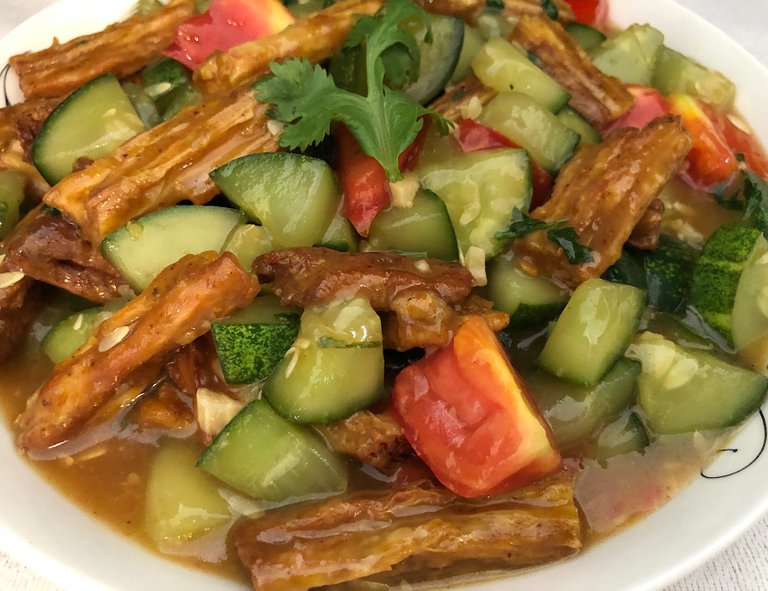 👩‍🍳 Cucumber Stir-Fry With Deep-Fried Bean Curd Skin (Ital) Recipe 🔪
វិធីធ្វើឆាត្រសក់ពពុះសណ្ដែកបំពងបួស
Qurator's Hive Top Chef - Cucumbers

Ingredients For Deep-Fried Bean Curd Skin
2 cups bean curd skin, after soft, cut it
1/2 tsp salt
1 tsp coriander powder
1 tsp chili powder
1 tsp black pepper
1/4 cup flour
a little water
Soak bean curd skin in water until soft, then cut them. Put all ingredients in the bowl and mix up well with a little water. Keep it five minutes, then fry them until brown.

Ingredients For Stir Fry
1 big cucumber
2 tomatoes
1 stalk of coriander leaves
4 cloves garlic
1/2 tsp salt
1 tbsp brown sugar
2 tbsp soy sauce
1 tbsp cassava flour + 1/2 cup water
1/2 cup water
Chop garlic and cut cucumber, tomatoes and coriander leaves like I did.
Step 1

Heat oil and fry garlic until brown, then add cucumber and fry a little. Then add salt, sugar, and soy sauce, fry it well.

Step 2

Then add bean curd skin and fry it, then add water and boil it two minutes.

Step 3

After add potatoes and coriander leaves, then fry it some more.

Step 4

Pour water in the bowl with cassava flour stir it until dissolve, then pour in the pan and stir-fry it. Taste, it's ready.
Have a great week everyone and stay safe 😊.

🙏 THANKS FOR READING 🙏
If you enjoyed this post, please upvote and reblog.
CLICK HERE TO JOIN HIVE AND START EARNING CRYPTO LIKE US