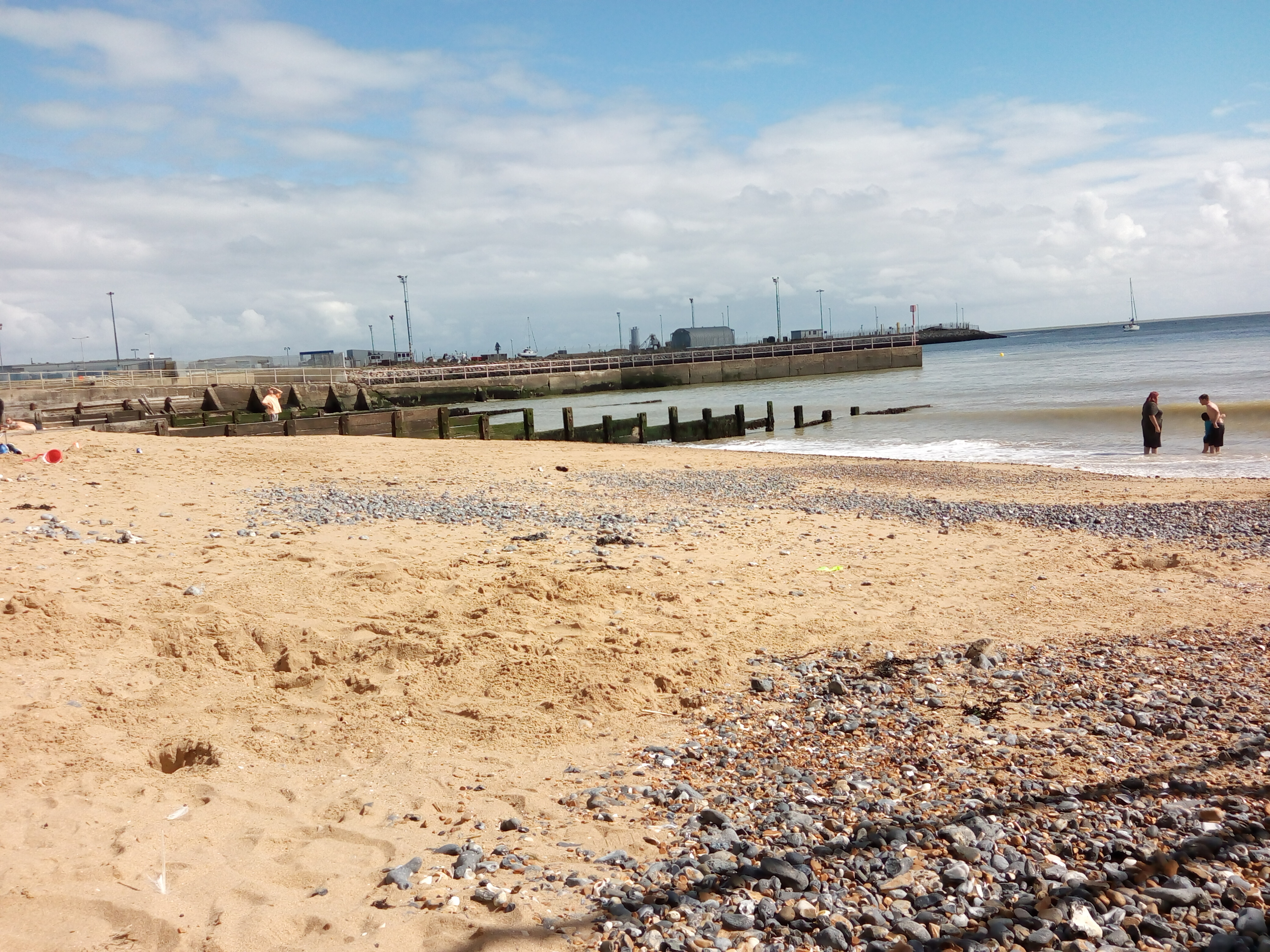 Getting carried away and trying a post from my mobile phone! I'm at the seaside, sitting on the beach where I spent many summer holidays. It has been a beautiful afternoon and I was surprised there were so few people here.
There is something wonderful about sitting on a beach with nothing to do, although I did collect a pile of pebbles and another of shells, and went for a paddle and lay down in the sun to feel the warmth on my eyelids. Then there was fetching a cup of tea from The Lookout Cafe at the top of the steps. All in all, a busy afternoon.
Tea at the seaside is something quite special. It is always scalding hot, a temperature you are never able to achieve in a domestic kitchen, and has a quite particular taste, I'm not sure what it is, maybe ions from the sea, or your scalded taste buds valiantly registering only half (or perhaps double) the volatile oils emanating from the tea.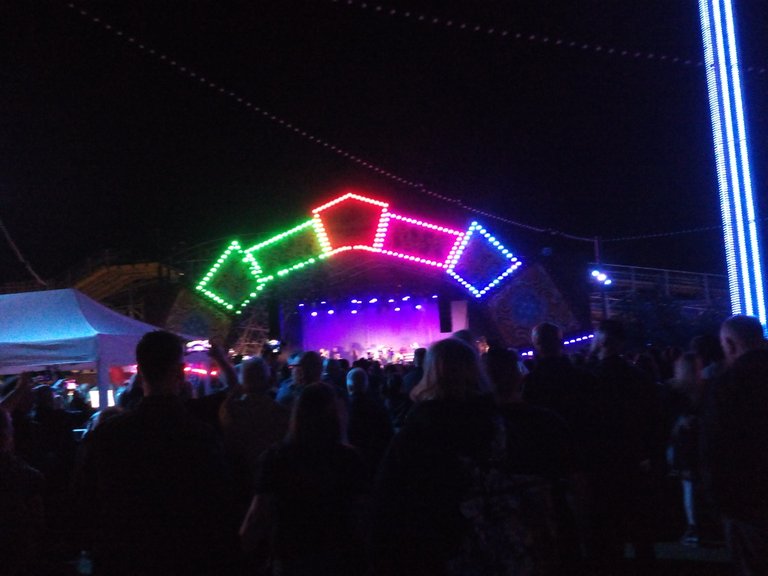 Last night we made an excursion to Dreamland in Margate to see The Specials. It was my first visit to Dreamland (it was always too expensive for us as a family when I was a child, and then it was closed for many years).
The owners have brought into use what was a large area of waste ground, creating the illusion of an outdoor festival without the mud. It holds 2,000 and seemed full without being packed. The standing area is covered with AstroTurf, there is seating towards the rear and on the balcony, although it looked a bit chilly and exposed up there.
It seems the owners are gradually improving the ground and starting to attract big names. As well as the main stage, there are several slick bar operations and food outlets (mainly burgers, dogs and fish and chips, also vegan junk food). I liked the bag check security on the way in, although the atmosphere was awash with the distinctive aroma of weed.
It was the first night of The Specials new tour promoting their new album, Encore. We didn't get an encore, by the way, the evening fizzled out in a lacklustre audience participation in Who's Wondering Now . To be fair, the audience didn't ask for an encore (have you tried drumming your feet on AstroTurf?), so perhaps band and audience shared a mutual disaffection.
It was a show of two halves - songs from the new album and a selection of 80s favourites. I've read mixed reviews for the new songs and some of them are definitely weak including the single Vote for Me. In places, though, there was an interesting new development which reminded me of the punk burlesque cabaret of The Tiger Lillies with their dark macabre humour. At one stage there was indeed an accordion playing.
I mean, we would expect musicians to develop and explore new ideas in music and, apart from the obvious ska-fest which came later, this dark camp was the most interesting thing about the gig. It reached its fullness in a version of The Lunatics (have taken over the Asylum), originally a Fun Boy Three song, I believe written by Jerry Dammers, described by one reviewer as a "dub tango". I hope someone posts a recording to YouTube, because it was easily the best thing about the show.
Although I must mention the trombonist (excellent) and the trumpet player (also very good), and the drummer, who I know from Jazz Jamaica, and a pleasure.
The crowd went wild at the opening of A Message to You, Rudy signalling the start of the party and, finally, some serious dancing. The audience was word perfect for this song, Gangsters, Too Much Too Young seguing into Monkey Man (easily the favourite dance tune) and, of course, Ghost Town.
There were two support acts, one with a frontman who swore a lot, and one who didn't, both totally unmemorable. I suspect their sole purpose was to force you to get an extra round at the bar in desperation and allow time for the queue to the toilets to disperse.
Nonetheless, an enjoyable evening (parking was good, too, plenty of it and easy to get out at the end of the show - anyone who's left Wembley and been stuck in a slow crawl to oblivion on the North Circular will appreciate what I mean), rounded off with a doner kebab from Bodrum's in Harbour street. Someone as old as me should know better that draft cider followed by a doner will lead to waking up with a mouth that feels like the bottom of a birdcage, but I wasn't sleeping in a leaking tent that collapsed in the night so all in all, I've experienced worse.
Tonight, on this truly sublime Sunday, I dined with more decorum in the Alexandra Ristorante Italiano enjoying a pizza Romano with salad leaves and a glass of something, followed by home-made cassata Siciliana.
Perfect.