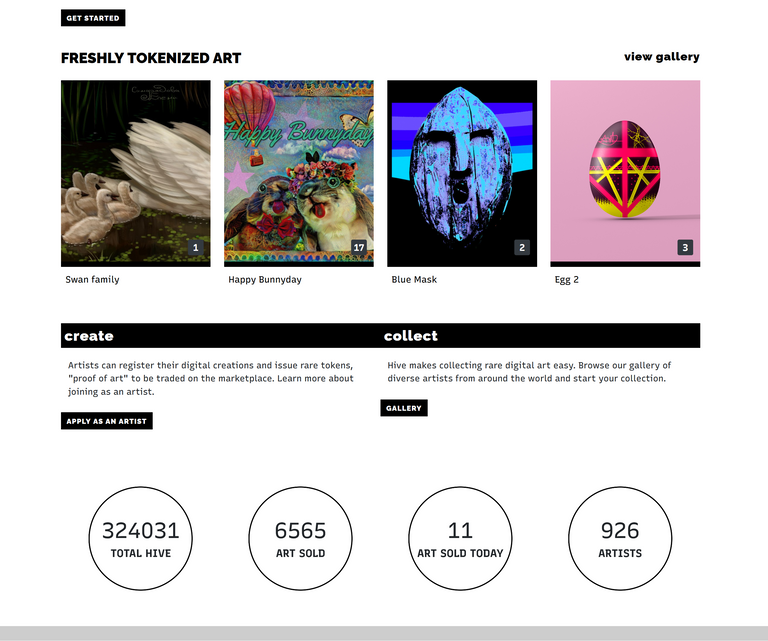 NFT Showroom is a digital art marketplace built on Hive.
It makes collecting rare digital art simple and accessible.
This is my entry to a giveaway designed to raise awareness about NFT Showroom. You can enter, too, here's the NFT Showroom giveaway post with the details. Disclaimers below.

I'd heard about the NFT Showroom here and there and I'd seen the articles in the press.
In the time of COVID restrictions, when I can't get my hit from going to art galleries, a chance conversation on Hive prompted me to investigate NFT Showroom and led me into a new world.
On my first visit, I bought a piece of digital art.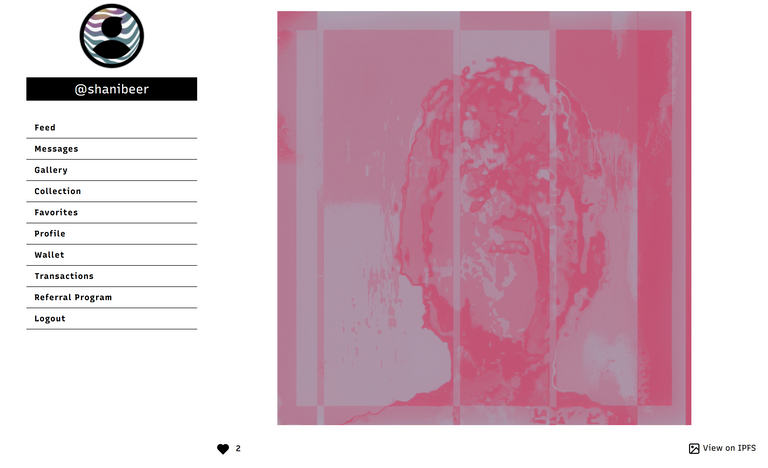 portrait of a lady III caught my attention almost immediately. It carried so many resonances. Described as "Pantone spring and summer colors changing moods" it seemed so much darker to me - was it a woman screaming in there?
The III was intriguing, too, suggesting earlier women. Like the legend of Bluebeard or those smart-alec men who refer to the woman they are married to as their first wife, it drew me into a noir world of Henry James' doomed heroine, Isabel Archer, and the savagery of Browning's My Last Duchess, beautifully elucidated in this article by Camille Guthrie.
That's my last Duchess painted on the wall,
Looking as if she were alive.
Women used cruelly by the men around them.
Plenty to scream about.

But the flickering images and changing colours drew me into another memory of the Turner Prize in 1998, fusing three art works into one.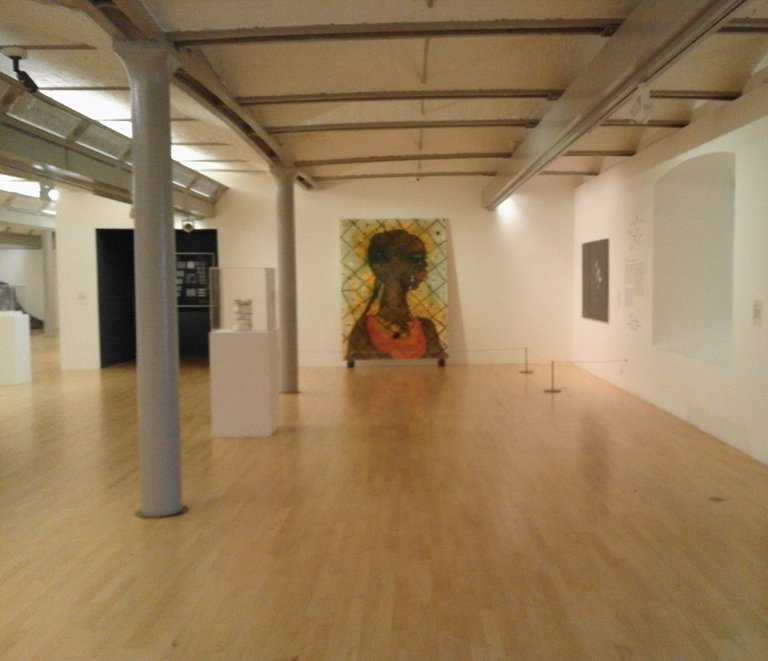 No Woman, No Cry, Chris Ofili, 1998
You see this picture reproduced so often online, a little square, tiny, it is hard to imagine the majesty and beauty of the original. It is a very large painting, the colours so much more beautiful than my out of focus attempt.
I saw it again at Tate Liverpool last October, the first time in over twenty years. I remember the outcry when it won the Turner Prize - "it isn't proper art" - how many times has that been said?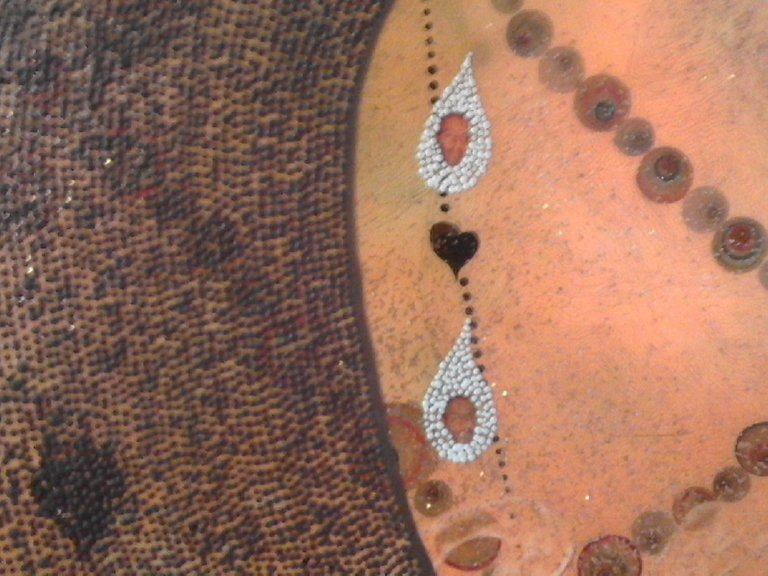 Close up, you can see the tiny portraits of Stephen Lawrence in each tear, a commemoration of the young man killed in a racist attack in 1993.
The "woman's chest bears an area of vibrant red and orange ... The background ... a mixture of pale green and bright yellow" ... pantone spring and summer colours of changing moods ...
Chris Ofili talking about No Woman, No Cry.

Sam Taylor-Wood (now Taylor-Johnson) and Tacita Dean, both film-makers, were also shortlisted that year.
I've not been able to find which art works were included in the original Turner Prize. I remember Sam Taylor-Johnson's film as black and white, grainy, intense and claustrophobic (although I may have misremembered). Film as art was new to me, I didn't get it, I watched the looped film playing, fascinated and repelled.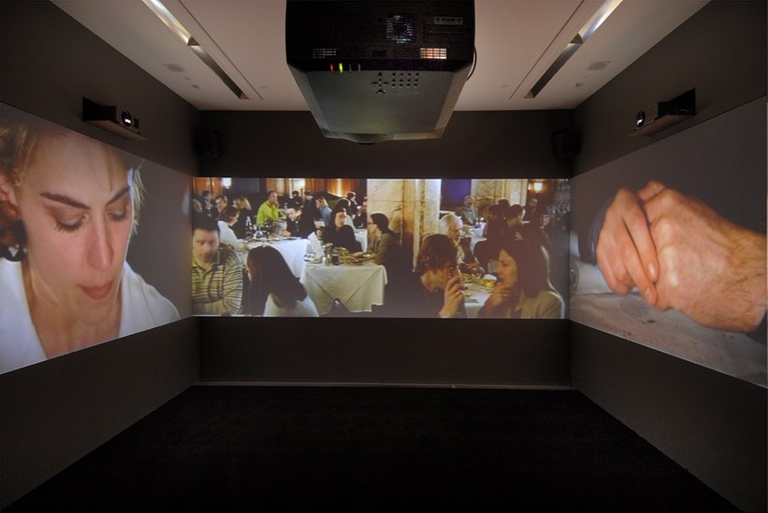 Source: Baltic Plus Still of Atlantic, Sam Taylor-Wood, 2006
Atlantic (available on the artist's website - scroll down the home page to find it) gels with my memory of films "which play off the emotional intensity of ambiguous relationships."
In Sam Taylor-Johnson's words, 'I wanted (Atlantic) to feel like you could be coming in, as you say, at any point, not necessarily at the beginning, or the end, but somewhere towards the middle where something is about to happen. It could be the beginning of an argument or an argument petering out … the only thing those people have in common is the space they occupy. They are totally isolated within their own activity or mental space … you are looking at two people interacting but you project what the discussion or argument is about. The viewer is put in the position of the people in the restaurant who are onlookers. And as an onlooker you're straining to understand what exactly is taking place. I want people to construct their own narrative, so they're looking at it and giving it endless possibilities.' Source
I gazed at portrait of a lady III for long minutes trying to understand the narrative, the story captured in the changing frames. Was she screaming? Was she captured in there, caught for all time, a looping sequence, never-ending, coming in at the middle, as the viewer, creating your own story.
"Framed like a painting, an Old Master, beautiful and yet, full of horror."
Margo Crutchfield, Senior Curator, MOCA Cleveland in Brief Applause: Artist Sam Taylor-Wood
Beautiful and yet, full of horror.

Tacita Dean was the least familiar artist shortlisted for the Turner Prize that year, internationally as well as at home. Her films, storyboards, and blackboard drawings often use the sea as a starting point.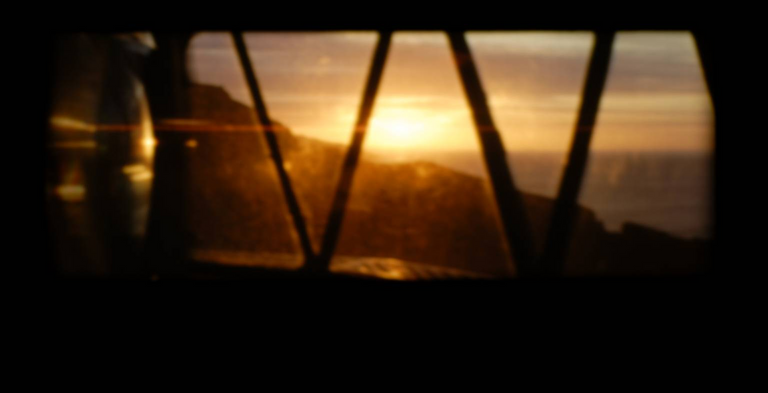 Source: Tate Modern Still from Disappearance at Sea, Tacita Dean, 1996
Disappearance at Sea 1996 is a 16 mm colour film with sound shot on location at the lighthouse on St Abb's Head in Berwick-upon-Tweed in northern England. Shown on a loop, the fourteen-minute film consists of seven lengthy shots captured by a static camera that alternate between close-ups of the rotating lighthouse bulbs and footage looking out to sea. As the film progresses the scene changes from dusk to nightfall, with the colour of the sky shifting through a range of yellows, reds and purples. The soundtrack features the noise of seagulls, waves and the wind, as well as the rhythmic mechanical movements of the lighthouse machinery. The film ends with a shot of lighthouse beams panning the darkened coastline as the seagulls' cries reach a crescendo. (Source)
In 2011, Dean created FILM for the massive Turbine Hall at Tate Modern. FILM has been described as a visual poem: it depicts Tate Modern (a disused power station converted to an art gallery), juxtaposed and overlaid with colour and other images and fillm making "waste" - pictures fading at the end of a roll and flash frames of over-exposure as the camera starts and stops.
FILM 2011 is a portrait of the analogue, photochemical, non-digital medium of film. It is silent, lasts 10 minutes and 42 seconds, and is played on a continuous loop ... To produce the various visual effects in FILM Dean used both in-camera and studio techniques, such as masking, double-exposure and glass matte painting. Dean's edit of the material, as well as her additions and manipulations, established a relationship between the artist's hand and the mechanically produced film. The ad-hoc nature of the images also points to the early days of cinema, even though the film used was some of the last to be produced at the Kodak factory and so might also be seen as a lament for a nearly extinct process. In the press release for the display of FILM at Tate Modern, Dean commented that the work aimed, 'to show film as film can be – film in its purest form'.(Source)
Critic Adrian Searle, writing in the Guardian newspaper, described it as: 'A silent movie, Film is a rejoinder to the digital noise of the modern world. It recalls early cinema and experiments with colour, cinema as art abstraction and as home movie, structuralist film and underground cinema. It is cool and passionate, lovely and weirdly old-fashioned.' (Source)
"Film and digital are different mediums; they make different cinema and different art." - Tacita Dean
Tacita Dean talking about making FILM
If Chris Ofili provides insights into colour and Sam Taylor-Johnson into content or subject, then Tacita Dean throws light onto techniques or effects in portrait of a lady III. I don't know how it was made, or how frames were laid over each other, but the repeating Mondrian grids and lightning crackles in lady III remind me of other photographic and film techniques. It is a short piece (made for this digital world of short attention span?) but it has its own rhythm and heavy downbeat at the lilac and pink. It feels like an excerpt, part of a longer opera with other characters ... or maybe ... like Atlantic ... it is there waiting for our own narrative.

A short walk through my first experience of NFT Showroom. I was greedy and entranced when I arrived, like I am when I visit a gallery, giddy with excitement that I had made my way into this digital world.
As in a material gallery, I hungrily viewed the images, waiting for one to speak to me and portrait of a lady III did. Sometimes I feel like a worker ant, exploring, looking for food sources and, finding one (although it is my soul that is being nourished rather than my belly), scurry home with it held on my back, perhaps too big and unwieldy, far too much to digest in one sitting, exclaiming "Look what I've got, look what I've got", before hurrying back for another slice.
Sometimes, in a gallery, I can feel new synapses being made, new neural connections growing, sometimes I imagine they will burst from my head in an explosion like the super information highway we used to talk about, being built so quickly that the Numskulls don't have time to find a home for them. The connections between the visual images, time, memory, emotion, cascading and connecting, forming new ideas, as quickly, more quickly, than the changing images in front of my eyes.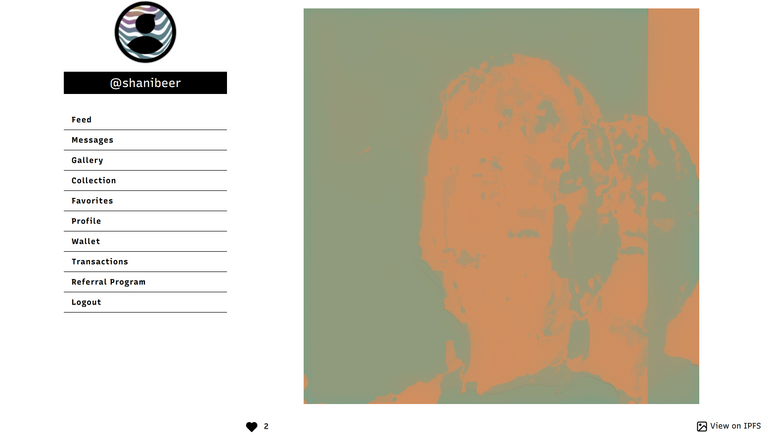 Here she is portrait of a lady III - why not visit NFT Showroom and get your mind blown away.
I wonder @neumannsalva and @deeanndmathews if you have been to NFT Showroom yet and what you made of it? And perhaps you would like to enter the giveaway.
Disclaimers
portrait of a lady III is by @solymi and it is also @solymi running the giveaway. I had intended to write about this artwork and its resonances anyway, why not enter a giveaway, too, since it presents itself. The giveaway only requires that you visit and write about something that you like. You are not obliged to make a purchase. I just couldn't help myself.
Text dividers by @cryptosharon in the Hive Stock Images Community