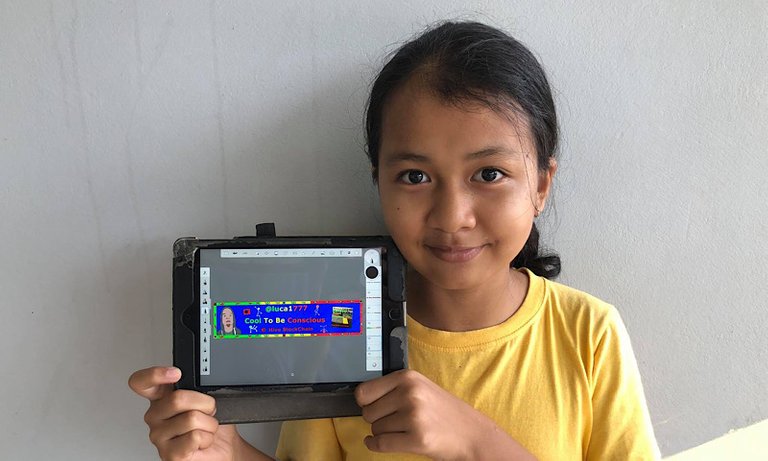 I just finished a banner for @luca1777. I'm sorry that keep you wait for a long time. Here is your banner and I hope @luca1777 likes it.
---

@luca1777, you can copy this code to share your banner in your post.
<center>[![luca1777.PNG](https://files.peakd.com/file/peakd-hive/kidsisters/23x14nch2ZzcPjzSUNq31RZx6X9ENCpdqRqSyHQPxh6jKLmbGbG3VAsW1HeYBDcntjx97.PNG)](https://peakd.com/@luca1777/posts)</center>
---
This is the banner for @luca1777. I don't have any idea to draw so this is the best I got. I drew some people dancing, his logo, and @luca1777. I have a hard time drawing his beard. First, I drew the people black but my dad told me to make them white. I like white better than black.
He also told me to write "cool to be conscious" and I like it. I really hope @luca1777 likes it. After this one, I have to draw for more people. I like all my banners but I like my first banner the most. I hope you enjoy it.
---
⚠️ ATTENTION HIVERS ⚠️
I would love to draw more banners so if you want me to draw I can. All you need to do is tell me what kind of style you want and I'll do it for you. I love drawing. When I am done I will make a post about it and you can copy it. I like tips.
---
🙏 THANKS FOR READING 🙏
If you enjoyed this post, please upvote and reblog.
CLICK HERE TO JOIN HIVE AND START EARNING CRYPTO LIKE US
---
Posted via ReggaeJahm | Reggae Culture Rewarded