I was really pleased to pick up a copy of this book by one of my favourite Caribbean artists. Published in 2009 by Salt, an independent publisher that specialised in poetry, this book was out-of-print, but I was able to get a brand-new copy, perfect in its dust jacket.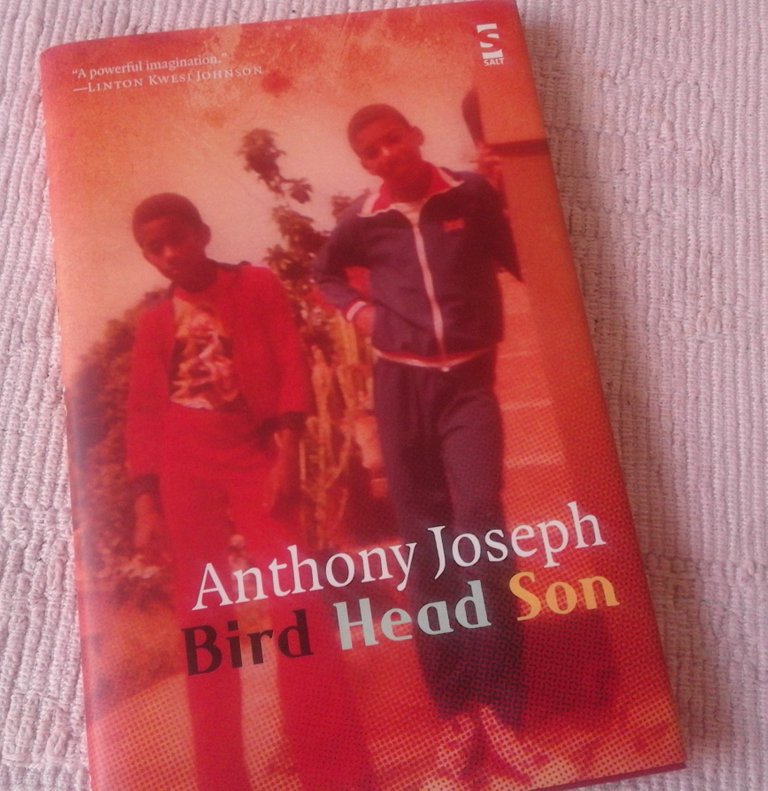 Dust Jacket of Bird Head Son by Anthony Joseph, 2009
The book had never been opened: I had the pleasure of being the first person to touch the matte black end-papers and read the short profile at the beginning and marvel at the family photographs, snapshots from the author's own collection. Although that also struck me as sad: eleven years spent in warehouses and on shelves and never opened.
The poems in this book were written over a five year period, they're autobiographical and cover the poet's 'first life' in Trinidad, before he moved to the UK in 1989. I remember hearing Anthony reading some of them at one of the events I arranged: they were so popular - especially El Socorro, about pig gut roast - that he came back a second time.
Back of Bird Head Son - love the crinkled black and white photo and the composition - the boy in his smart suit looking away.
I've hardly had time to read them all, but I'll leave one for you today. It made me smile with recognition about being a teenager:
Punk
I used to have a ponytail
twisted with beeswax to bud until
it curled like a scorpion's tail.
I uses to twist it and tug it to grow it,
but it grew so slow it got shaved.
I used to have a punk
short front and sides,
the back fat - I used to grease it -
with curl activator - to wave it
but still it sprung tough like spring.
One Saturday (cause Saturday was always
the day for cutting hair)
the barber asked me 'How yuh want it?'
and I said 'High top fade'
cause I was almost grown.
But when I got home the old bull flashed
some serious leather in my waist. He said
'What kinda kiss-me-arse cut is this?
and took me back same time to the barber
to get my head shaved.
From Bird Head Son by Anthony Joseph, 2009.