---
AFRITUNES WEEK #80_Don't Waste Your Time On Me (Trumpet-Cover) by @ovey10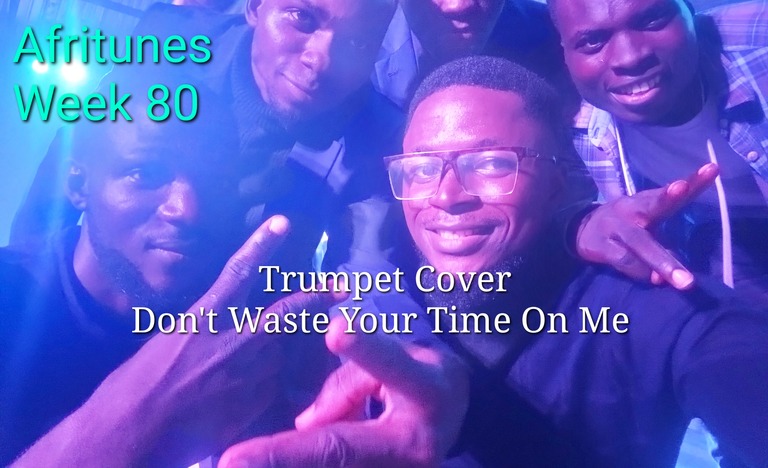 Image from my gallery
Hello There, I welcome you to my blog once again. This is an entry for Afritunes community week 80. For this week I decided to make a trumpet cover of one among the interesting song I came across this year "Don't Waste Your Time On Me" by Khid Ceejay.
The song from it's title is already elaborative enough to quote the message behind the song. People are becoming emotionless in our world today due to bad experiences, and love is becoming a problem right now.
My country Nigeria and some of her citizens or even most are so immune with life challenges and even use their misfortunes to crack jokes with it. It's very difficult you find someone truthful and loving enough to want to change to your taste so that things will work out between the both of you. I can literally guess the response of a carlos Nigerian person to a his or her lover that's complaining about their characters. They will easily tell you to go if you don't like them like that. I mean to say no body has soft mind again, bad experiences have put us into a state of "I Don't Care Attitude" in Nigeria.
But for this song, it's literally speaking the gospel truth at some point.
You're doing the right thing by letting that person you don't love to go, it's better they go and find someone that will love them genuinely though it is never an easy task letting them go but for Nigerians it is an easy task now.. lol
I've noticed that another person's feeling is not the business of another Nigerian, everyone is living in a principle of "Everyman For Himself" people are not ready to sacrifice for the other person again because it's not longer business as usual.
My message to us is that we shouldn't loose our identity because everything isn't alright with the country. We shouldn't forget we are all humans and everyone matters. It's not fun breaking people's heart so we should love genuinely and never put ourselves in a state or condition that we will have to destabilize other people's mind...
Hope you enjoy my trumpet sound, see you next time...❤️🙏
Thank You 🙏🙏

Lyrics".

Don't waste your time on me sorry am not what you inspect
I can't be your fantasy I say this with all due respect
so many issues I got to solve I don't think that you can handle the stress
All of my feelings are bottle tilled you won't know whenever am in a stress
people come and go but deep down I want you to stay my shwaty
Nothing fit make sense if we find love and don't find money
if I were you I will run away run so very far away
Now you are telling me this and that but you go tire one day
I can't make room for two don't let me suffocate you know give me distance is okey