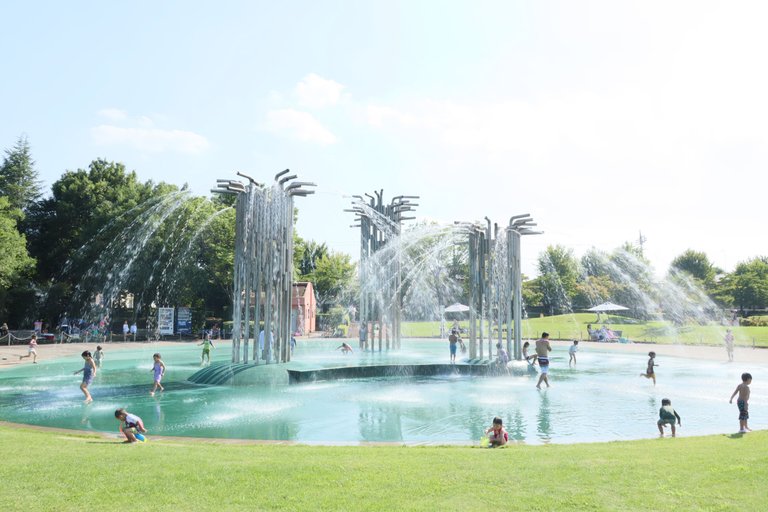 Summertime is here again, the rainy season is over. It is approximately 5 days before the 2020 Olympics starts but the date of writing is July 18, 2021.
Crypto-wise, the markets are in a slump...but you know what, it is always a good time to enjoy life and be in the moment. The family and I went to one of our park spots in the prefecture to experience the water fountain showers ( for lack of a better name ). The kids really enjoyed this activity.

The twins were excited the moment they heard we were going to this water spot. Just look at their faces in the picture above. There were many families here and everyone was having a good time. There is actually a pool near by, but because of covid restrictions, we heard only people from that exact town can enter. Not to mention the amount of restrictions that would apply at the pool like no running.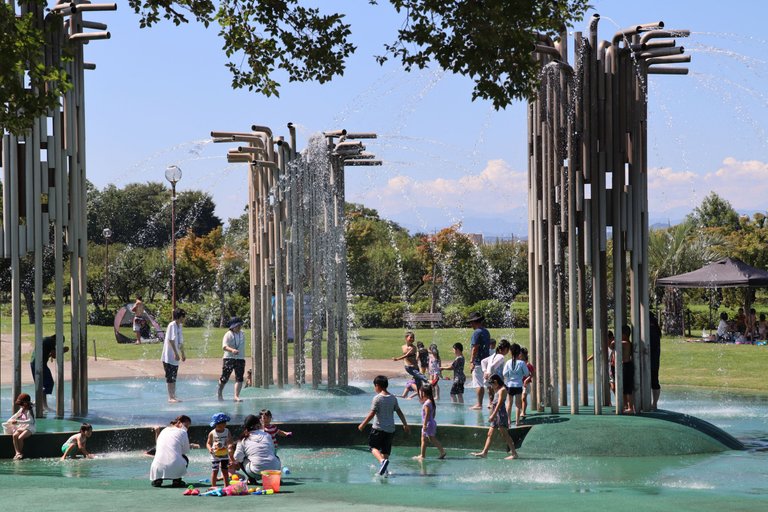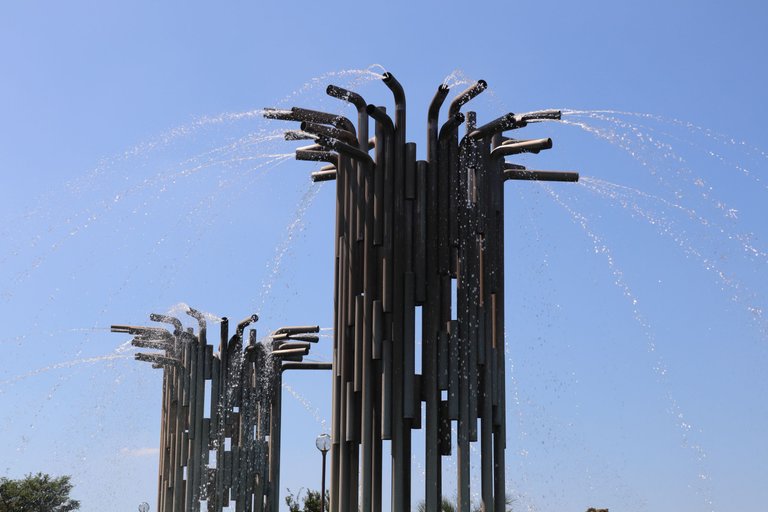 During other seasons, the fountains are off, but even then, they make for good visuals. I took a picture of them a few months ago and many were wondering what it was, well here it is, it is a way to stay cool in the summer, and an activity the kids can enjoy.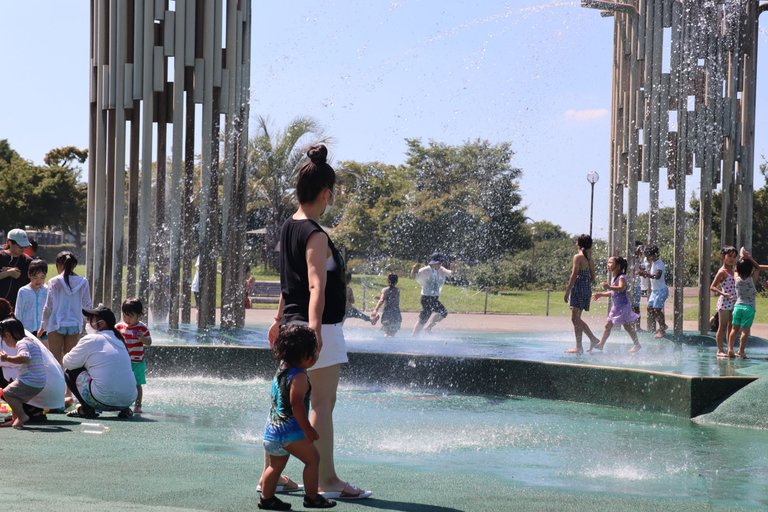 My youngest did not like the water gushing down on him at all, but I know he will learn to like it. I feel he just has not gotten used to holding his breath and avoiding the water from entering his nostrils.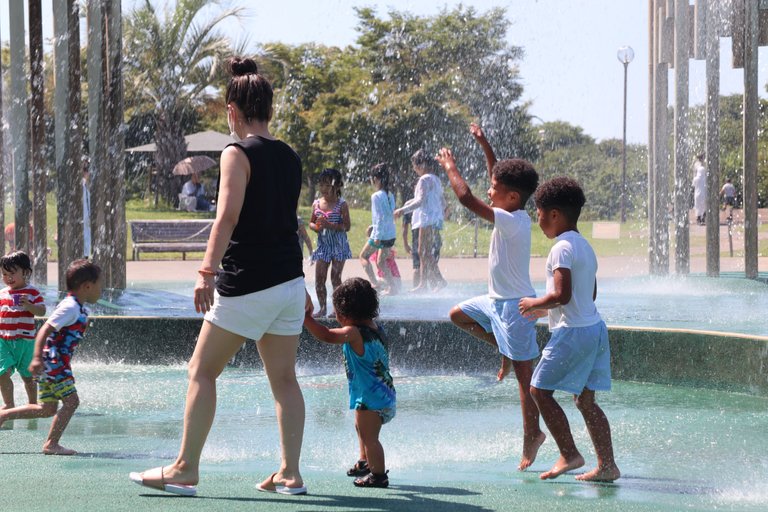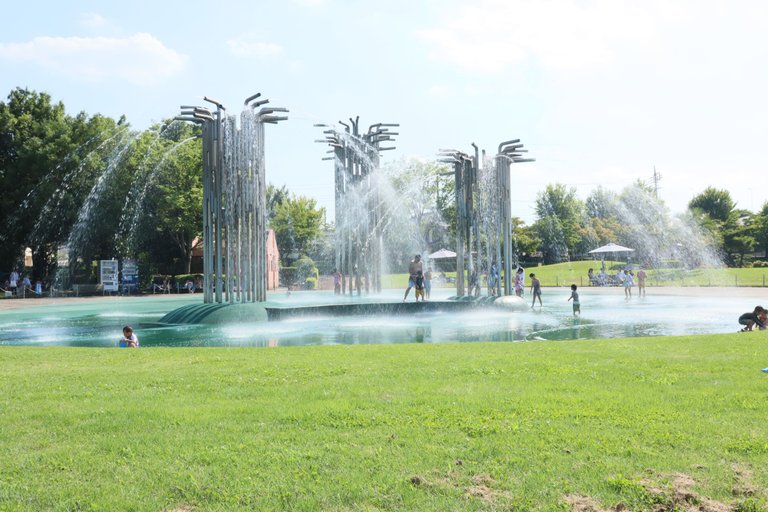 One may think, "what a waste of water", but I think this water filters into the ponds on the park and makes sure the Koi fish have an ample supply. Knowing the Japanese mind set, they would not let this water just go down the drain. I took my youngest to go see the koi as he was not liking the water at all. It was a good "Pondig" time.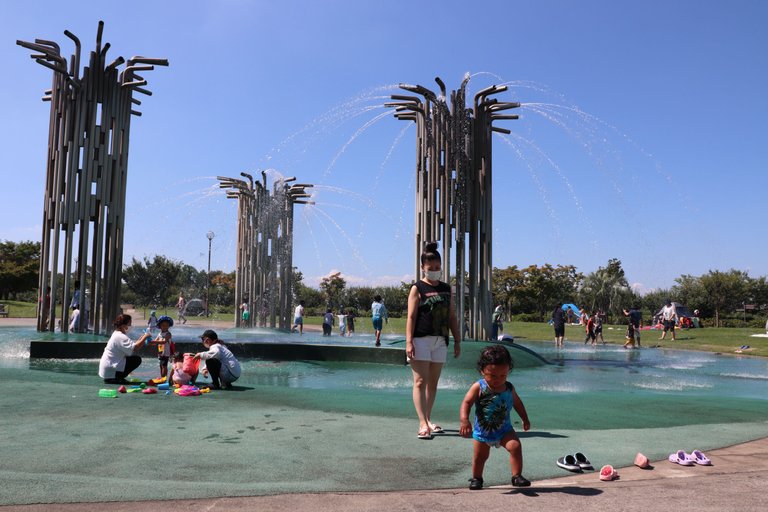 Here is my youngest, Aijah, running away from the water coming towards me. I wonder how he will act when he first enters the ocean. We shall find out soon enough as no summer is summer without a trip to the beach. Hmmm I wonder when Aijah will be able to travel to Jamaica? That is the question in these times but I am optimistic.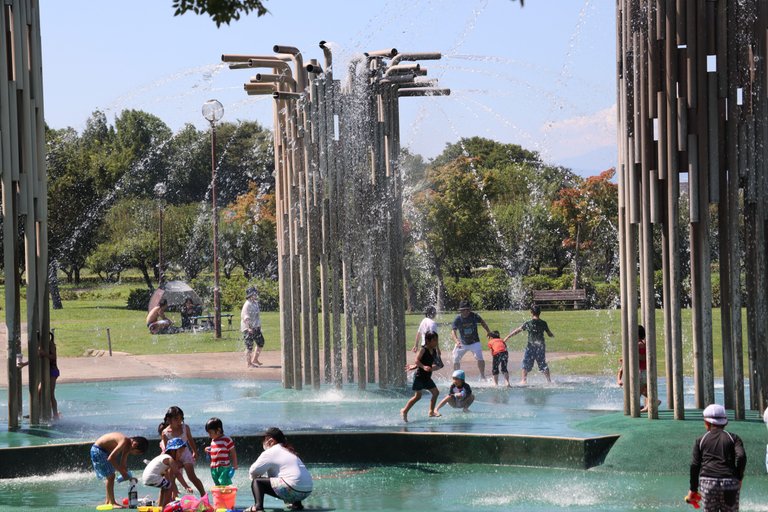 Our neighbors were actually the ones that put us on to this spot. Really grateful to have them in our lives. We have known them for ages. The husband, who is not in the picture obviously, I have basically known him since I have been in Japan. He is a wealth of information and helps me to navigate some of the more technical parts of Japan that most Japanese and foreigners have no clue about. I always tell him he should write a book or start a youtube channel.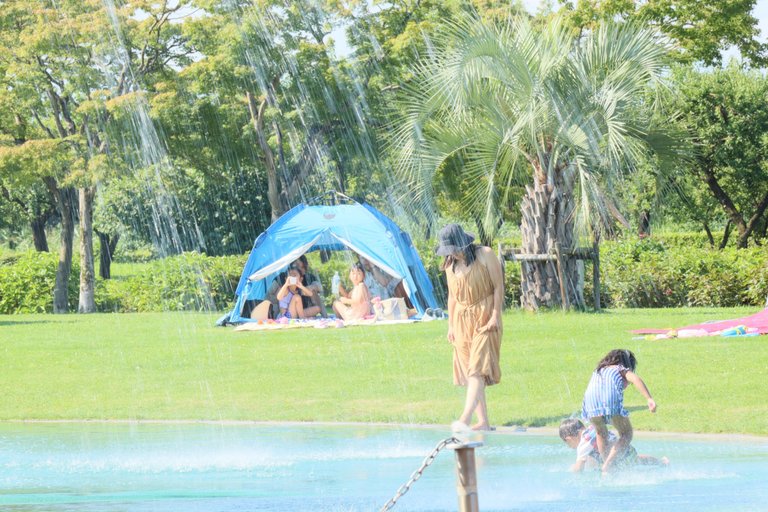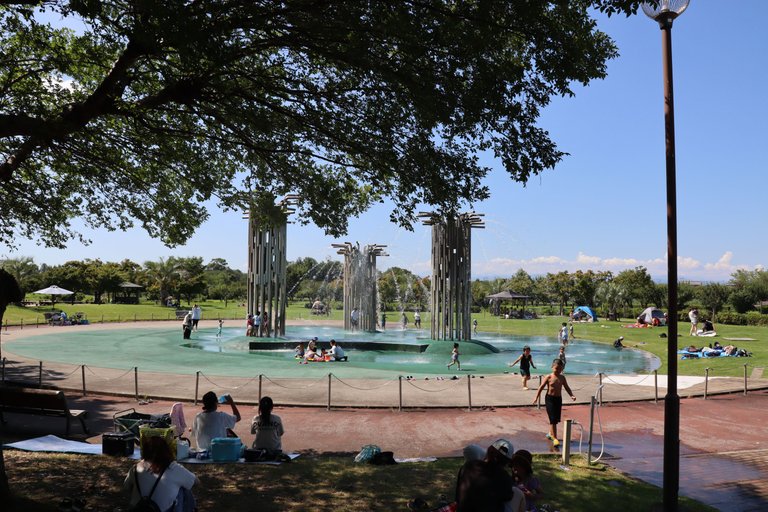 Above is where we based and took shelter from the sun. Many people brought tents to protect themselves agains the scorching sun. it is like the beach sure here without the sand 😂. In the pic below to the left you can see my brother from another mother, Naoki. He is good with kids. I guess because he is still a big kid.

Later in the day we all converged at my place and had dinner and drinks. I got an unexpected message from a friend I have not seen in ages. She said she was in town and wanted to stop by and bring some watermelons from her parents' farm. Just stopping by used to be just that, but in these times there is that question at the back of your head you have to ask yourself especially when someone is coming from a big city........
When she arrived with her husband and kid, the first thing she said to me was, "ah, maybe we should not come in as I have the Yokohama vibes on me". Basically she was saying that Yokohama has many cases of the C and she just wanted to be careful. You see how this thing has us separated and in fear?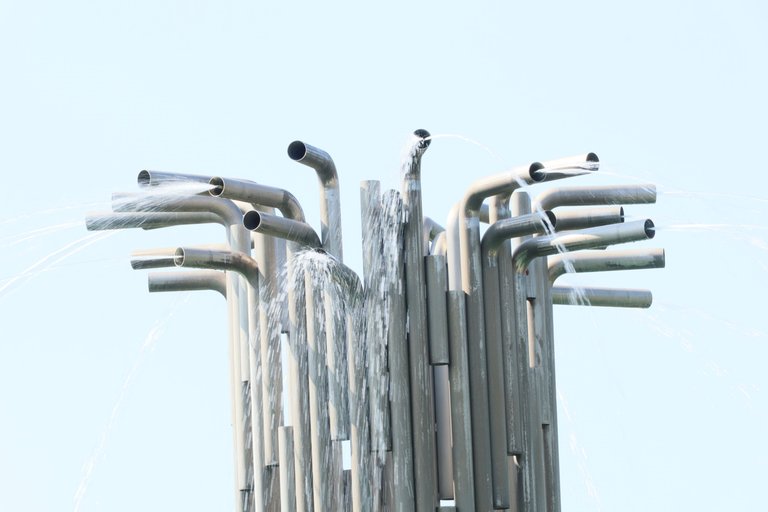 But now she got me a little paranoid and actually there were already people in my small place. We chilled outside a bit and then I remembered that we were actually gonna do fireworks. Well, one of the twins reminded me. So I suggested we all do fireworks in a near by car-less parking-lot. My friend from Yokohama also knew the neighbors we went to the water park with as well as the neighbors that lived directly beside me, so we all went to light up the night.
For two of the children there ( the kid of my friend from Yokohama and the kid of my next-door neighbor), it was their first time doing fireworks. It made me think how much fun my kids have on a regular and how many things they get to experience. I want to show them more. I want them to live full lives full of vibes and so it shall be.
Blessed Love Dear Reader.