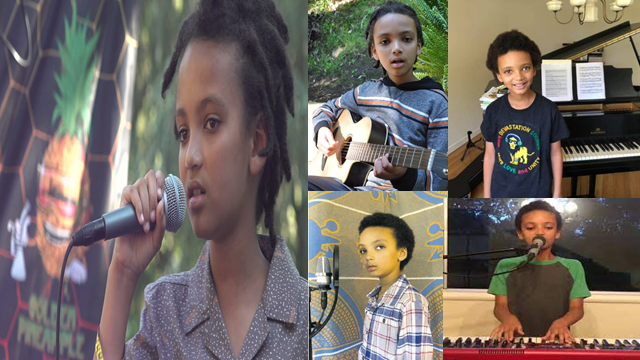 Hello, friends, I hope you are great, tonight I will introduce to the
#reggaejahm
Community a reggae prodigy who, at his young age of just 9 years old, has great musical skills, which many adults wish they had, This irie boy, del Reggae is originally from San Francisco, California. He projected his musical career through social networks, singing and playing instruments with great agility in videos and live, managing to catch the attention of great reggae stars.
Hola, amigos espero esten genial, la noche de hoy le dare a conocer a la Comunidad

#reggaejahm

un niño prodigio del reggae quien a su corta edad con apenas 9 años Tiene una gran destreza musical, que muchos adultos desearian tener, Este niño irie, del Reggae es origininario de San Francisco, California Proyecto su carrera musical a traves de las redes sociales, Cantando y tocando instrumentos con gran agilidad en videos y en vivo, logrando atrapar la atencion de grandes estrellas del reggae.
The melodies of this little boy are oriented towards the search for equality and social justice, music has an extraordinary power to transmit emotions and feelings.
Las melodias, de este pequeño, estan orientadas hacia la busqueda de la igualdad y la justicia social, la musica tiene un poder extraordinario para transmitir emociones y sentimientos.
Let's enjoy some musical themes:
Disfrutemos de algunos Temas musicales:
Kailash - Seems so Strange (Police Brutality)

As we can see, it is a rather irreverent melody, which expresses the feelings of this little boy in the face of the various injustices committed by the authorities in their desire for power. Through this song, he expresses his voice of protest.
como podemos observar es una melodia bastante irreverente, que expresa el sentir de este pequeño ante las diversas injusticias cometidas por las autoridades en su afan de poder, a traves de esta cancion expresa su voz de protesta.

Kailash & Don Carlos Pure Roots/Dub Vision 'Satta Massagana' Right Vibes Fest June 19 2021

Kailash performs 'Satta Massagana' In the company of Don Carlos, a Jamaican singer and songwriter of reggae music. He is the founder of roots reggae, which is a fusion between ska and rocksteady, we could say that it is a spiritual reggae, widely used in Rastafarian ceremonies, in which the praises of Jah stand out.
It could be noted that the Dub style stands out a lot, The Right Vibes Festival was held in Santa Cruz California on June 19, 2021.
I really loved how these artists perform on stage.
Kailash interpreta 'Satta Massagana' En compañía de Don Carlos, un cantante y compositor de origen jamaicano de música reggae. Es fundador del roots reggae, el cual es una fusion entre el ska y el rocksteady, podriamos decir que es un reggae espiritual, muy usado en ceremonias rastafari, en el que resaltan las alabanzas a Jah.
se pude notar que resalta mucho el estilo Dub, El Right Vibes Festival se llevó a cabo en Santa Cruz California el 19 de junio de 2021.
Me encanto mucho como se desenvuelven estos artistas en el escenario..
'Satta Massagana' In the Rasta culture, it means to give thanks to God continuously, forever, what a beautiful meaning at the end of reviewing this post, I was very curious to know what this word translated, I hope you enjoy these great melodies of this childish talent of the reggae until next time blessings!..
'Satta Massagana' En la cultura Rasta, significa Dar gracias a Dios continuamente, para siempre que bello significado al final de hacer la revision de este post me dio mucha curiosidad saber que traducia esta palabra espero disfruten de estas grandiosas melodias de este talento infantil del reggae hasta la proxima bendiciones!..
Fuentes/Sources:
source
source
source
source
source
source
source