Jay-Z's lyrics in this song are so cute, most of the time when I listen to songs, where I channel my mind are the lyrics, the messages each song delivered to our minds are cute, Jay z and Hudson in this song says something that interests me and goes inside my mindset. which is taking life with the notion of togetherness.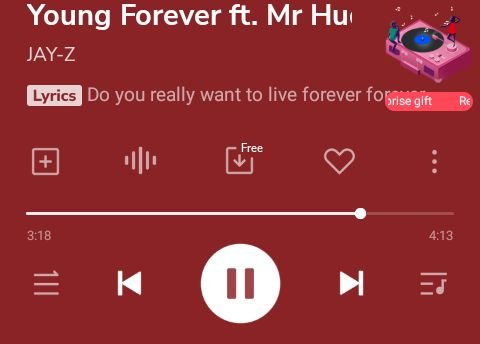 Image screenshot from my Boomplay App
Jay-Z and Hudson are masters in the way they sing, and I really like each of their songs.
The song "young forever" reminds me of the day that someone I didn't know stopped me on the road and asked me to give him some money, or whatever money I had, that he was using it to buy some things, I couldn't stop to give him some money that I had with me.
This incident happened for three weeks and after that I put it out of my mind, as if it never happened, but the same thing has happened to me in my life when people volunteer to help me in a place, I didn't expect something like that.
And going back to the song, Jay-Z has clearly pointed out that everything a person does will be written in their name, that's why the title of the song is "young forever", and it's an amazing idea, because people's lives on earth are like a test.
The things that people do are things that will be remembered in their names, I have so many friends who say they won't stop until they do something on earth that people will remember them by.
The people who are forever young are the ones who have a beautiful mentality that sees good and not evil, this song is my first song that came to my mind, as i wake up, and I want to be forever young too, I want to continue to have a good mentality to this our dear world.
Jay Z, I respect him a lot for who he is, he is one of the international artiste that I love the most, because he is a musician who bases his thoughts on the certainty that, with a lot of hard work, he will succeed.
Hudson in his verse in the song is so amazing, that make the song on his part moved in the right direction, I will want him and Jay-Z to have a good song just like this one again, together in the future.